ProAV Academy: A guide to interviews – with Ollie Kenchington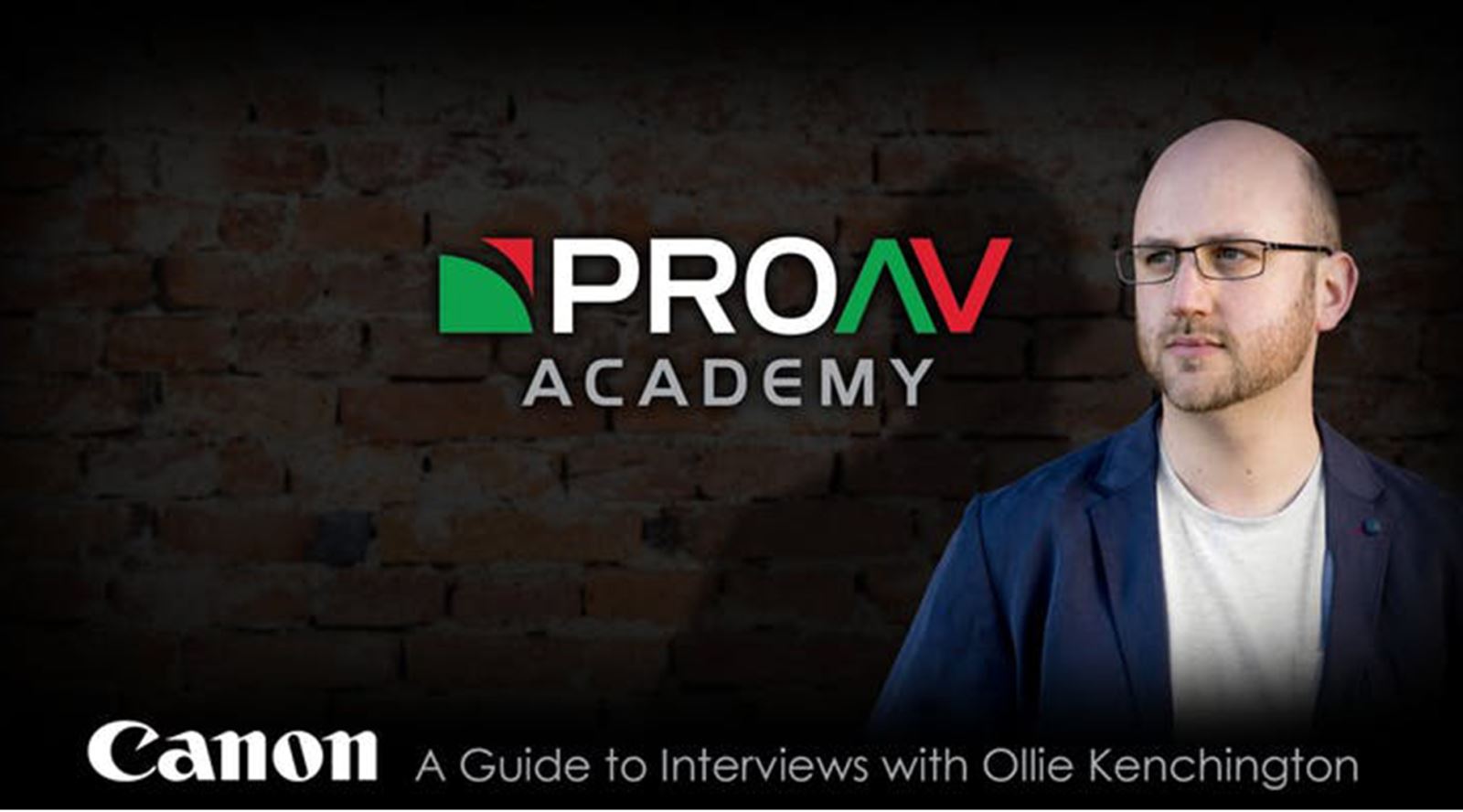 Proudly sponsored by Canon

Interviews will always be a huge part of many forms of video content. They are your clients' chance to communicate directly with their audience and deliver their message. Therefore they are often one of the most difficult parts of production and under the most scrutiny from the client. It is an essiential chance for us to deliver the core message of each video we produce during our work.
In this detailed workshop, Ollie Kenchington will guide you through his process for creating powerful and effective interviews. From the technical elements of audio, lighting and camera placement, to ensuring your interview is exactly what you need to form an effective structure for your video. Delivering your core message effectively, and forming a fountation of a strong visual narrative throughout the final video.
The day will cover:
Morning
Recording audio for interviews
Lighting your interview
Piece to camera or interview? Composition and comparison
Framing for different subject matters
Working with multiple cameras and subjects
Succesfully matching multiple cameras
Afternoon
Shooting effective B-roll
Ensuring you have enough coverage
Sequencing and crafting a visual narrative
Camera movement

Adapting for social media
Who is this workshop for?
Skill level – Intermediate
Video professionals looking to improve their interview production skills
Owners/users of any brand or style of video camera
Who is Ollie Kenchington?
Ollie is an award-winning filmmaker and highly respected film production and post-production trainer. Ollie set up Korro Films, an award-winning, UK-based film production agency, in 2008. Korro produces exceptional brand films, commercials and documentaries, for leading global organisations. Whether he is shooting, editing or grading, Ollie is an assured practitioner across all areas of filmmaking, giving him a deep understanding of the creative process, which allows his agency to flourish in this competitive industry.
Over the past 12 years, Ollie has also built up a reputation as a highly qualified and respected film production and post-production trainer. As lead tutor and founder of Korro Academy, Ollie has taught thousands of aspiring filmmakers as an Apple Certified Master Trainer, Adobe Certified Instructor, Blackmagic Certified Trainer and MZed educator. As often as possible, Ollie takes the opportunity to share his insights with the filmmaking community, contributing to respected sites like Cinema5D, Redshark News and FilmConvert, as well as through seminars/workshops for Canon, Atomos, X-Rite, Litepanels, YouTubeSpace, and at ProAV.