Coming Soon: Gekko Technology announce the Karess 2006 remote phosphor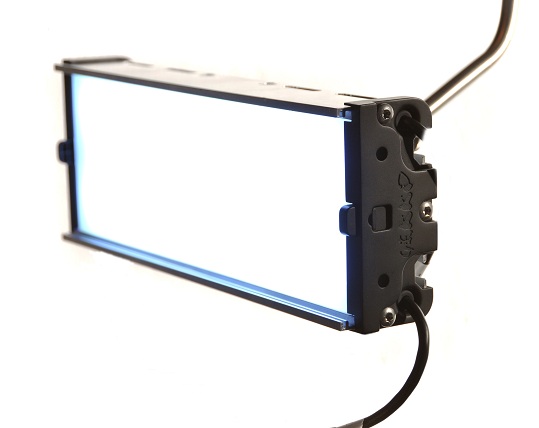 Gekko is now manufacturing the latest addition to its karesslite range of fixtures, the 2006. Measuring 300mm x 100mm, karess 2006 is designed as a highly portable location fixture or versatile studio fixture.
Drawing just 65 Watts, the 2006 can be supplied either with a traditional single phosphor LED or with a recent new development – remote phosphor.
Remote phosphor provides an incredibly even and soft source of light. Available as either Tungsten (3200K) or Daylight (5600K), it has a range of mounting accessories creating huge versatility.
The single phosphor LED version is also available as both Tungsten or Daylight and gives a slightly greater output.
Both are colour stable when dimmed, and designed to work in ambient temperatures of up to 50 Degrees C. In addition, both can be powered via mains transformer or industry standard batteries.
karess 2006 joins the already popular product range which includes the 6012 broad soft source and the 6006DD.The complete range is supported by a range of accessories including DMX drivers, bags, rugged egg crate and encapsulated gel sets.
Available for delivery in June, prices for karesslite start at £650.
About Gekko Technology

Established in 2004, Gekko Technology (www.gekkotechnology.com) produces versatile, robust and efficient white and colour-tunable LED-based lighting fixtures for film and broadcast lighting. Intelligent design, combined with high-quality components, ensures accurate and consistent light output. Film credits include Horrible Bosses, Casino Royale, Quantum of Solace, Death Defying Acts, Mamma Mia!, Golden Compass, Star Trek, Desperate Housewives and Date Night. Studio lighting credits include Jeff Randall Live on Sky News, Sky Sports News and Sky's Ryder Cup coverage.


Contacts for further information

Ian Muir, Gekko Technology
Tel: +44 (0)1926 340 500 | ian@gekkotechnology.com

Gekko Technology Ltd, Units 3-5, Cotton Drive, Dalehouse Lane, Kenilworth CV8 2UE
Tel: +44 (0)8448 005 326 | Fax: +44 (0)1926 863 347 | www.gekkotechnology.com