GTC Awards 2009 go live!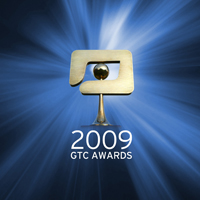 Have you enjoyed viewing any outstanding examples of excellent camerawork recently? Do you have a favourite piece of new camera gear that has transformed the quality or ease of your work? Do you know a cameraman whose career has encompassed years of skillful and dedicated craftsmanship?
If so, and if you are a GTC member, you can now make your nominations for the GTC Awards 2009 online.
Last year, for the first time, the GTC Awards event changed venue to the prestigious and stylish BFI Southbank for its presentation ceremony. The fantastic projection and viewing facilities meant that the outstanding camerawork from last year was richly displayed doing true credit to the cameramen being rewarded for their excellent work. Building on the success of last year, the Awards committee is just starting work on plans for this October's event which promises to be bigger and better than ever.
As far as we are aware, the GTC Awards are the only ones to be nominated and voted for exclusively by other professional cameramen, and on which the camerawork rather than the production as a whole is the sole focus of attention, meaning that these Awards are particularly valued by their recipients.
As the event takes shape and the nominations come in we will be keeping you up-to-date in the GTC Awards section with all the latest news on how plans for this year's Awards are progressing. We are also hoping to put together a 'history of the GTC Awards' page so if you have any archive material - photos of yourself receiving an Award etc, tales about camerawork and crews that have been rewarded down the years, contact the website editor.