GTC InFocus available online for members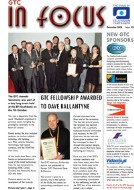 GTC members can now read the latest issue of GTC InFocus online if they prefer to view it in this way. GTC InFocus December 08 is available as a downloadable pdf at:
GTC InFocus December O8.
Contents include info on PAT testing, reports of the GTC Awards 2008, feedback from the Panasonic TVIT day, plus the latest new kit and tips on financing your equipment purchases during the credit crunch.