GTC sponsors Angénieux honoured with prestigious French award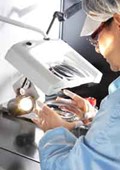 GTC sponsor Thales Angénieux has been honored with recognition under the French government's Entreprise du Patrimoine Vivant (Living Heritage Company) programme, established to identify French companies with a legacy and tradition of excellence and innovation. The award was announced by Fleur Pellerin, Minister of Small and Mid-sized Companies, Innovation and the Digital Economy at the French Ministry for Productive Renewal, and Sylvia Pinel, Minister of Commerce, Crafts and Tourism.

"We are proud that the company has been recognized for its contribution to the quality and brand value of French products around the world," said Pierre Andurand, Chairman, Thales Angénieux. "The distinction is an endorsement of the exceptional talent of our people and their proven ability to design zoom lenses to the highest specifications for some of the world's biggest movie productions."

A rapidly expanding company, Thales Angénieux has achieved international acclaim from cinema professionals for the quality of its zoom lenses since its establishment in 1935 by Pierre Angénieux. With a workforce of about 400 people, Thales Angénieux designs, manufactures and assembles its lenses on site for its three core businesses - optical components, precision mechanics and electronics.

Created in 2005, the Entreprise du Patrimoine Vivant label is a mark of recognition of the French government, created to honour French firms for the excellence of their traditional and industrial skills. Awarded for a period of five years, the label identifies providers who are outstandingly committed to the quality of their products and their business operations.
About Thales Angénieux


Thales Angénieux, a Thales subsidiary, is a world-renowned manufacturer of high-tech optical and optronic systems. The company specialises in zoom lenses for cinema.
See more about Thales Angénieux at: www.angenieux.com