GTC sponsors Thales Angénieux triumph at Cannes
GTC sponsors Thales Angénieux had a great Cannes festival with triumph for Angénieux-lensed films in the top awards. The company also presented the first "Pierre Angénieux Excellens in Cinematography" award to DoP Philippe Rousselot. In doing so the company thanked and paid tribute to cinematographers in general.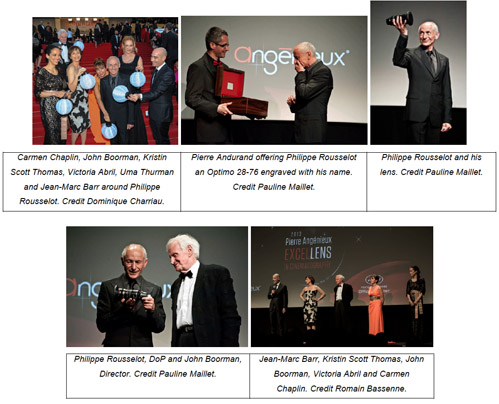 Thales Angénieux's first official partnership with the largest film festival in the world was marked by several moments of great emotion. On 24 May, a special tribute was held in honour of cinematographer Philippe Rousselot, who was presented with the first "Pierre Angénieux Excellens in Cinematography" award.
In attendance to share in this honour were Thierry Fremaux, General Delegate of the Cannes Film Festival; Eric Garandeau, Chairman of CNC (French National Center of Cinematography) and Pierre Andurand, President and CEO of Thales Angénieux. A number of celebrities from the world of film who have worked with Philippe Rousselot attended to pay tribute. These included Kristin Scott Thomas (Random Hearts), Victoria Abril (The Moon in the Gutter), Carmen Chaplin (The Serpent's Kiss) and Jean-Marc Barr and director John Boorman (both Hope and Glory).
Respect for directors of photography
In giving this accolade to Philippe Rousselot, Thales Angénieux demonstrated their respect and esteem for the profession of director of photography. By virtue of their high technical and artistic standards, these individuals have contributed to the success of Angénieux zoom lenses. It is the directors of photography who, through their creative gifts, translate the desires of the director into images on the screen. Without them, there would be no movies. The Salle Bazin erupted in applause when Philippe Rousselot,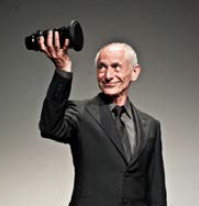 who was visibly moved, received the award from the hands of Pierre Andurand.
The trophy was created from an Angénieux Optimo 28–76 zoom, one of Mr. Rousselot's personal favorites, which had been engraved with his name at the Thales Angénieux workshops in Saint-Héand.
The Festival ended in triumph on Sunday evening for Thales Angénieux, with the jury –chaired this year by Steven Spielberg – presenting awards to several movies shot with the company's zoom lenses. These films most notably included Abdellatif Kechiche's Blue is the Warmest Colour (Director of Photography Sofian El Fani), which won the Palme d'Or, and Inside Llewyn Davis from Joel and Ethan Coen (cinematography by Bruno Delbonnel), which was presented with the Grand Prix du Festival.
About Thales Angénieux
Thales Angénieux is a Thales group subsidiary. The company is a world-renowned manufacturer of high-tech optical and optronic systems. Of the films shown at Cannes this year, all the following films (amongst others) used Angénieux zoom lenses: The Immigrant by James Gray, Wara No Tate /Shield of Straw by Takashi Miike, La Grande Bellezza /The Great Beauty by Paolo Sorrentino, Grigris by Mahamat Saleh Haroun, Inside Llewyn Davis by Ethan and Joel Coen, Zulu by Jérôme Salle, Les Salauds by Claire Denis, Blood Ties by Guillaume Canet .

You can follow Thales Angénieux Twitter @Angenieux Lenses, Facebook at facebook.com/AngenieuxLenses or YouTube at youtube.com/user/AngenieuxLenses.