Innovative REDirect Surf 2015 competition
First REDirect Surf competition edits now live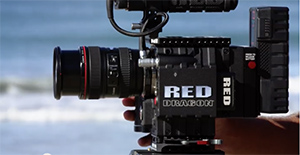 The first films in the RED Digital Cinema and Surfer Magazine REDirect Surf 2015 competition can now be viewed. Following a sucessful skateboarding contest earlier in the year, RED moved on to challenge film-makers to capture dramatic surfing footage using RED technology.
A total of eleven contestants – selected by Surfer and RED – have created films for the competition. These will be judged on both their 'Best Moment in Time' (a captivating still pulled from their motion footage) – and 'Best Highlight Reel', their finished short film. The winner will take away the sensational prize of the $50,000 RED EPIC DRAGON package they were loaned to shoot the film with.
To shoot the films each contestant received:
a full EPIC RED DRAGON camera package, boasting 6K, over 19 megapixels and incredible dynamic range;
a DryZone 200, the world's first waterproof soft-sided camera backpack from Lowepro;
and G-Technology's G-RAID and the newly released G-DOCK ev™ with Thunderbolt storage solution.
"We're excited to begin showcasing the submissions for REDirect Surf 2015 today," says Jamin Jannard of RED Digital Cinema. "The calibre and talent of the filmmakers in this round are truly top-notch. Harnessing the power of the RED DRAGON sensor, they have stepped out of the boundaries of traditional surf videos and incorporated narrative storytelling and beautiful cinematography into their projects."
REDirect Surf kicks off with Erik Knutson's film featuring John John Florence and will feature two releases a week exclusively at Surfermag.com (in 1080) and RED.com (in 4K). Viewers can vote for the Fan Favourite at Surfermag.com the week of 27 July with the overall winner and Fan Favourite announced the week of 3 August.
"We are very excited to partner with RED on this project and showcase the incredible talent of the surfers and filmmakers involved", said Todd Prodanovich, Editor-In-Chief, Surfer. "RED cameras have set a new standard for surf cinematography, and they've allowed these filmmakers to push the boundaries of their craft. We're proud to present all eleven films over the next two months, exclusively on Surfermag.com and RED.com."
Whether it's the best wave of the day, a deeper look into the surf lifestyle, or an artistic representation of what surfing means to one person, this competition has brought together world-class filmmakers and world-class surfers – with an end result that is sure to thrill audiences all over.