Lighting for the 21st Century
GTC members are invited by GTC sponsors Litepanels to:
view the latest Lighting for the 21st Century
with Spencer Newbury, Product and Applications Manager, EMEA, LITEPANELS
Tuesday 2 November 2010 from 12.00 to 20.00
at the BSC Clubhouse, Pinewood Studios
Multi-award-winning Litepanels, a Vitec Group brand, are presenting a demo of the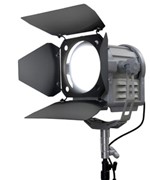 LED lighting that has pioneered a new era of eco-friendly, cool running, infinitely dimmable, standard mains or battery-powered fixtures.
Be among the first to try out the new Litepanels Sola Fresnels that combine Fresnel's inherent single-shadow benefits with Litepanels' LED advantages. These versatile daylight-balanced fixtures offer variable beam control from 10° to 70° and full range dimming in lightweight, no-ballast fixtures.
The camera-mountable SolaENG draws 30W, yet outputs equivalent to 250W, and the Sola6 draws 75W, yet outputs equivalent to 650W.
Also check out Litepanels' 1x1 powerhouses. These 1'x1' lightweight fixtures can be combined to suit any situation. Plus, take a look at the Ringlite Mini and try out the array of compact on LED camera

lights including the new MicroProHybrid, Micro, MicroPro and the rugged MiniPlus.
Discover for yourself how Litepanels is about savings-time, weight and energy.
Refreshment and food provided 6 to 8pm.
Venue:
BSC Clubhouse, North Lodge, Pinewood Film Studios, Iver Heath, Bucks , SLO ONH
RSVP:
Spencer Newbury, Product & Applications Manager, EMEA
spencer@litepanels.com
Direct Line: +31 629296575 Direct Fax: +31 202031235
UK Direct Line: +44 2032394858