October 2010 GTC In Focus available online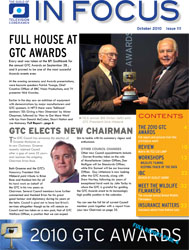 GTC members can now read the latest issue of
GTC In Focus online.
The bumper 36-page Autumn issue (well done to Roger Richards who single-handedly manages, edits and lays out each issue of GTC In Focus) includes: a full report of all the best new goodies revealed at IBC; photos and details of the 2010 GTC Awards winners and news from the Awards Day at the BFI; reports from the recent Wildlife and Codecs GTC workshops; plus the regular Insurance feature and a 'hello' message from our new Chairman Graeme McAlpine.
View this issue at: GTC In Focus October 2010.