October GTC In Focus available online for members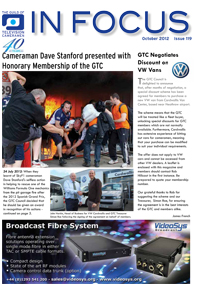 GTC members can now read the latest issue of GTC In Focus online.
The packed October issue includes: IBC 2012 review from Exhibitions Officer Dudley Darby; how to film at high speed (as revealed at a recent GTC trip to the headquarters of Olympus); news of honorary membership in recognition of the bravery of cameraman Dave Stanford; a location report on the Canon XF305; Insurance Matters with Andrew Leen from GTC sponsors Performance Insurance; review of the GTC studio operations workshop; the Lishuai LED500; latest kit news; plus obituaries following the sad passing of GTC members Andy Leonard and Jim Watters.

View this issue at: GTC In Focus October 2012.