Steadicam Training in the Sun

As previously announced on this site, US-based Film Workshops International have recently opened training centres in both Liverpool and the Mediterranean island of Mallorca (Majorca).
In May they are running their first 5-day Steadicam course in Europe which will be based on the renowned course that has run in the US for many years. They are pleased to have as their tutors Robin Thwaites (well known to GTC members as International Sales Director of GTC sponsors Tiffen Europe Ltd and a very experienced Steadicam trainer) and top Steadicam operator Kate Robinson (White Hunter – Black Heart, Indiana Jones and the Last Crusade, Aliens III and twice winner of the prestigious Panavision Award for Best Camera Operator).
The European sites are a new venture for the Rockport, Maine-based company and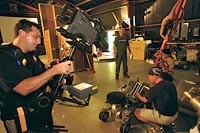 Film Workshops International have been keen to interact with professionals, including the GTC, to establish the kind of training that will be of use to TV and film technicians in the UK and Europe. To this end they kindly offered a free place to a GTC member on the inaugural HD Production Course held in Liverpool at the end of February, a place that we were pleased to offer to Frank Corr to help him in his preparations for a forthcoming charity shoot up Mount Everest. Frank reported on his experience on the course for us and, to be fair, as you may have read in the latest issue of GTC In Focus, some aspects of that course could have gone better (although there were many good aspects as well). (See GTC In Focus March 2009 for the full report).
Film Workshops International were pleased to receive this feedback and are keen to address all the points raised so that they can ensure that they are offering training that will be really valuable to those attending future courses.
Meanwhile, the GTC feels confident that with Robin and Kate on board the forthcoming Majorca-based Steadicam course will be of a very high standard. People attending the course will arranged into groups of four with a Steadicam rig for each group.
GTC members are offered a 10% discount on the tuition fee and also do not need to provide a resume with their application.
For more about the programme of workshops in Majorca see:
www.workshopsinternational.com/film-video/programcats/mallorca-film-workshops/