The whole back archive of Zerb has recently been digitised and is now publicly available – but GTC members have some extra levels of access.
Anyone, including non-members, can click on the cover images below to access the edition you would like to view. This will take you to the online version of that issue and also give access to all other issues in the archive, which is fully searchable.
GTC members also have extra rights as a benefit of membership accessed by a GTC member log-in page. Not only can members view the latest issue (Spring 2017, Zerb 85) online but they can also download material from any issue in the archive. The same permissions apply to GTC In Focus, which can be accessed from the same page.
Non-members visiting the archive who would like to download content, please apply for permission: zerb.production@gtc.org.uk
GTC member digital editions access page:
www.gtc.org.uk/publications/gtc-member-digital-editions.aspx
---
---
Zerb 85: Spring 2017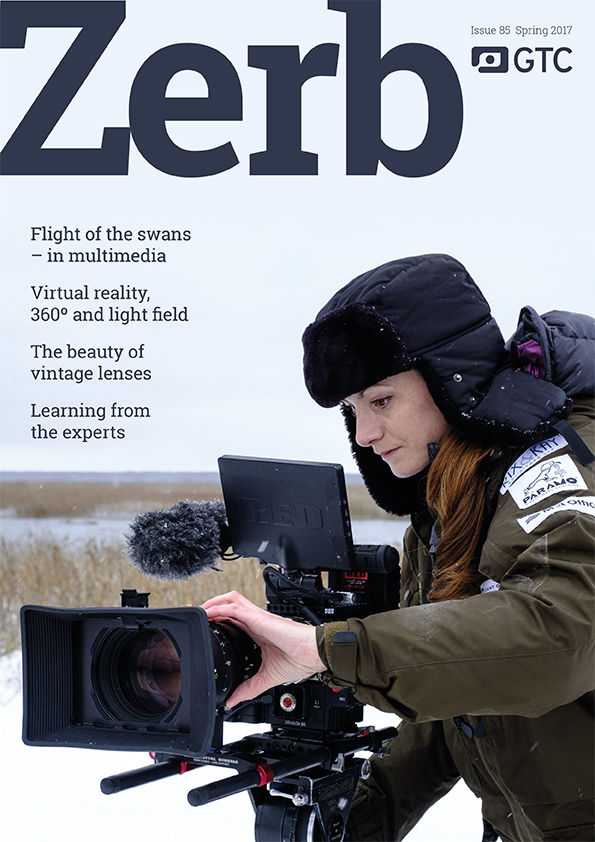 The guest editor for Zerb 85 was Ashley Meneely and design was by Toast Design, Banbury.
This edition is available digitally to GTC members only.
Contents of Zerb 85
Flight of the Swans – filmed on RED cameras
High-level shooting for widlife including canopy access, remote camera stake-outs and gyro-stabilised tracking
GTC Chair Graham Maunder recalls working on 15 Olympic Games
Tracking the action – innovative, customised tracking systems for major sporting events from Camera Corps
How do you design the perfect camera cover? CP Cases explains
What do you need to know before starting to shoot 360 degrees?
Video Europe on the Nokia OZO 360 system
Ground Control – the new remotely controlled follow spots that are taking LE studios by storm
The trend for vintage: lenses from One Stop Films and lights from Shift 4
The music man – Sally Garrett interviews music director Paul Dugdale
Learning from the experts – advice from experienced and multi-skilled wildlife camerawoman Gail Jenkinson for student member Laura Jeacocke
HDR explained – by Neil Thompson
Into the thick of battle – work experience on the Battle Porms filming for big-screen transmission using technology from GTC sponsors Boxx TV
Polecam inventor Steffan Hewitt recounts the story, bringing it up to date to its latest incarnations and uses
Student member Kate Priestman on how to crowdfund a graduation film and get it shown on the festival circuit
Apprenticeships: GTC Education Officer looks at the opportunities for apprentices in the industry
Light field technology
Carnets – a cautionary tale from GTC member Philip Spiering who learns the hard way to double-check the carnet paperwork at all stages
Managing Editor: Alison Chapman; Guest Editor: Ashley Meneely
GTC members wishing to view this edition digitally can access it here: www.gtc.org.uk/publications/gtc-member-digital-editions.aspx
---
---
Zerb Archive
---
Guest editor: John Rossetti
Sample articles from Autumn 2016
Click on the images below to see sample articles from Zerb 84.
---
Guest editor: Peter Newman
The Rugby World Cup 2015
Corporate – a look at the new opportunities for good quality work in this growth area
The ALEXA Mini – user reports from documentary, drama and aerial shoots
Doctor Foster – shot on the Panasonic VariCam
New from Panasonic, the VariCam LT
Introduction to the International Association of Wildlife Film-makers (IAWF) - newly incorporated into the GTC
Filming leopards with camera traps by IAWF member Mateo Willis
Power and backup in remote situations by GTC member Kevin Augello
Glass revival: why optical filters matter – by filter guru Carey Duffy
Dick Hibberd, Founder of the GTC, remembered
Bill Vinten – a life lived to the full. Dudley Darby pays tribute
Steadicam: a roundup of the latest generation models and training
Kit review: Panasonic AG-DVX200 by GTC member Phil Thomas
Eye care – what camera crew should know to preserve their eyesight
Camera preservation – member Nick Gilbey explains how a few enthusiasts are preserving rare historic TV cameras
Sample articles from Spring 2016
Click on the images below to see sample articles from Zerb 83.
Sample articles from Spring 2016
Click on the images below to see sample articles from this issue of Zerb.
Sample articles from Spring 2016
Click on the images below to see sample articles from this issue of Zerb.
---
Guest editor: Ged Yeates
Gavin Finney BSC on Wolf Hall
Ballot Monkeys, C4 General Election comedy
Kliktrak/Kombidolly tracking system from Hillrigs
Patrick van Weeren – in-house advisor at WTS
Camerawork and motherhood -–are they compatible?
Hemingway's car – Adam Docker on a Cuba shoot
LUTCalc – by GTC member Ben Turley
Kit review: Sony PXW-FS7
Fujinon UA-Series – latest 4K lens technology
John Anderson talks to camera helicopter pilot Keith Thompson
Colin Tomlin of Videosys on designing a new minicam
Stornoway-based Alasdair Maclean: becoming a BBC news cameraman
How the ExtraShot podcast is the new crewroom
KerriKart – an innovative new camera cart/slider
Zimbabwean GTC member Jeremy du Toit on relocating to the UK
DJI Ronin training at GTC sponsor Off Trax
Sample articles from Autumn 2015
Click on the images below to see sample articles from Zerb 82.
---
Guest editor: Paul Mellon
Sample articles from Spring 2015
Click on the images below to see sample articles from Zerb 81.
---
Guest editor: Neil Harrison
Underwater camerawork
David Beckham in the Amazon – RED Dragon
The Brazil 2014 World Cup
Sky cricket coverage
The ARRI Amira
Salford's digital dockland
CTBF – the industry's benevolent charity
Blackmagic in the desert
Teaching actors to be cameramen for Alan Bennett's 'Enjoy'
Top Gear
Lens adaptors
TLCI News from Alan Roberts
Airline carry-on baggage rules
The MoVI rig
Sample articles from Autumn 2014
Click on the images below to see sample articles from Zerb 80.

---

Guest editor: Peter Heap
BT Sport's new studios at Olympic Park
Perils on the seas of Peru
Light-field cameras
RIP BBC Outside Broadcasts
America's Cup – official film shot on a Sony F55
America's Cup: SIS LIVE special cameras
Miller celebrates 60 years of tripod manufacturing
Learning to film with a multirotor
Whatever happened to camera craft?
Ninjas and Samurais - from Atomos
Dreamflight – how to get involved with the children's charity
RUBI-Radio Mini HD link system
---

Guest editor: Matt Grant
Earthflight – aerial specialist Richard Cook
Cold Chain Mission
The TLCI measurement of lamps
The ARRI L7-C reviewed
The Sola ENG kit – GTC user review
Grand Designs
DoP Charles Lagus, Sir David Attenborough's first wildlife cameramen
Gurdip Mahal – lighting director 'Designing with Light'
Wireless technology for Steadicam from Boxx TV
The Skquattro – from The Camera Store
75 years of televising the Oxford–Cambridge Boat Race
Jonathan Harrison on LEDs
Polecam a novel use in a miniature village
Young RED user Joseph Hutson
Camera training at The London Studios
The Blackmagic Cinema Camera – GTC user review
---
Managing editor: Alison Chapman
Isles of Wonder – televising the London 2012 Opening Ceremony sequence
Coldplay Live – the technology behind the Mylo Xyloto tour DVD
The camera technology behind Felix Baumgartner's leap from space
Filming chimps in the jungle
Recollections of Hillsborough
World Without End – achieving a Pre-Raphaelite look for an epic Medieval drama
Outnumbered – producing naturalistic performances from the kids
Slow motion camerawork
Thomas English on the latest generation of Steadicam
How do you become a cameraman? Advice from three recent entrants into the industry
Hot Topic – Has camera design gone mad?
FantasyCam – the perfect 'cameraman's camera'
Emmerdale is 40
Interview with RTS Lifetime Achievement Award winner Martin Hawkins
Latest on-camera monitors from Marshall road tested
---
Guest editor: Mark Langton
Televising London 1948 contrasted with London 2012
Zerb Basics – the technology behind radio cameras
The Royal Pageant – On board the Spirit of Chartwell and rigging Tower Bridge
The Bill Vinten GTC University Award
4K – Separating the truth from the hype
How would Canon's much lauded C300 camera stand up to the rigours of an expedition in rural China?
Dan Greenway explains how minicams have come to be so omnipresent
The technology behind the coverage of the progress of the Olympic Torch
Take it easy on yourself – how Swedish cameraman came up with Easyrig
The ALEXA family grows up – and then there were five
Jules Greenway talks about his remarkable career as a cameraman
Raise the Roof in Kenya – how cameramen and other TV professionals are helping children in Kenya
Circumnavigating the globe for a corporate shoot
Power to the pixels - the technology behind the latest generation of onboard monitors explored
Kit reviews: the Sachtler Ace tripod system and the Ki Pro Mini from AJA
Nic Holman on filming the restoration of a Lightning jet
The media behind the mask – should you own a gas mask?
---
Managing editor: Alison Chapman
Freeze Frame: A cameraman's adventurers on ice

EOS C300

– the latest little camera from Canon
Undercover – covert filming of illegal hunters and traders around the world
World War II Heroes – visualising the horror of war
Compact handheld cameras – GTC road test of the Panasonic HPX250 and the JVC GY-HM150
What should you know to keep safe in a war zone?
What will you learn on a hostile environment training course and why might it be the most important training you ever do?
Minicams – which is the best one for your shoot?
Forty Years Young: The GTC is 40! How did it all start?
Pim Korver: 'Seanest' – Dutch cameraman Pim Korver on maritime filming
High and Dry – filming on a tall ship with a team of young explorers
Driving Wars: How the latest minicam technology captured exciting footage of a high-octane stunt driving challenge
Open the BOXX – state-of-the-art low latency wireless technology
Part 2 of Chris Dickinson's adventures filming in the China
Video Ghost – a novel phantom powering system for cameras
Zerb Basics: Codecs
---
Guest editor: Bill Garrett
The Royal Wedding
DSLRs – disappointment or delight?
In China with GTC member Chris Dickinson
Self-shooting in Africa with a Panasonic AF101
Aliasing – an in-depth technical explanation of this problematic phenomenon
HD on the soaps – the camera decisions taken in the HD upgrade on the UK's leading soaps
Cooke Optics – the story of a top-quality British brand
Argentinian GTC member Martin Errea describes life as a working cameraman in South America
Syntax makes a convert – Ged Yeates tries out this SD–HD upconverter
GTC Royal Wedding album
Zerb celebrates 40 years of Anton/Bauer batteries
Damage limitation... for your ears only. How to protect your hearing at work
How cameramen Jim Cemlyn Jones and John Brierley collaborated to release an album 'All these dreams'
How to choose the right tripod and head for your shoot
Introducing Wimbledon Studios, London's newest studio complex plus GTC sponsors 3D specialists DECODE
Final Cut Pro X
IPv6 is coming... are you ready for it?
Travelling together – GTC members came together earlier in the year to film the Travel of the Photographer of the Year Award Winners exhibition
John Summers: one of the very first TV cameramen
---
Guest editor: Julian Hiorns
The Commonwealth Games
OK Go – the story behind the amazing one-shot 'This Too Shall Pass' video
Shooting 3D handheld in the Amazon rainforest
An Audience with the Pope – behind the scenes at this large OB from Cofton Park
ACS SMARTheads
French lens makers Angenieux's 75th Anniversary
Camera review: Sony PMW500
The Panasonic AG-3DA1 in action filming 3D on an oil rig
A colourful history – the story of GTC sponsors Rosco
The Golden Eye of Georgia – report from this festival of camerawork
Holographic TV – a glimpse into TV of the future
Hearing without Headphones – PTSD, a health hazard for news crews
The Rory Peck Trust
Shooting 3D: how can you tell if you're getting it right?
Camera Review: Canon XF305 and XF105
---
Guest editor: Alan Duxbury
3D – The next dimension is closer than you think
3D rigs for football coverage
Life on the road as a news and current affairs cameraman
The General Election 2010
Mugabe and the White African
To Argentina via Turkey with The Quails
Life on the road with the Traffic Cops
A Bird in the Hand: a history of Vinten in their centenary year
Bill Vinten remembers ...
Live from Albert Square – behind the scenes when EastEnders went live
Vortex – how use of the Award-winning vertical rig is soaring
A New Dimension for Panasonic – 3D from the French Open tennis
Project Supo: an innovative cross-media teaching approach from Belgium
Looking after your eyes on set
One Box: an OB in a box – the story of an innovative flyaway kit
DITs and DFTs – what do the new boys on the crew do?
Goalmouth Technology – how Polecam gives a 3D view of football action
Shooting an SIV on beekeeping
---
Managing editor: Alison Chapman
Green Shoots in Africa – David James Foundation
Filming the world's longest horse race in Mongolia
iPhone apps for cameramen
Dreamflight – helping a charity for kids
GTC members give to charity
A short guide to CGI for cameramen
Beagle's About – remote cameras go to sea
Global Crisis – how cameramen can help
LEDs: the energy-efficient solution
A look at green practices at Sony's Pencoed base
News about the latest generation of digital cameras from ARRI
A Trip to Tripoli - two accounts of working on a large OB in Libya
In search of an affordable HD LCD monitor – the JVC DT-V24L3D
Jeremy Hoare on lecturing down under
Lenses from Leicester. Dudley Darby visits the home of Cooke lenses
Ronald Charles Green 1930-2009 – an affectionate tribute to this highly respected and sadly missed cameraman
Cameraman's shoulder – and how to guard against it
HD DSLRs: still developing. Update on the digital SLR cameras
Making the Cut. David Fox reviews Final Cut Pro 7
---
Guest editor: Nigel Cooper
Do or Die in New York City – the making of a self-funded documentary
I Can See Clearly Now ... the Sony PDW-700
Filming with the Yorkshire Air Ambulance
Panasonic AJ-HPX3700 reviewed
Aerial Filming: How safe are you?
Can you really shoot HD on a digital SLR?
How not to light a sitcom
The GTC Awards 2009
The story behind ITV's Country Ways
Tips of the Trade: Focus and Exposure
X-Mo Super Slo-mo – slow-motion image capture at its best
JVC GY-HM700 – a really well built budget camera
MX02 – Digibeta quality edit suite in a bag? A truly portable edit solution
In search of an affordable HD LCD monitor – the JVC DT-V24L3D
Battery low, lights dim, picture intermittent – are you looking after yourself?
Why Polecam is an ideal tool for 3D shoots
Step by step guide to producing and marketing a special interest video
---
Managing editor: Alison Chapman
Multicamera coverage of the Beijing Olympics rowing
Flycam – how to achieve spectacular overhead tracking shots
Starting Out – real life stories of how GTC members became cameramen
Polecam: lightweight jibs at the Olympics
The planning behind the Beijing Olympics OB
Liverpool Nativity: the story behind the massive award-winning live OB
The other side of the track: how to track the horses
A Day at the Races – the low-down on ACS's specialist camera systems
F35 – digital film expert Dan Mulligan on Sony's latest top-end camera
HD in Scotland from HD specialists Midas Multimedia
A progress report and user views on the innovative RED
Diary of a young cameraman – Part 1 of James Fulcher's story starting out
Putting the Sony EX1 through its paces in Afghanistan
Video 125 – the story of a highly successful 'niche' production company
Need finance for your new camera kit? Advice from specialists Fineline.
Time Scupture: the story behind an extraordinary 200-camera shoot
---
Guest editor: Ged Yeates
The London Mayoral Debate – producing a major OB at short notice
Nigel Meakin on shooting Michael Palin's 'New Europe' on HD
Visit to the lens specialists True Lens Services
Filming the bears of Romania
The story of sending pictures from the Moon for the Apollo programme
FCP training – two approaches to getting to grips with the Final Cut suite
Click – BBC News 24's technology show
Kosovo – filming when Europe's newest state gained independence
The latest on the tax status of freelance cameramen
Polecam in the Arctic – filming walrus and seals in the frozen north
Sony PMW-EX3 reviewed
Multi-camera operations in a surgical operating theatre
Relocating from Zimbabwe – starting all over again in the UK
RoscoVIEW reviewed
Panasonic AJ-HPX3000 reviewed
The work of the BFI's National Film & TV Archive
---
Guest editor: Momin Javaid
Keith Massey on how to survive in the industry
Five events that changed the course of TV
The Vortex aerial camera mount system
Broadcasting over the internet
'Top Gear' in the Arctic and filming the audience show
Coalhouse – reality TV in Wales
Cycling special – aspects of cycling coverage
Final Cut Studio 2 vs Creative Suite 3
Laurie Gilbert filming in Thailand
Decade by decade – perspectives from six generations of cameramen
Facilities and rentals – how to get the best out of these companies
Source2sea – an account of filming this challenging team-building exercise
LED lights come of age
How to work out which luminaire will give you the right amount of light
Which format – choosing the best format for the job
Zerb Basics: Depth of Field
---
Guest editor: Ian McCann
Paul Stewart on living and filming on the Galapagos Islands
Time-lapse photography
Filming the Battle of Britain Memorial Flight
GTC – the first 35 years
BBC – the Digital Media Initiative
P2 – Andy Portch on using the Panasonic format in China
'Pobol Y Cwm' – goes tapeless
Momin Javaid: impressions of using XDCAM HD for the first time
'Time Team' – through the ages
What's it like to be a staff cameraman at the Chernobyl reactor site?
Silent Witness – shooting on the Arri D-20
ARRI: a celebration of the company's 90 year history
Sony Vegas 7 reviewed
Mako Head – keeping a level horizon on the high seas
Zerb Basics: A Glossary of HD Terminology
Book review: Inventing Digital Television: The Inside Story of a Technology Revolution by Martin L Bell
---
Guest editor: John Rossetti
Peter Eveson on why TV cameramen are ideally skilled to shoot HD drama
John Adderley on filming a time-lapse artwork
Jimmy Jib in the Arctic
How

CMOS sensors

work and what they can do
Tony Grant on the skill of improvisation: lighting
Hogfather – Sky's biggest drama commission to date
Filming in Africa for a wheelchair charity
What does it take to be a cinematographer?
Camera sensitivity: SD vs HD
Filming against windows – tricks of the trade
Crash testing for dummies – high speed photography at Thatcham
Video Ark – ensuring archive video footage
XDCAM HD reviewed
Zerb Basics: Lighting 3 – The Great Outdoors
---
Guest editor: Clive North
Laurie Gilbert: on Mt Merapi during the Indonesian earthquake
Aerial cinematography over Everest for 'Planet Earth'
Sky's first HD documentary
Total eclipse of the sun in Libya
Grass Valley Viper on 'Last of the Summer Wine'
Viper: Filmstream Ultimatte HD
Filming an ascent on Mt Everest
Live and Learn – we all had to start somewhere!
The HD jungle – guide to the current crop of HD cameras
Filming for charity in The Gambia on a Sony HVR-A1E camcorder
Camera menus – a user guide
Health and Safety at Work – what all cameramen should be aware of
Report from the 2006 HD Masters Conference
Zerb Basics: white balance
---
Guest editor: Lee Helliar
Using Edwardian technology to film modern London
Visually Inarticulate part II – Jamie Cairney on shooting 'The Thick of It'
'The Green Green Grass' – HD sitcom
Alien Revolution (AR) – camera stabilization
In conversation with … John Simpson
Jonathan Young on filming in hostile environments
John Tempteton – in Iraq
News from the Channel Islands
Streaming for cameramen
When the going gets rough – coping with the nightmare shoot
Grass Valley Infinity – a new format
JVC GY-HD100 reviewed
Jeremy Hoare takes on a multi-camera shoot after a gap of 21 years
Zerb Basics: Lighting
Book Review: The Focal Easy Guide to Final Cut Pro
---
Guest editor: Alan Duxbury
Tsunami: the disaster and the aftermath
In conversation with… Sir David Attenborough
Around the world with Michael Palin
Diary of ITN's general election coverage
'Tribe' – Tim Butt on filming cannibals for the BBC
HD lenses – how do they differ from SD?
Mailbox – BBC Birmingham's new home
How do directors choose their crew?
Career change – starting out at Ravensbourne College
Richard Hookings on using Polecam at the Athens Olympics
Are you insured? Things to check before you shoot
Digital Production – a new approach to 'collaborative workflow'
Final Cut Studio reviewed
Zerb Basics: Exposure
Book Review: Practical Cinematography
Book Review: The Camera Assistants Manual
---
Guest editor: Jonathan Flanagan
Account of a horrific helicopter accident while filming with Ray Mears
Operating remote cameras
Christian Parkinson on working as a 'Broadcast Camera Journalist'
Shooting Partners test out P2
Clothing for extreme conditions
The HD future – views from camera manufacturers and experts
Sony HVR-Z1E – reviewed
Panasonic AJ-SDC905 road test
David Fox visits the Breda factory
The future's bright – latest lights
Panasonic DVX100A – reviewed
DV Rack software tested
Motion – Apple motion graphics software review
Zerb Basics: Widescreen framing issues
---
Guest editors: John Hoare and Dudley Darby
Moving On – Is there life after camerawork?
How filming techniques have changed over time
Music in Mali – travelling to the middle of nowhere to film an amazing festival
Russian Ark – the ultimate Steadicam shot
Lord Puttnam interviewed
XDCAM road test
Filming ancient sports in Asia on HD
Virtual reality studio
Farewell to the ride-on cranes
Excess baggage – the scourge of overseas shoots
Kisslite – a camera mountable ring light
G-PIXX – the helicopter built for aerial filming
DV – the pros and cons of the low cost formats
Zerb Basics: all you need to know about zoom lenses
---
Guest Editor: Dave Ballantyne
Commonwealth Games 2002
Digital wireless camera systems
OB in Nigeria – filming the Queen
In conversation with Dave Alex Riddett
Muddied but unbowed – filming underground
Garrett Brown – The Moving Camera Part II
Military cameraman
The Hospital – London's newest facility
Griptech – starting up an equipment hire company
TV returns to East Timor
Book review: Location Lighting for Television by Alan Bermingham
Tapeless camera systems
A look at some TV technology ideas that didn't quite make the grade
KE Remote Systems – a profile of the Aussie crane company
Zerb Basics: Setting up your viewfinder
---
Guest editor: Christina Fox
The Grand Zerb lighting challenge – 6 experts choose a £1000 lighting system
The role of the military cameraman
River to Heaven – Laurie Gilbert in India
How to make money from your old footage
Uploading video to your website
What does the colourist like to see in your rushes?
Achieving the required look in camera (rather than post)
A guide to some of the effects that can be achieved in camera
Garrett Brown – The Moving Camera Part I
Steadicam – learning to use the rig on an intensive three-day course
Mac v PC – which is best for editing?
Final Cut Pro 4 – software review
The Twic Olympics – filmed in Sudan
Dmist – a solution for misty pictures
Polecam – the story of how this lightest weight crane evolved
Book Review: Audio for Single Camera Operation
High Definition movies – CineAlta HD cameras
Sony HDW 750P: road test
Adobe After Effects – software review
360º imaging – the BBC's 'Where I Live' project
Getting the film look on tape with Panasonic's AJ-HDC27 HD camera
Zerb Basics – Monitors
Book Review: High Definition and 24P Cinematography by Paul Wheeler
---
Guest editor: John Keedwell
30 Golden Rules of Camerawork
A tour of America for GTC member Karl Lear
DoP Chris Menges interviewed
Richard van Nijnatten - in Norway with NATO
Paul Wheeler on the mistake of cutting crew sizes
Digi-Mitchell - bridging the film/video divide
Peter de Jong on future-proofing movies
Wildlife cameraman James Gray
Optimising the hit rate of your website
The Mole Crane - 45 years and still going strong
Brian Sinclair on the art of editing
Biological Weapons: what should you know about bioterrorism?
The Thomson Viper: a grade above the rest? by Geoff Boyle
Zerb Basics: Filters
---
Guest editor: Karl Lear
Stephen Northcott on the art of the camera flyer
Laurie Gilbert gets his HUET certificate
Desmond Morris - interviewed
Filming vocanoes
Highly Defined: the CineAlta
Charles Teton on shooting with DVCAM
Shooting a feature film on HD
Canon HD: New prime lenses
HD review: Ikegami HdK-790D
From one extreme to the other with cameraman Malcolm Ludgate
Kayak Crazy: Exhiliarating camerawork in extreme conditions
Rhys Williams travels the world following football
Zerb Basics: Aerial cinematography from Laurie Gilbert
Fibertec - the new lightweight tripod from Vinten
Kit Review: the Red Eye wide-angle adaptor
Emtec: A visit to a tape manufacturer in Germany
The Whys and Wherefores of HD
That Elusive Film Look
Non-Linear Editing: The first step
A Closer Look at High Definition TV
Easy Rider - gathering news on a motor-bike
Testing, testing... the Sony MPEG IMX
---
Guest editor: Mac Kenny
Afghanistan: In the line of fire... by Julie Ritson
Making Waves - on the Blue Planet
Afghanistan: For a few dollars more
Mini DV for mainstream broadcast
Stormchaser Alister Chapman on selling footage on the web
How to make a pain-free insurance claim
Fact or Fiction? by past GTC Chairman Peter Ward
Court artist Elizabeth Cook on working with news crews
Two Man Crews - a dying breed?
Trevor Baylis - interviewed
Training crews in Sierra Leone
Get the right vaccinations for your foreign shoot
Back to the Front - Life in the trenches
Zerb Basics - Equipment: hire or buy?
---
Guest editor: Christine Stanley
The GTC ballot on whether we should change our name
Mac Suibhne on the General Election
The lives and views of three camerawoman
Filmmakers for Conservation – by Chris Dickinson
'Handy Andy' interviewed
We're All Broadcasters Now – by Christina Fox
The latest industry-based course from Ravensbourne
Camerawoman Beka Dilworth on becoming a Steadicam operator
Lighting up the Dark Continent: The work of the Mohammed Amin
Foundation in Nairobi
Ged Yeates loses his luggage in Romania
Magnetic Tape: Do you know how to look after your tapes?
Zerb Basics: Paul Sampson on non-linear editing
Pangaea: A new 'Bed and Edit' facility in Devon
---
Guest editor: Ged Yeates
Laurie Gilbert goes supersonic with The Turkish Stars
David Hands on working and keeping safe on the streets of Israel
Rolf Harris – interviewed
Paul Osborne on the potentially excellent DV format
A–Z of digital terminology
The latest widescreen

DV

cameras tested along with a tripod and head from Vinten
A day in the life of a news cameraman in... Asia
Spin that really works – how to keep your lens dry in the rain
The new camerawork – deliberately or really incompetent?
A revolutionary new field editor from Brick House
Mark Capstick on why you shouldn't overdo negative gain
Alister Chapman: storm-spotting in the USA
The widest lenses from Fujinon and Canon compared
Rene Collins shoots hi-def in Brazil
Zerb Basics: Sound for the Single Camera Operator – Part 2
---
Guest editor: Neil Faith
What's in your kitbag?
A wide angle on Ground Force
Mostyn Price at the North Pole
Gerald Kaufman – interviewed
Cee Vee Central – selling yourself on the internet
Desktop editing – does a cameraman need it?
Roger Bolton on BECTU
Creating the look in camera – Geoff Boyle on filters
The post-production house 'Wizardry in Soho' shares a few of its secrets
'Live' from Westminster – televising and lighting Parliament
Zerb Basics: Sound for the Single Camera Operator – Part 1
Hostile environments: Are you ready for them?
---
Guest editor: Paul Mellon
Millennium Moments – how we spent Millennium night
Later than what...? – behind the scenes on the show that takes its music seriously
Kirsty Wark – interviewed
Pete Kelly and Des O'Hare shoot children's drama on a budget
Advice on

buying your own kit

from industry experts
What every cameraman should know... about Electricians
How coverage of the new Welsh Assembly and Scottish Parliament comes to our screens
Developments in Robotic Camera Control
BBC thirty-six camera skiing coverage in Austria
Could a Swedish invention for hand-held camera filming mean the end of back trouble?
Getting trained to cope in an emergency
Road-testing JVC's GY-DV500E
Zerb Basics: The digital camera menu
Peter De Vries turns Summer into Winter with Digital Betacam
---
Guest editor: Ian Nelson
Chris Yacoubian on using minicams in South Africa
A walk up dream street with Caroline Wilson
Alastair Stewart – interviewed
Osteopath Jane Wheeler on keeping your spine in good shape
What every cameraman should know... about Sound
Mike Audick reports on shooting a Husky race
How a cameraman can become a director/producer
David Smith reveals the secrets of shooting a feature on tape
The most helpful sound books for cameramen
Tested – JVC's new DY-90 digital camera
Zerb Basics: Timecode
Book Review: Timecode: A User's Guide by John Ratcliff
Darrell Thornton on the innovative lighting techniques used on Holby City
---
Where to next?