Steadicam Operator: Casualty – Momentum
The Steadicam work on this production added to the overall atmosphere and urgency of some scenes. The moves, which were executed excellently, show how unobtrusive and delightful good Steadicam work can and should be.
Rasmus Arrildt: Director of Photography: The Killing, Series 2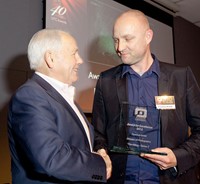 The camerawork on this atmospheric and exciting production was always very good and occasionally excellent, contributing to the high production standards of this hugely successful show.
Factual
Justin Mills: Lighting Camera: Newsnight - Brain Science, by Susan Watts
Strong, well lit frames and very precise external sequences brought a fascinating subject to the viewer with high production values and excellent camerawork.
Natural History
Mark Smith and David Allen: Camera: My Life as a Turkey
Great story-telling through well thought-out framing, exceptional close-up photography and focusing, using a range of camera positions including handheld walks and a wide variety of lens angles.
Multi-camera
Neil McLintock: Camera Supervisor: Royal Wedding: Westminster Abbey
Very well planned positioning of cameras to offer varied angles and dramatic framing while still telling the whole story of the wedding, thus ensuring the viewer missed nothing. The crew worked well together, co-ordinating cranes, zooms and pans to a uniform speed that gelled into a remarkable transmission.
Entertainment
Vittorio Storaro, Director of Photography: Rigoletto by Verdi – an opera in three live acts
The single (around 7 minutes) opening shot showed precision and planning and at times brilliant execution through the set, including stairs up and down, and travelling the length of the Great Hall. Some exceptional level and iris adjustments that were almost undetectable.
Extreme
Entire team of climbing cameramen: The Great Climb
Exciting, dramatic, extreme. The judging panel thought that the shots added to the experience showing the viewer angles and detail they could not experience themselves. Amazing coverage in more-than-difficult conditions. This is pushing the capabilites and the crew to the extreme.
Innovation
Stephen Gray: Ultra High-speed Camera: Wimbledon 2011 – X-Mo work
The X-Mo was used to great effect with a long lens to produce stunning and excellent replays and sequences, along with excellent composition and an understanding of what was required for analysis. Because of the requirements of high-speed photography, Stephen's focusing had to be absolutely spot on. This is a new style of camerawork that has had to be adapted because of the known technology and how it is delivered and should be recognised.
Other
Terje Sørgjerd: Timelapse cameraman: The Mountain
Exceptional footage that incorporated beautiful framing, well planned camera positioning and excellently executed automated moves. This all gelled together to offer the viewer a beautiful experience.
---
Seals of Approval
MTF Services Ltd
Nikon to Sony F3 Adaptor
This adaptor makes the use of a very wide range of high quality Nikon-mount still lenses possible with the Sony F3 camera. It has an ingenious design feature which allows manual control of the iris on lenses which do not have a manual iris ring (common on many modern lenses). It makes the F3 a much more flexible camera as the only alternative would be to use PL mount lenses which are great but expensive.
Easyrig AB
Easyrig 2.5 & Easyrig Cinema 3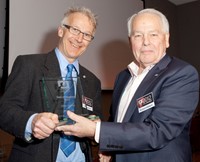 Easyrig is becoming more and more popular as large cameras such as ARRI and RED are being used handheld on dramas. It is also regularly used on live music, studio, OBs and PSC to great effect. The inventor, Johan Hellsten, deserves recognition for the constant development he puts into the idea, having most recently developed a variable unit on which the end user can vary the tension.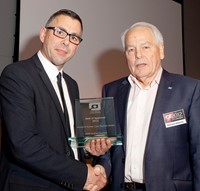 Arnold & Richter Cine Technik GmbH
ARRI Alexa Camera System
This system has been the subject of continual praise from cameramen users on the GTC Forum.
---
Mike Baldock Award
Lt Kelly Cleeve RN: HMS Ocean - Christmas video
HMS Ocean's crew have become an internet sensation after they made a music video of themselves getting into the festive spirit on board following news they would be coming home for Christmas. The video which has been viewed on YouTube more than 3 million times, shows the crew on the Royal Navy ship against the tune of hit Mariah Carey Christmas Song 'All I Want for Christmas Is You'.
Lt Kelly has rendered valuable service to the Guild by highlighting the cameraman'sability to raise the quality of their craft in social network broadcasting. She has brought much kudos to the role played by service cameramen and women within our industry.
---
GTC Honorary Membership
Neil Thompson
Neil Thompson has been a dedicated ally of the GTC for many years both while on the staff at Sony and more recently as a consultant and freelance tutor on the company's cameras and ancillary equipment.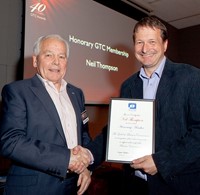 His willingness to impart his knowledge of Sony broadcast cameras has helped many amember - even out of hours. He has often answered technical queries placed on the GTC's online Forum and participated in many GTC workshops and exhibitions.
Highly regarded by cameramen for being able to look at cameras from their standpoint rather than just from an engineering, or worse, sales standpoint, Neil Thompson richly deserves the Honorary Membership being bestowed on him by the Guild of Television Cameramen.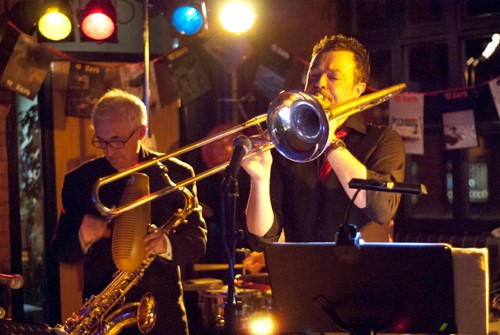 With the serious business of the day over, GTC members, Award winners and sponsors alike were free to let their hair down to the fantastic Anglo-Cuban rhythms provided by Alma Latina fronted by the designer of this website, Paul Dunn of Diablo Design and Multimedia. In a truly marathon day for Paul, at 2.30 the morning before the event, he and colleague Dave Field were launching this great new-look website for the GTC - by the evening Paul had morphed into the charismatic front man of Alma Latina!
---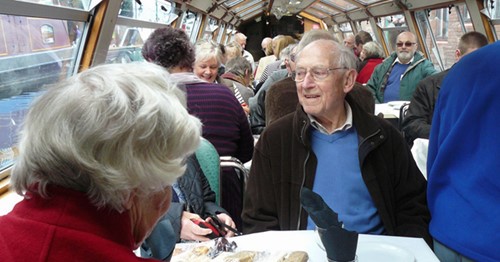 The next day, members and guests recovered by enjoying a relaxing trip round the canals of Birmingham before lunch and goodbye until next year.