GTC Awards 2015 Nominations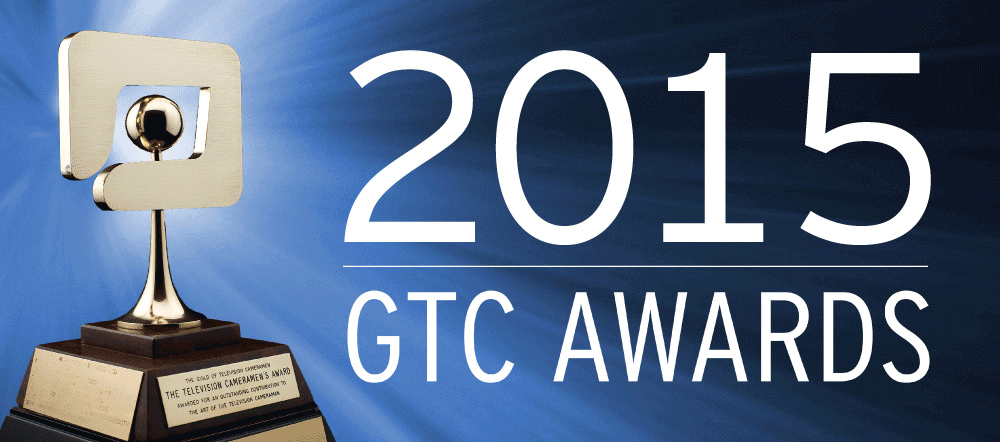 ---
And the nominations were ...
Awards for Excellence
Strictly Come Dancing - The Final, BBC1
The Camera Team
TX date/time: 20/12/2014
Reason for nomination:
For me, this series of Strictly has been the best of all. It has always been of a very high standard, but this year seems to have had an extra edge. From the very first shot of professional dancer Pasha in the opening number, the action was incredibly high speed with great dancing and camera choreography. A simply amazing variety of shots gave the sequence lots of energy with great angles from wide to close-ups of the dancers.
The camerawork was exemplary with demands of some at two seconds in places from the floor to steadicam and technocrane (I assume!). Apart from a brief stationary period with Claudia and Tess introducing the programme, the dancing and movement just kept on going and moving – testing the camera team to the limit. Given it was the final, with high expectations from the country and stress levels at high tide, the shots were absolutely stunning. The framing and focus were held with considerable professional skill throughout the whole programme.
---
David Attenborough's Natural History Museum Alive, Sky 1
Director of Photography: Tim Cragg
TX date/time: 01 01 15
Type of programme: Natural History
Reason for nomination:
This documentary filmed at the Natural History Museum, London, uses CGI imagery to bring to life several of the extinct animal skeletons in the museum. Tim through expertly crafted camera angles takes the viewers of this educational natural history documentary on a journey suitable for all age groups.
---
Blood Swept Lands and Seas of Red
Drone camera work: Dave Halton (pilot) and Paul Carr (operator) of AerialVue Ltd
Reason for nomination:
The excellent drone camerawork on this programme about the WW1 poppy tribute at the Tower of London gave members of the public a truly different perspective of the installation which many would have been unable to see from standard vantage points. These high-level images would have been unable to be gathered via helicopter or the like due to flying constraints around London and the Historic Tower of London. Also, due to the sensitive nature of the memorial, a drone was the best device in this instance. The fact that the footage was made available to all news organisations shows forethought on the part of Historic Palaces, and in nominating this we acknowledge their efforts to bring the Installation to a wider audience.
---
Our Girl (Episode 2 of 5), BBC1
Director of Photography: Nick Dance BSC
TX date/time: 29 09 2014
Type of programme: Drama
Reason for nomination:
DoP Nick Dance BSC always likes to operate. Episode 2 of Our Girl is the most visual of the 5 x 1 hour episodes in the series. (Subsequent to my decision to put Nick forward, the BBC has submitted this episode for the Bafta Craft Awards). All of the series was either handheld or Steadicam. This episode had battle "conflict" situations. The helicopters and the heat and dust of South Africa (Afghanistan!) were all particularly challenging. There are certain scenes where high winds also made shooting particularly difficult and Nick was also under strict time constraints to complete the schedule.
---
The Queen's Garden' (Series 1 : two episodes), ITV
Director of Photography: Robin Cox
TX date/time: Episode 1 : 25 12 14 : Episode 2 : 28 12 14
Type of programme: Natural History
Reason for nomination:
Robin Cox was the principal cameraman shooting across both programmes, but there were numerous important contributions of timelapse from Tim Shepherd (studio) and Rob Hollingworh (location). Robin was responsible for the majority of other filming over the year-long shoot covering all of the seasons and Simon de Glanville, Rupert Binsley, Max Williams, Brendan McGinty and Peter Wilkinson replaced Robin on a few occasions when he was away on other jobs or a second camera was needed. There was also a drone shoot which Robin was not involved with.

The strength of Robin's camera operation is composition. It is something so important yet simple and which has earned him many compliments in the past.

Robin used the RED Epic for most of this first series. He used an Aerobotix (MoVI type) stabilised gimbal for many of the shots and some of the most challenging yet effective scenes are: a) Alan Titchmarsh's scene in the rowing boat on the lake, achieved with a combination of cable dolly and gimbal; b) the earlier piece to camera that sees him exit from the London taxi outside the palace, and opens the first film; and c) another gimbal shot which opens the story about the two intertwined London Plane trees called Victoria and Albert. This shot transitioned from a handheld gimbal shot into a vertical ascent into the tree courtesy of some clever ropes rigged that allowed Robin to release the camera rig and lift it into the canopy and watch Alan walk away below. The gimbal allows the camera to transit from person to person or rig to rig with ease, The combination of these shots and those on his Ronford Slider keeps the camera moving revealing depth to the audience which makes the viewer's experience all the more immersive.

Robin's work also recognised that there was a wide selection of archive footage of very differing qualities which presented specific challenges to Niels Bellinger the editor and the post-production team at On Sight.
---
Bluestone 42, BBC3
Camera Operator: James Frater
TX date/time: first shown 27/2/14 - 27/3/14
Type of programme: Entertainment

Reason for nomination:
Bluestone 42 has excellent reviews and is a highly regarded comedy series based on bomb disposal in Afghanistan. It is reckoned by serving soldiers to strike the perfect balance between comedy and drama of much of army life in Afghanistan. The clever single-camera operating and steadicam style by James Frater is an essential component of this mix.
---
John Bishop's Australia, BBC2

Drone Operation: Tony Driver, Heliguy drone operator

Type of Programme: Factual / Reality

Reason for nomination:

The aerial work on this programme was much more than the elevating wide shot or the drifting high shot we usually see. Here the shots developed to reveal the landscape or maintain the visual interest as the camera moved around John on his bike. The aerial shots, peppered throughout the series (often at low level) were unobtrusive and a joy to watch. One sequence as an example from programme 3 (I think) had a high shot of Bishop leaving the rainforest. As he appears in shot, the camera cranes down to reveal the sea, and this is followed by other aerial shots to make an accomplished sequence.
---
The Island with Bear Grylls, Channel 4

Camera/directors: Matt Bennett, Dan Etheridge, Rupert Smith

TX date – 5 episodes, May 2014 at 9pm

Type of Programme: Factual / Reality

Reason for nomination:
​In February 2014, 13 men were marooned on a tropical island with nothing but the clothes they wore. For four weeks they were to take part in an original experiment for Channel 4 television – to see if modern man still has what it takes to survive, or whether modern life has eroded his ability to live off the land.

Matt, Dan and Rupert, professional cameramen/directors, were selected to embed with the team. There were no extra privileges and instead they had to hunt for their food, find their own water and endure the experience alongside the others. But for them there was one added twist; with no contact from the outside world, they had to film the whole experience producing enough material for five carefully crafted programmes.

It was groundbreaking in its approach and the risk paid off as The Island with Bear Grylls became an overnight hit for Channel 4.
---
Human Universe (Prog 5): What is our Future?, BBC2
Director of Photography: Paul O'Callaghan and Rob McGregor
TX date/time: 04/11/14, 9pm
Type of programme: Factual
Reason for nomination:
Paul O'Callaghan's work on this series is excellent throughout but I would like to nominate him and Rob McGregor for Programme 5, iincluding an extraordinary two-minute piece to camera in the final programme of the series.
This was a continuous Steadicam move shot on a Sony F55 camera with presenter Brian Cox as he walked a complete length underneath a Saturn 5 rocket. During the shot the framing was varied and it traversed from one side of the enormous rocket to the other and back again, all the while avoiding the rocket's various supports etc., resulting in a gripping sequence.
---
Ant & Dec's Saturday Night Takeaway, ITV1
The camera team
TX date/time: 5/4/2014
Type of programme: Entertainment
Reason for nomination:
The programme was a live studio and location programme which was stunning in its camera complexity and timing with Ant and Dec. The standard of camerawork was incredibly high for a programme of this live genre – even when Ant did a real sequence in the lift shaft at The London Studios and the programme ended with a location live from outside and inside an aircraft at Leeds-Bradford Airport, timed to the second.
The camera team captured everything essential and the quality of the framing was incredible and professional given the unpredictable nature of the action.
---
BBC Regional London News – Art Features: Brenda Emmanus, BBC1
Camera: BBC London Location Camera Crews
TX date/time: 18.30 every weekday, 2012–2014
Type of programme: Factual

Reason for nomination:
Consistently good lighting, camerawork and framing.
---
The Wonders of the Monsoon - Drought, BBC1
Camera: The camera team
TX date/time: 19/10/2014
Type of programme: Natural history
Reason for nomination:
All round excellence in camerawork. Beautifully shot, classic natural history television.
---
The Condemned, BBC4
Camera: Nick Read (Director + Director of Photography)
TX date/time: 19/10/2014
Type of programme: Factual
Reason for nomination:
Sympathetically shot with crafted images taken under extreme conditions. The whole programme, produced without commentary, relied on the images to tell the story, which they did superbly.
---
Danny Macaskill The Ridge, BBC Scotland / YouTube
Camera Team: Scott Marshall (Cameraman); Stu Thomson (Cameraman/ Director); Lec Park (Drone Cameraman)
TX date/time: 14.10.2014
https://www.youtube.com/watch?v=xQ_IQS3VKjA
Type of programme: Extreme
Reason for nomination:
Danny Macaskill's prowess on a bike is nothing new, and has long been a spectacle enjoyed by thousands on YouTube. This latest production by 'Cut Media' is especially good because of the excellent planning, precision rehearsal, shooting and the foresighted use and operation of the quadcopter camera.

It all looks as if it has 'just happened' but as cameramen we know life isn't that simple. The fact that the viewer will be blissfully unaware of all the minute planning and attention to detail, just shows that this production is worthy of a GTC camera award.
This programme has been nominated twice - the second nomination is specifically for the aerial camerawork by Lec Park.
Reason for nomination:
Some of the most wonderful and difficult moves performed by a drone cameraman/pilot under exceptional circumstances. The shots are stunning and the flying impeccable,. This is an excellent example of what can be achieved using this new technology.
---
Sacred Rivers with Simon Reeve – Nile, BBC2
Jonathan Young
TX date/time: 9pm - 5th October 2014
Type of programme: Factual
Reason for nomination:
The camerawork in this episode visually enhances Simon Reeve's storytelling in every aspect. The shooting style seamlessly adapts to the tone of the subject matter. Also of note is the helicopter sequence in this episode, a notoriously difficult task which was executed with perfection. This is an example of wholehearted traditional camerawork using modern technology to its full advantage. More programming like this please!
---
Return to Betjeman Land, BBC 4
Camera: Mike Robinson and (?) Robinson
TX date/time: 03/09/2014
Type of programme: Factual

Reason for nomination:
A quite perfect programme, totally reflecting the subject, Poet Lauriet John Betjeman. The Robinsons' camera work seamlessly takes us back and forth between the current day and the old BBC films of John Betjeman, never intruding, simply telling the story in some quite beautiful, well-composed, well-lit, smooth, steady shots, adding to AN Wilson's Betjemanesque commentary.
Editing, music, everything, as well as camera work, takes us back to the time when Centre of Excellence meant something. The BBC hasn't lost it.
---
Hive Alive, BBC2
Director of Photography: Robin Smith
TX date/time: 15/07/14
Type of programme: Factual
Reason for nomination:
Beautiful photography generally and especially the use of innovative or specialist techniques such as macro, slow-mo, drones etc to show close-up action of bees in their hives, on the wing... even bees copulating in mid air in slow-mo! How they did this, I'll never know!

The programme is a prime example of needing top-level people and hi-tech camera kit and techniques in order to illustrate the science being discussed and revealed. Without the images and work of the DoP and his team, the science of this programme would have been lost on the viewer. Robin's work allowed the audience to see and understand brand new, cutting-edge scientific discoveries.
---
A Cabbie Abroad – Canada, BBC1
Lighting Camera: Paul Stas
TX date/time: 29/06/2014
Type of programme: Factual
Reason for nomination:
Sometimes watching a programme it becomes apparent just how much hard work the shoot must have been for the cameraman. This was definitely the case in this programme, about a London taxi driver working in an arctic town in Canada.

Paul Stas had to work in extreme conditions, in sub-zero temperatures, working with multiple cameras and formats. Minicams were used extensively in the taxi, tricky to set up even in ideal conditions. He had no recordist or assistant with him, so had to do his own sound, including complicated in-car set-ups as well as getting good sound with contributors wearing arctic clothing.

Despite this very heavy workload, the film had great images, and the blizzard sequence which ended the programme was impressively shot and gave a real feeling of what life is like in this part of the world.

A great example of a cameraman producing first-class work, in extreme conditions and with less crew than desirable.
---
Hinterland, BBC4
Director of Photography: Richard Stoddard
TX date/time: 19/5/2014 2100
Type of programme: Drama
Reason for nomination:
Beautifully shot and lit drama on location in Wales. Very well executed moves and framing which really added to the tension of a first-class drama.
---
Eurovision 2014: BBC1
Camera: ESC Camera Crew: Steadicam operator: Karsten Jacobsen; Focus puller: Martin Samsøe
TX date/time: 06/05/14 2000 (First semi-final)
Type of programme: Light Entertainment
Reason for nomination:
Clip: https://www.youtube.com/watch?v=bWe8PRsW4T0

As highlighted by other members, perfect execution on the submitted shot, consistently high quality throughout the show, beautiful 'look' to the event as a whole.
---
British Gardens in Time, Ep.2 Stowe, BBC4
Aerial Camera: VuAir Team
TX date/time: 15 April 2014
Type of programme: Factual
Reason for nomination:
The visuals were beautiful from the ground team but the aerials were stunning. The company VuAir is using a multirotor heli platform with pilot and a seperate camera operator.
---
Great Canal Journeys, More 4
Camera: James Clarke
TX date/time: 10/03/2014 – 31/03/2014 21:00
Type of programme: Factual

Reason for nomination:
This delightful programme featuring Timothy West and his wife, Prunella Scales, making four different canal journeys was chock full of beautiful images. No fancy tricks, just a really well made documentary series which was unmissable.
---
Seal of Approval
Nominee: Rotolight Anova V2

Reason for nomination:
Rotolight have taken the LED lighting market and turned it on its head with some genuinely innovative designs. The Anova V2 is the latest version of their Eco Flood lamp and with its distinctive design and excellent TLCI results it is amongst the best on the market.

Add the wi-fi functionality and soon to be launched colorimetry analyser, the Anova range, assembled at Pinewood, is genuinely ground breaking.