Bill Vinten GTC University Awards 2015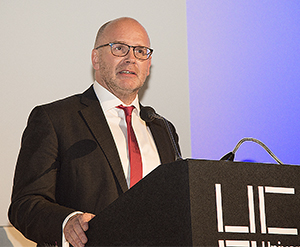 The 2015 Bill Vinten GTC University Awards were presented on 15 October at the
University of Creative Arts (UCA)
in Farnham, Iast year's winning university – the GTC is grateful to the University for hosting the event and providing great facilities for the presentation. UCA was represented on the night by Vice Chancellor Professor Simon Oldfield-Kerr (
see
right
) and Film and Prodution Course Leader Claire Barwell.
The evening was introduced by GTC Chairman Keith Massey and there were keynote talks from Billy Williams BSC OBE and last year's winner, Vince Knight. A very lovely part of the the evening was that Jean, recent widow of the GTC's President Dick Hibberd, who had been very involved in and proud of the
establishment of the University Awards, was well enough to attend and to present one of the prizes.
Bournemouth University collected this year's Bill Vinten GTC University Trophy, scoring more points for their portfolio of undergraduate films than the 14 other establishments who entered the 2015 competition. The Trophy was collected by Mark Bond, the Programme Leader at Bournemouth University (see right) and presented by the GTC's Stuart McKears who devised the Awards.
The evening was an opportunity for GTC members to meet colleagues, university staff and students, and to listen to Billy Williams BSC OBE. Billy entertained the audience with anecdotes from his career as a DoP, working with directors such as Ken Russell, John Schlesinger and Richard Attenborough. It was with Attenborough that Billy won an Oscar© for Best Cinematography on Gandhi.
Angus Mitchell (Bournemouth University) received first prize for his work on Brackish Water. Angus said: "I had a brilliant time, and was overjoyed at receiving this prestigious trophy and award package. I cannot wait for the exciting opportunities that my work experience will bring me, along with being a member of the GTC." Angus will be working with Martin Hawkins who received the GTC's TiCA earlier this year.
Runner-up James Matthews (Northern Film School) will be travelling and shooting adventure footage in Vietnam and Australia over the next few months before he begins his work experience. Lawrence Fish (University of Portsmouth) (see right below) will take his work experience at the end of October with the Doctors production team in Birmingham.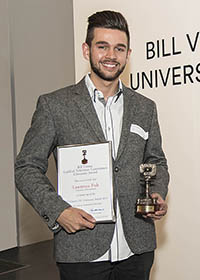 The awards presentation was held at the University for the Creative Arts (last year's winning college) and was streamed live by GTC member Jay Rozanski from
oX
yFire Media Creative
with help from members Jenny Alsina, Steve Acton and James French. GTC sponsors, Media Dog Camera Hire, provided an extra camera which was operated by student member, Kate Priestman from UCA.
The shortlist for the Bill Vinten GTC University Award 2015, in alphabetical order, was:
Lawrence Fish (University of Portsmouth): Automated Teller Man
Tomas Frigstad (University for the Creative Arts): Deep Pan Fury
James Mathews (Northern Film School): Mako
Ronnie McQillan ((University of York): When the Dust Settles
Angus Mitchell (Bournemouth University): Brackish Water
Hamish Saks (Northern Film School): Desire Lines
The three universities who were in final contention for the prestigious Bill Vinten GTC University Trophy, which recognises and reflects the range of teaching across genres, were Bournemouth University, Northern Film School (Leeds Beckett University) and Staffordshire University.
The other institutions that entered this year are:
Anglia Ruskin University
Edge Hill University
Kingston University
Plymouth University
Stratford Upon Avon College
University of Brighton
University for the Creative Arts
University of Lincoln
University of Portsmouth
University of Sunderland
University of the West of England
University of York
The GTC Council would like to thank the judging panel who are:
Dave Ballantyne, Former GTC Chairman
Darren Bramley, Senior Cameraman
Anna Carrington, DoP and Lecturer
Alan Fawcus, Senior Cameraman
James Neal, Camera Assistant
Dan Wiles, Producer/Director
Ian Stubbs,Senior Tutor NFTS