RaceTech upgrades fleet with close to 40 Cartoni fluid heads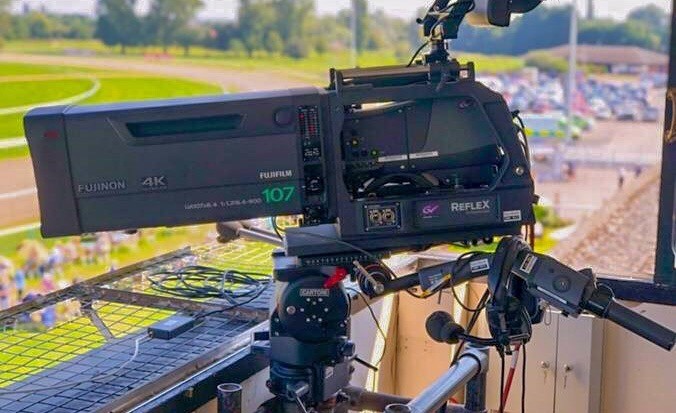 Earlier this year GTC sponsor Cartoni was selected by RaceTech to provide camera supports for its Outside Broadcast fleet – a particular honour for Cartoni as RaceTech has been trusted to keep British racing at the forefront of global broadcast technology for more than 70 years. With its origins as the premiere 'race finish' recording company in 1946, the RaceTech legacy has included the development of horseracing's first photo-finish system and the introduction of full high definition broadcast and racecourse AV installations.
---
Cartoni Master 65 Head – meeting Racetech's needs
After extensive field testing, Racetech decided to upgrade its existing fleet with 25 Master 65 fluid heads and 12 Focus 18 lightweight systems along with a RaceTech-designed three-way leveller for hoist operation. The Cartoni Master 65 heads are the ideal partner for outside broadcasts with bulky box lenses. Featuring Cartoni's patented drag system, the Master 65 can handle payloads of up to 65kg and is capable of nearly freewheeling to precise movements – making it a perfect choice for sports applications. RaceTech also added the Focus 18 system, a lightweight tripod system for camera operators on the go, handling payloads of up to 18kg.
"After extensive field testing, we found the Cartoni products to be a perfect choice. In this application, we need gear that is robust, and performs reliably and consistently. We found the Cartoni products matched our needs in this respect and were capable of supporting a variety of camera combinations, including our 107x 4K Fuji lenses," explained RaceTech's Engineering Manager Chris Clark.
---
Field testing
Field testing was conducted over several months in various locations across the UK. Cartoni was very responsive to RaceTech's main requirements, which were simplicity and speed of setup in all weather conditions. RaceTech wanted to simplify its inventory and maintain accessory interchangeability across its extensive range of camera supports. This was possible as the Cartoni pan bars and wedge plates, as well as attachments to 4-bolt scaffold pods, were all designed to be completely interchangeable with their old heads.
---
Versatility
RaceTech wanted to minimise spare part support so its expectation was a single camera pan-and-tilt head system which could support the 107x Fuji combination as well as the smaller and lighter AH46x Fuji units. Engineering Manager Chris Clark and Workshop supervisor Alan Wake were adamant about this element of the project. The Cartoni design engineers created a single torsional counterbalance spring, which would find the optimum centre-of-gravity position when supporting both payloads.
Local service support was another critical factor in Racetech's decision-making process. Although Cartoni is manufactured and designed in Rome, Italy, RaceTech would also benefit from working closing with Octica, one of Cartoni's key UK partners, located just a short drive from the RaceTech facility in Raynes Park.
Another deciding factor was that the Cartoni Master 65s and Focus 18 fluid heads are covered by an industry-best five-year warranty. This length of cover can be offered as each component is machined from solid billets of aluminum, making them exceptionally strong and robust.
---
Adaptability
Cartoni demonstrated how a smaller family-owned business can be adaptable and quick to react as RaceTech had an urgent need for three-way levellers for use on its hoists. The three-way levellers had been designed and built by RaceTech, but due to resource issues and the urgent requirement for the new OB truck project, the company approached Cartoni for help. Without any hesitation, Elisabetta Cartoni, the owner and CEO, took an immediate decision that Cartoni would create new technical drawings from RaceTech files and design a newer version with improved features.
---
About RaceTech
RaceTech is the leading technical facilities company providing innovative solutions to the UK horse racing industry since 1946.
RaceTech first developed photofinish technology in the 1940s and is still dedicated to providing leading-edge technology for raceday solutions including the operation and maintenance of audio visual systems, closed circuit television, public address and radio communications. Its Outside Broadcast Units supply HD pictures for terrestrial and satellite broadcast, and provide coverage for every horse race run in Britain for the sport's integrity service, it is scheduled to cover 1500 race fixtures this year. In addition, the company pioneered the introduction of starting stalls to Flat racing in the UK which it continues to manage and operate. Recent innovations include multimillion-pound investment into HD Technology. RaceTech is proud to support Pony Racing encouraging the jockeys of the future. For more information: www.racetech.co.uk
---
For more about Cartoni and its products see cartoni.com