Blackmagic Design announces new products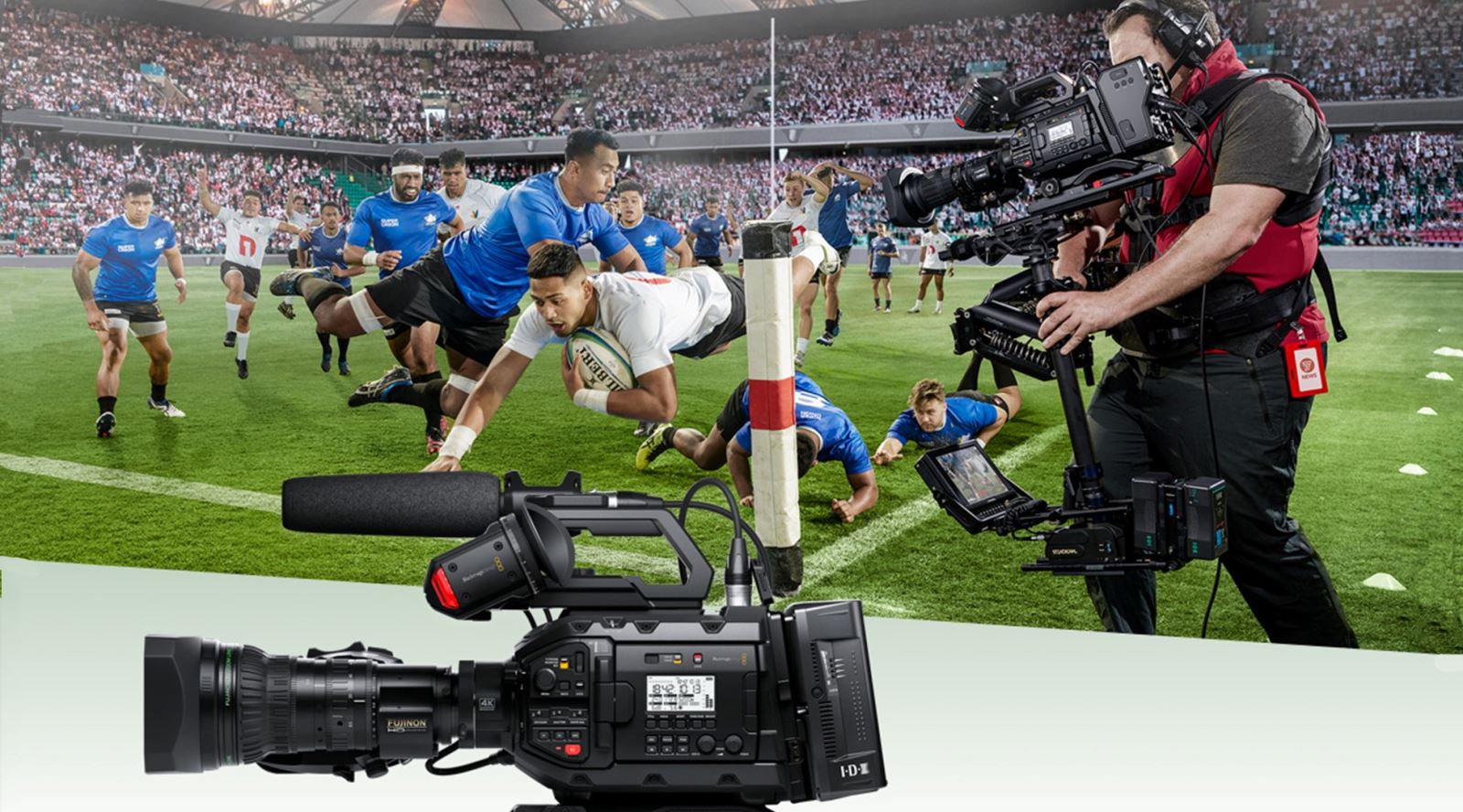 GTC sponsor Blackmagic Design has just announced the launch of several new products to help solve a number of problems experienced by broadcasters. The products are:
Blackmagic URSA Broadcast camera
Blackmagic Fiber Converters for SMPTE fiber
ATEM 4 M/E Broadcast Studio 4K switcher
ATEM 1 M/E Advanced Panel
Free upgrade for ATEM 2 M/E Broadcast Studio 4K switchers
ATEM Camera Control Panel
All the products have been designed to enable broadcasters to upgrade to Ultra HD and include enhanced features and industrial design. With reduced budgets meaning that it's often a struggle to update to Ultra HD, these products should provide a helping hand. Plus, they will allow web broadcasters to benefit from more professional features that high-end broadcasters use.
---
Introducing URSA Broadcast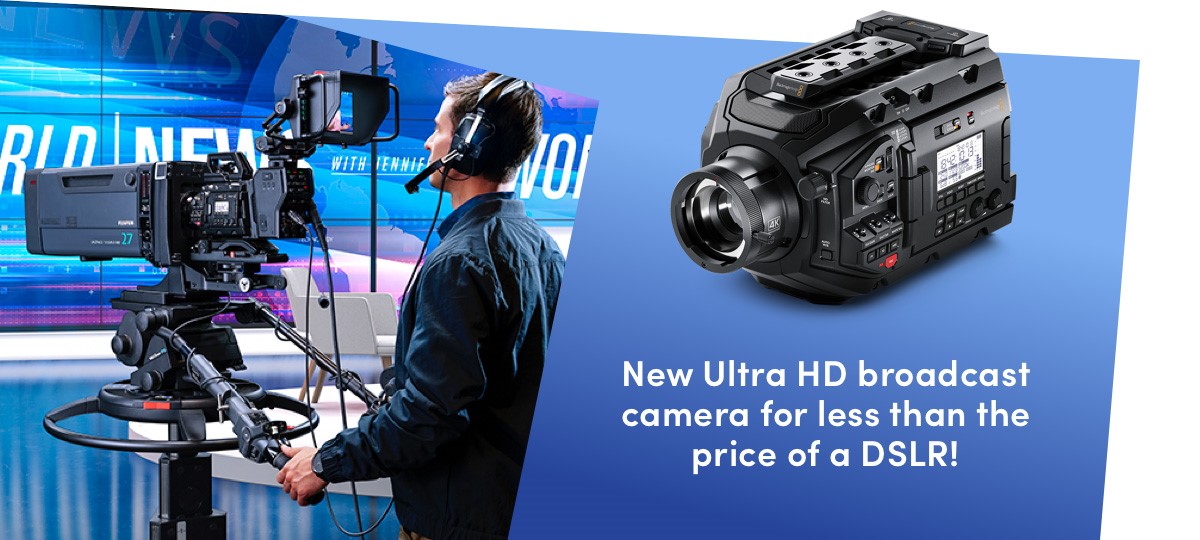 The new URSA Broadcast is an affordable, Ultra HD professional broadcast camera which will help broadcasters upgrade to Ultra HD. It's based on Blackmagic's URSA Mini Pro design so it has all the traditional camera controls and features you'd expect, plus it can also use URSA Mini Pro accessories. Unlike Blackmagic's digital film cameras, the sensor size is designed for URSA Broadcast's B4 lens mount so it has a very wide depth of field, meaning much more of the image remains in focus. It also has wide dynamic range so it can produce nicer images and it integrates into HDR workflows.
URSA Broadcast also solves two other big problems. First, it's two cameras in one – it works as both a regular shooting camera and a studio camera. It's also a fantastic HD camera which means you can upgrade your camera and use the lenses and batteries you already have. It uses regular SD and CFast cards so you don't need to use expensive custom media and its file formats are regular DNx145, DNx220X, ProRes and even RAW so it integrates into editing and media management workflows without any file transcoding.
Blackmagic URSA Broadcast also includes studio camera features so you can use it more often as it can be moved between shooting and live production workflows.
It's available now for US$3,495.
---
Blackmagic SMPTE Fiber Converter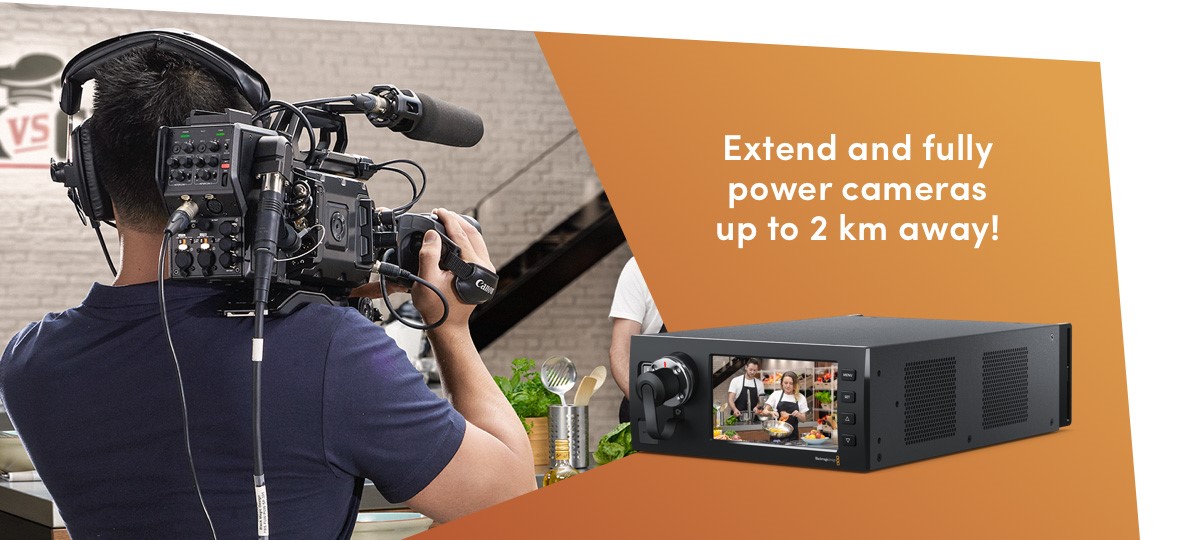 If you are using cameras such as the new URSA Broadcast as a studio camera then you will want to move the camera much further than the distance SDI can normally extend. The new Blackmagic Fiber Converters let you extend cameras using common SMPTE fiber cables. Plus, these converters will also let you fully power the camera up to two kilometres away.
There are two products in this new family. The first is the Blackmagic Studio Fiber Converter and it includes a power supply and all the video, audio, talkback and tally connections to interface to a switcher as well as traditional third party talkback and tally systems. It also works with the SDI talkback, tally and camera control protocols used on our ATEM switchers.
The other product is for the camera end and it's called the Blackmagic Camera Fiber Converter. It mounts to any camera that supports a standard battery plate as it attaches to the camera in place of a battery to power the camera. What's exciting about the Blackmagic Camera Fiber Converter is that it also adds a lot of controls for audio and talkback and this means it transforms a normal broadcast camera into a studio camera. It allows the operator to work from behind the camera.
The Blackmagic Fiber Converters use the extremely reliable SMPTE fiber cable which is a global broadcast standard. It performs constant safety checks to ensure the cable is not damaged and the camera can be safely powered. It also includes multiple talkback channels for production and engineering as well as a main Ultra HD camera feed to the studio and 3 HD return SDI feeds back to the camera. It supports standard 5 pin broadcast talkback headsets and there are two headset connections. It also supports PTZ, tracker interface, outputs, tally, talkback, camera control and additional DC outputs for accessories or box style lenses.
Both the Blackmagic Camera Fiber Converter and the Blackmagic Studio Fiber Converter are available now for US$2,995. When combined with URSA Broadcast or URSA Mini cameras, Blackmagic Studio Viewfinder and an ATEM live production switcher, these converters let you build the world's most affordable and most professional high end broadcast camera chain!
---
New ATEM 4 M/E Broadcast Studio 4K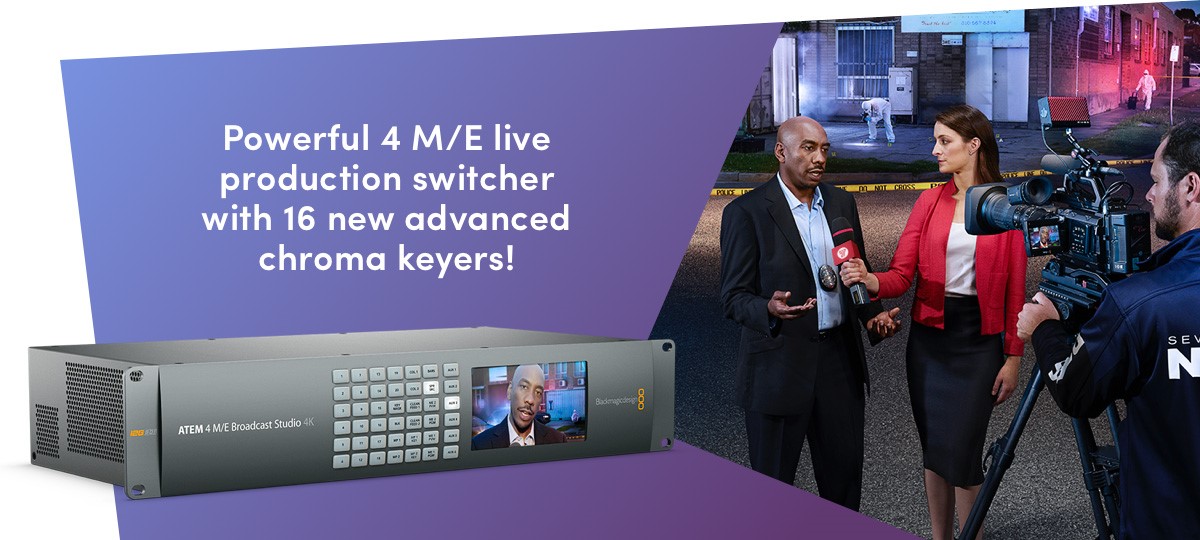 Live production switchers let you create television programs in realtime, including effects, transitions, graphics and more. Previously Blackmagic's biggest switcher was limited to 2 M/Es and some customers working on big jobs wanted something more powerful.
Blackmagic has now introduced the ATEM 4 M/E Broadcast Studio 4K, which is its most powerful and advanced live production switcher to date. It replaces the 2 M/E Broadcast Studio model and like the older model also features:
20 x 12G-SDI inputs
DVE
SuperSource compositing engine for picture in picture effects
Dozens of transitions and effects
Ultra HD multi view output
Full re-synchronization on all inputs for super clean switching
In addition to the above this new model includes four fully independent mix effects rows making it an incredibly powerful switcher. It also includes four of the completely new designed ATEM Advanced Chroma Keyers per ME row. That's 16 of these new keyers in total. It's a massive improvement and will allow some extremely large and complex live events to be covered.
The ATEM 4 M/E Broadcast Studio 4K is available now for US$5,995.
---
ATEM 2 M/E Broadcast Studio 4K Upgrade
There's good news if you already own the ATEM 2 M/E Broadcast Studio 4K model. As both designs are similar internally, Blackmagic has been able to upgrade the older 2 M/E model to include the same features as the new ATEM 4 M/E Broadcast Studio 4K. This means any 2 M/E model will now upgrade to 4 M/Es and the switcher will increase from four of the older design keyers to a total of 16 of the new ATEM Advanced Chroma Keyers.
Blackmagic are keen to provide this update to existing customers as a way of thanking them for their purchase in the past. It's a massive software update that will completely transform your switcher. It's available now, free of charge, from the support page on the Blackmagic website. Please download it to update.
---
New ATEM 1 M/E Advanced Panel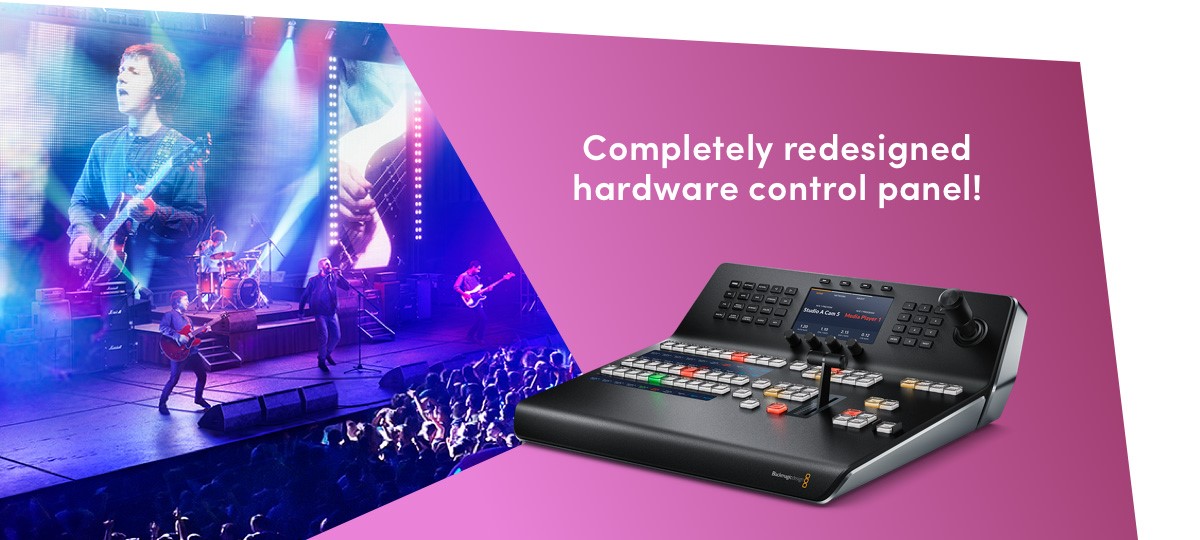 When you're using a switcher on a complex live program, you need the speed and power of a dedicated hardware control panel so you can keep up with the action and operate quickly without errors. Despite a good range of Ultra HD live production switchers, the previous mode of hardware control panel did not reflect the modern design of the switchers. The solution - design a whole new hardware control panel.
The new ATEM 1 M/E Advanced Panel is a compact hardware control panel featuring:
Built-in LCD
Dynamic customisable buttons
Professional T-Bar fader
Joystick
Updated layout
It has LCDs for source labels so you can use labels longer than four characters and each label can be multi language as well as custom coloured for clarity. The system control is now done on a large clear to read LCD and you can access a lot more features than on the older model.
The new advanced panel lets you program and trigger macros as well as do aux switching and many other functions. There's also a new M/E selection button that gives you total control of up to four mix effect rows, all from a 1 M/E panel meaning you can even use it with the new ATEM 4 M/E Broadcast Studio 4K! The new ATEM 1 M/E Advanced Panel will also work with all Blackmagic Design ATEM switchers, even the older models.
The ATEM 1 M/E Advanced Panel also costs less than the older model control panel and is available now for only US$2,995.
---
ATEM Camera Control Panel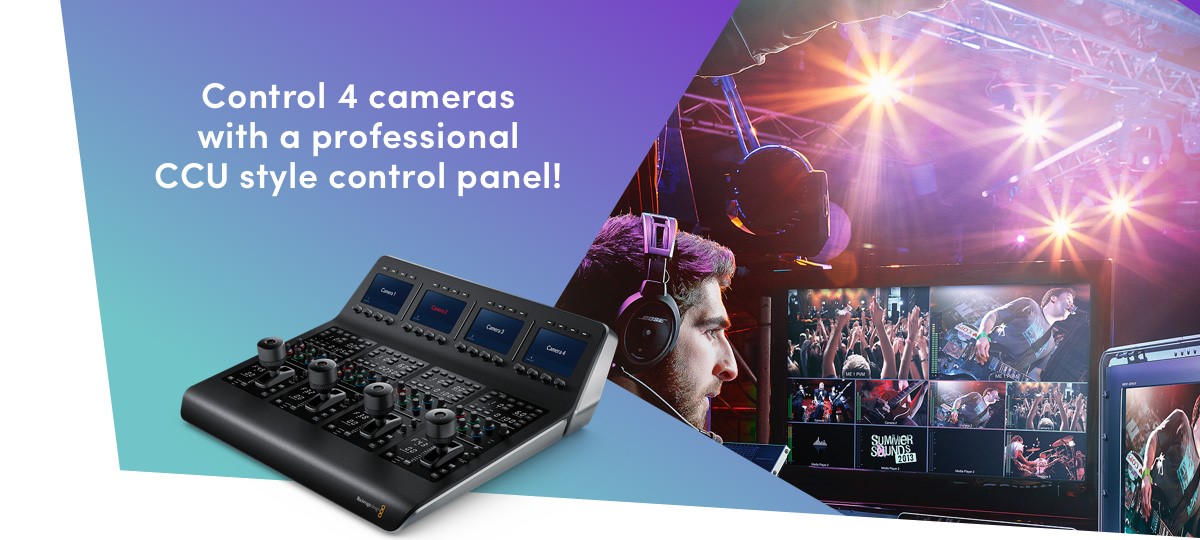 With all these new products, there is a need for a professional CCU style camera control panel so you can match and colour balance cameras live. All Blackmagic Design studio cameras have remote lens and camera control via the SDI program return feed and all the current model switchers generate this protocol. There is even a DaVinci primary colour corrector built into all Blackmagic Studio cameras, URSA Mini and URSA Broadcast cameras that can be remote controlled!
To complete the whole live production workflow, Blackmagic are announcing the new ATEM Camera Control Panel that features traditional CCU style camera controls. It is desktop mounted and it also includes four independent camera controllers in the one panel. This means you get an elegant design but it's also very portable. This panel has amazing quality controls and the master iris knob can also be rotated for master black adjustments and pushed to select the camera-to-camera monitoring. There are also controls for camera gain, setting camera numbers, bars, RGB gain and black adjustments and much more.
What this means is a single person can remotely monitor and adjust a wide range of technical parameters such as black levels, gain, colour balance and shutter speed of cameras, leaving the camera operators free to operate the camera.
The ATEM Camera Control Panel will be available in May or June this year for US$2,995. Even though it's not shipping today, Blackmagic wanted to showcase it so broadcasters could see the entire live production and broadcast workflow.