Camera Corps supports Task Brasil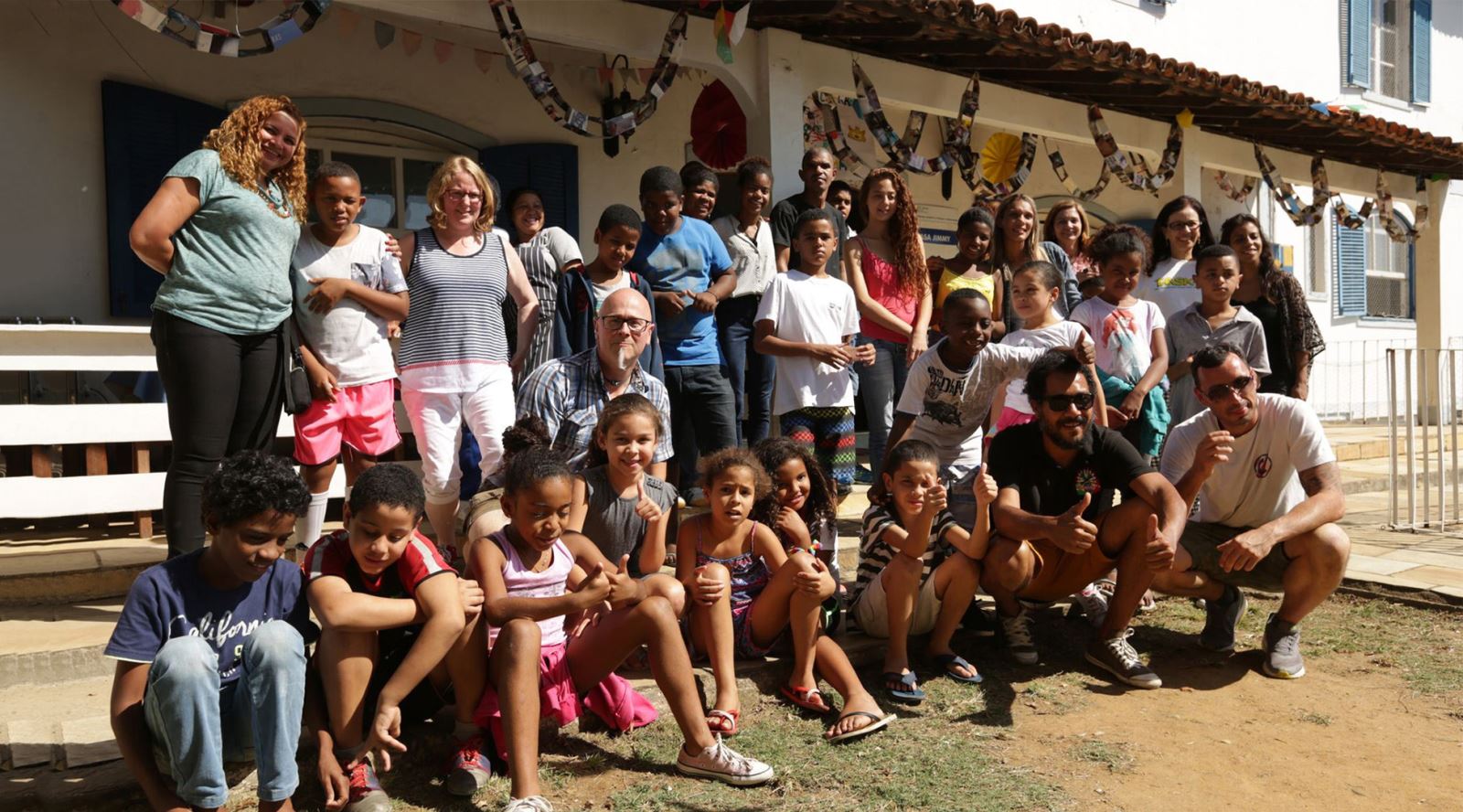 Outside broadcast technicians, camera riggers, tracking specialists and support crew working on location in Rio de Janeiro with GTC sponsors Camera Corps have donated generously to the Task Brasil Trust, a charity set up to help the street children of Rio. A substantial sum was raised by the team and matched in kind by Camera Corps and its parent company, Vitec Group PLC.
"The Summer Games proved a memorable experience for the Camera Corps team in many ways," comments Megan Lloyd Johnson, Production Manager for Camera Corps. "We worked with great people, learnt local cultures and added another major OB event to our belt. The team delivered a huge array of cameras, tracks and remote heads to various locations.
"However, by far the most rewarding moment was the chance we had to visit the kids and staff of Task Brasil at Casa Jimmy. Established in 1993, the charity offers a safe place where vulnerable youngsters can learn to swim, play sports, play music, build IT skills, study English and spend time together off the streets.
"I experienced first-hand the impact Task Brasil is making on the children, their families and communities. The hardships and circumstances from which they come may be difficult for us to imagine but this not what defines them during their time together at Casa Jimmy. The Task Brasil team are doing excellent work day-to-day with comparatively very little funding.
"Some of the Camera Corps specialists also co-operated in producing a video programme about the running of Casa Jimmy as a direct way of putting something back into the community.
"Our fundraising goals were ambitious but we secured the promise of matched corporate funding from Camera Corps and Vitec. As a result, we were able to make a five-figure contribution to the ongoing cost of equipping and running Casa Jimmy. We know that our combined donations will help give them a real boost, allowing them to undertake vital maintenance and upgrade work on the facilities which are so crucial to their work, as well as providing funding for teaching staff."
Task Brasil
Since its establishment as a charity in the UK in 1993, Task Brasil has come a long way in helping street children of Rio. In the early days, founding trustee Ligia Da Silva and her supporters began by trying to make contact with children on the streets, assisting poor families who were not able to provide for their children and helping young people, against all the odds, to receive a reasonable education.
Task Brasil was given an enormous boost in 1997 with a very generous donation by Led Zeppelin guitarist Jimmy Page, who witnessed first hand the deprivation of the children and troubles in the favelas while playing in Rio de Janeiro. The money donated was used to buy a plot of land in Santa Teresa with a house which became Casa Jimmy.
Over 500 children, teenage mothers and their babies and their families have benefited from the facilities and services funded partly by the Prefeitura of Rio de Janeiro and largely by private donations. More recent donations have funded the purchase of land neighbouring Casa Jimmy providing housing for volunteers and land for a future replica handbags project.
Task Brasil Trust depends on the help of the good hearted who are willing to invest their time and/or money in the future of these young victims.
Camera Corps
A Vitec Group company, GTC sponsor Camera Corps specialises in providing remote camera solutions for reality television shows as well as very large-scale sports, entertainment and stage events. Camera Corps has achieved a great reputation for being able to acquire exciting and unusual television content from exceptionally challenging environments.
The Camera Corps equipment fleet includes HotShots, MiniShots, an array of remote specialist cameras and lenses, remote underwater systems, cranes, platforms and dollies. Equipment of Camera Corps' own design includes the iconic Q-Ball as well as many other bespoke camera systems.
Following the March 2014 acquisition of the Special Cameras division of SIS LIVE (formerly BBC Special Cameras Division), the Camera Corps inventory now includes world-leading systems such as Halibut HD, Plunge Cam, HD Pod, Cricket Stump Cam and Turn Cam plus a wide range of miniature devices such a wearable cameras with the latest high-performance wireless links.