Camera Corps to promote latest speciality camera systems at IBC 2018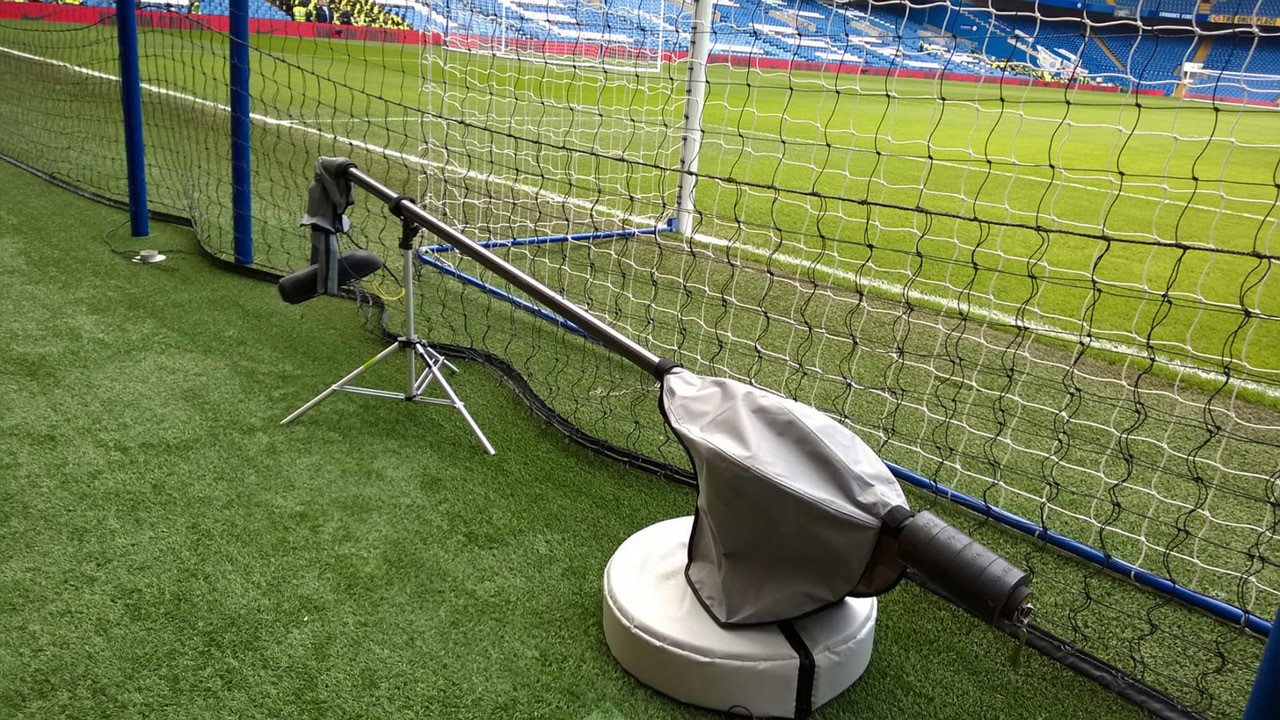 GTC sponsor Camera Corps will promote the latest additions to its range of speciality camera systems and services on stand 11.A31 at this year's IBC. The show takes place from 14–18 September at RAI Amsterdam and visitors will have the chance to chat to Camera Corps representatives including Phil Beckett, Barry Parker, Neil Ashworth and Andy Sanders.
Among the Camera Corps innovations making their IBC debut will be:
Qx Mini Zoom compact remote camera – the latest generation Qx robotic PTZF camera head
DMR (Dual Mini Remote) camera mount
SMPTE 4K MAX 5 x 3G fibre signal transportation system
Camera Corps Qx Robotic PTZF Camera
The Qx is a compact head with integral pan/tilt/zoom/focus drives. Delivering high video quality, it offers producers the freedom to cut and mix with video feeds from full-size studio and OB cameras. Black-finished and just 125mm in diameter, the Qx is unobtrusive enough to be operated within view of other cameras both for studio productions and in OB coverage of live events. It can also be used as part of a commentator camera setup.
Available for purchase or rental, the Qx incorporates a high specification 1/3-inch CMOS Full HD sensor delivering 1080p60, 1080p50, 1080i and 720p. The camera comes complete with an integral 18x zoom lens, automatic exposure, auto white balance, colour correction, edge enhancement, noise reduction and gamma control. Genlock allows easy synchronisation with other equipment. Among new capabilities are:
3D noise reduction and shading correction
A shutter with a speed range of 1/4 to 1/8000 second
Imaging sensitivity of F5.6 at 2000 lux
Minimum illumination level

of 1.5 lux

at F1.6
Enhanced IR capability allowing live video capture in zero visible light conditions using infra-red illumination
The Qx incorporates a fully motorised drive giving smooth on-air control of pan, tilt, zoom and focus. Up to 96 Qx heads can be operated from a single joystick panel and the high precision motor system enables remote operators to match the precise acceleration and deceleration of much larger robotic heads when tracking moving performers on-air. Turning speed is adjustable from four seconds to an ultra-slow 90 minutes per 360 degree cycle with no restriction on the number of horizontal rotations.
Fully compatible with all existing Camera Corps control systems, the Qx can be rigged with just a single cable carrying power, control signals, video and audio. Control can be performed live or pre-programmed by the operator. Combining the Qx with Camera Corps' optical fibre transportation devices, such as the SMPTE 4K MAX, allows secure operation over distances of up to eight kilometres.
The Qx Mini Zoom makes its IBC debut
The Qx Mini Zoom is a fixed-head variant of the Qx. Housed in a compact metal casing, it gives producers the ability to track from wide to narrow angle along a predetermined line of view in applications where pan and tilt functions are not required. All other parameters are essentially identical to the Qx.
First look at the DMR (Dual Mini Remote) Head at IBC
Available for rental, the new DMR (Dual Mini Remote) Head is a fully remote-controlled camera mount with a wide range of applications. Primarily devised to carry a high motion camera for behind-the-goal football replays, the DMR is equally suitable across other genres such entertainment, corporate or religious broadcast programming where more than one movement and flowing live camera shots might be required.
The challenge for Camera Corps' in-house design team was to build a system allowing live control of fluid sweeping sequences and which could be used in practically any location. Pan and tilt are performed with ultra-smooth precision, including gradual acceleration and deceleration. Remote zoom and focus control are also available for cameras supporting that function.
Based on a dual drive configuration, the DMR allows motorised control of the lateral (and optionally the vertical) angle of a counter-balanced, carbon-fibre support arm which extends up to three metres in length. An additional fully independent drive governs the camera pan and tilt angles.
The DMR is compatible with Camera Corps' remote control panels as well as long-range connecting equipment such as the SMPTE 4K MAX. It is quick and easy to set up and provides the freedom to make wide-ranging adjustments in camera position after the initial install. If the need arises, the DMR can also be used for circular sweep-style tracking shots as the arm can be rotated around the base axis. The entire system has a low-visibility profile to avoid intruding into the view of other cameras.
The Camera Corps DMR Head is fully weatherproof, saving the camera operator from being exposed to all weathers. It is also compatible with HD/4K minicams, including high frame rate models.
Introducing the SMPTE 4K MAX
A powerful addition to the Camera Corps rental range of television production solutions, SMPTE 4K MAX is designed for use in 4K-UHD or multi-camera HD broadcast coverage of live events. It is a compact, remote fibre signal transportation system with five 3G feeds to support 4K and super-slow-motion applications operated and powered over long distances.
SMPTE 4K MAX delivers the security and reliability demanded for high profile sports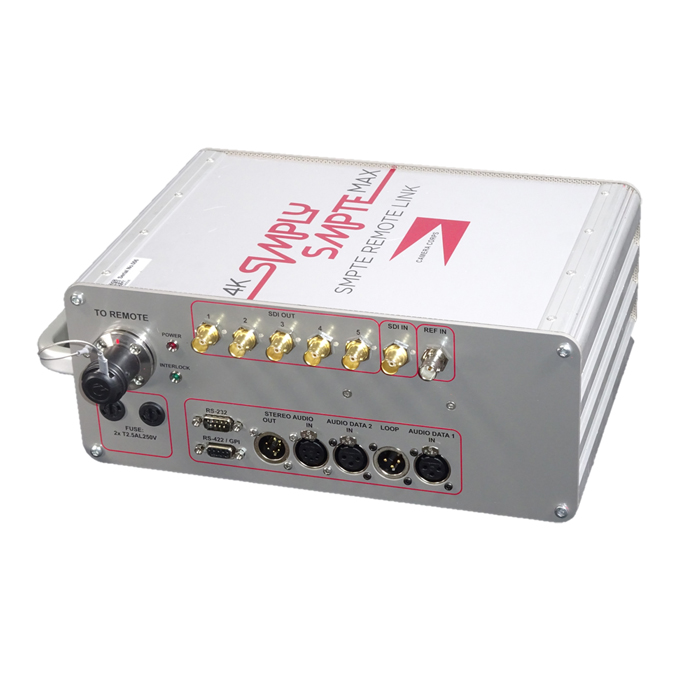 events where space is at a premium and an efficient fibre solution is required. It has already been used with outstanding success at one of the largest events in the winter 2018 sports calendar. Each system comprises two units; base and remote. Both are compact and highly robust, allowing very fast installation, configuration and tear-down. They connect via a single SMPTE 311M hybrid cable capable of carrying multichannel video and audio from one or more cameras back to a production control room. The same cable can be used to deliver AC mains power (240 volts at up to 480 watts) from base to remote. Two XLR4 sockets, delivering up to a combined total of 50 watts at 12 volts, are also available at the remote end. SMPTE 4K MAX additionally accepts a remote-to-base 3G video feed such as the HD monitor display output from a 4K-UHD camera, typically used to carry camera-settings information. Base-to-remote video is also provided for genlock. Eight bi-directional data channels, 2 x RS232 signals, 2 x RS422/485, 2 x audio and 2 x GPI are fully supported. Two Ethernet networking ports (10/100/1,000 Base-T) are also provided plus a base-to-remote analog audio channel for camera control data.
Camera Corps can be contacted by calling +44 (0)1932 336052 or by emailing info@cameracorps.co.uk.
For more information see www.cameracorps.co.uk.