Canon unveils UHD DIGISUPER 122 with 8.2–2000mm range and also CJ25ex7.6B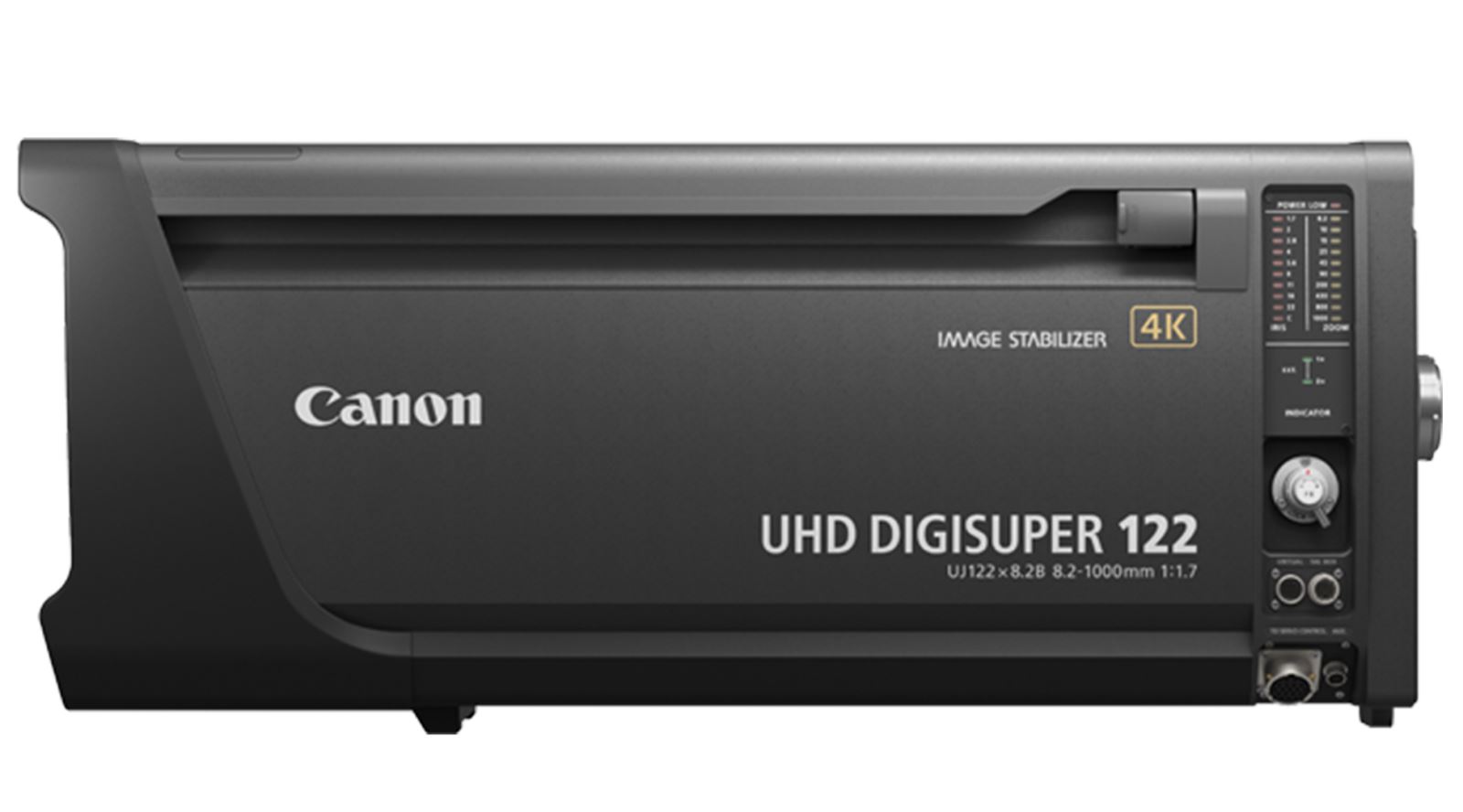 GTC sponsor Canon has announced its flagship field zoom broadcast lens, the UHD DIGISUPER 122, which Canon claims can deliver both the world's widest angle and world's longest focal length – 8.2mm at the wide end and 1000mm at the telephoto end (2000mm with the 2x extender). It also has the world's highest zoom ratio of 122x. The UHD DIGISUPER 122 will certainly be very much at home being used to cover sporting events and live broadcasts where being able to go wide as well as extremely tight is beneficial.
UHD-DIGISUPER 122 key features
4K Premium optical quality
8.2–1000 mm (up to 2000mm with 2x extender)
F1.7–5.0
M.O.D 3m
26.6kg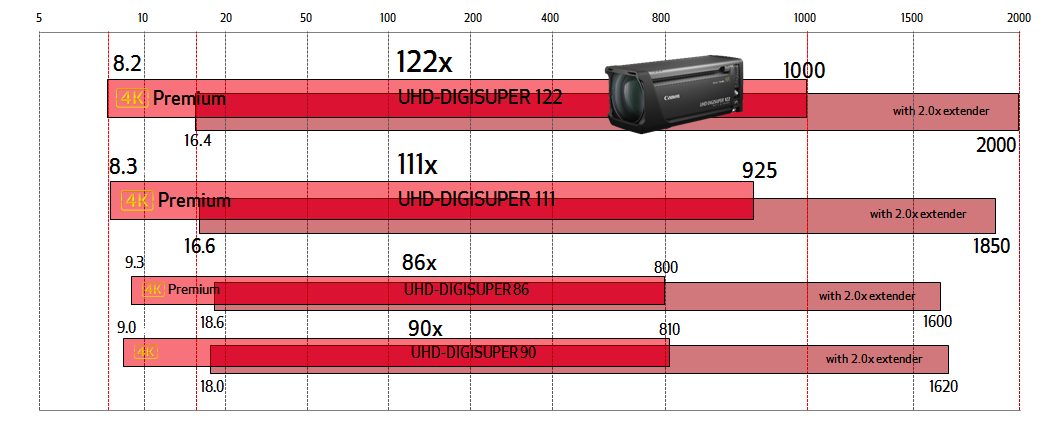 ---
CJ25ex7.6B
Canon has also launched the CJ25ex7.6B, a portable zoom lens for broadcast cameras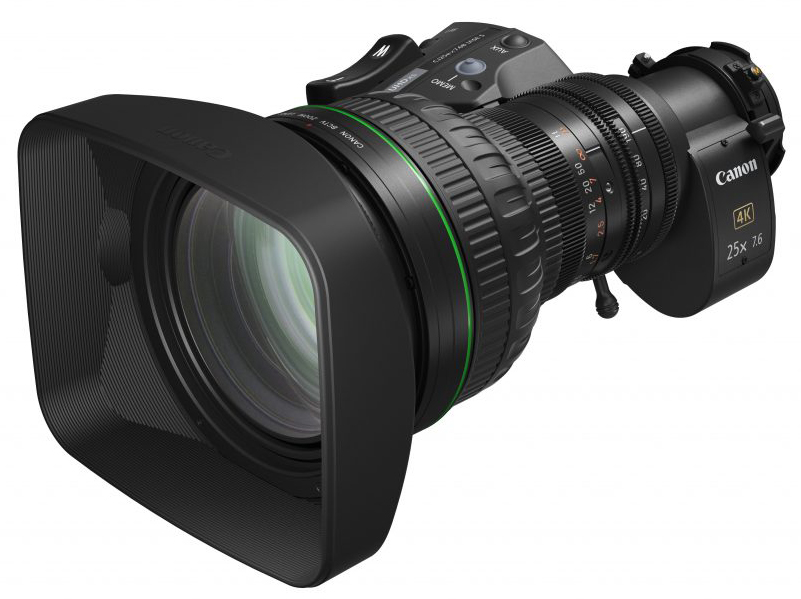 with 2/3-inch sensors. The lens offers a 25x zoom ratio and focal length range of 7.6–190mm.
The CJ25ex7.6B features fluorite and Ultra-low Dispersion (UD) glass, and a proprietary optical design focused on the optimal placement of elements. This is claimed to reduce chromatic aberration from the centre to the edge of the image, across the entire zoom range.
This portable zoom lens also delivers high resolving power and high contrast to facilitate high-resolution video capture, while the lens coating technology and design prevents reflections within the lens barrel, reducing ghosting and flaring. This is said to maximise the superlative color reproduction, which is ideal for HDR and WCG video shooting.
The CJ25ex7.6B offers a compact and lightweight body design, and the lens weighs in at approximately 1.99kg (4.38lb).It measures 169.6mm (width) x 114.1mm (height) x 223.3mm (length). This makes it ideal for a wide range of indoor and outdoor shooting scenarios, including sporting events and news reports.

The CJ25ex7.6B is the 8th lens in Canon's CJ series of broadcast lenses.
Focal length range with extender
15.2~380 mm (with 2x Extender)
64.6° x 39.1° at 7.6 mm
2.89° x 1.63° at 190 mm
Angular field of view with extender
35.1° x 20.1° at 15.2 mm (with 2x extender)
1.45° x 0.81° at 380 mm (with 2x extender)
Maximum relative aperture (F-number)
1:1.8 at 7.6–118 mm
1:2.9 at 190mm
Maximum relative aperture (F-number) with extender
1:3.6 at 15.2–236mm (with 2x extender)
1:5.8 at 380mm (with 2x extender)
Scene object dimensions at MOD
93.9 x 52.8cm at 7.6mm
3.9 x 2.2cm at 190mm
Scene object dimensions at MOD with extender
48.1 x 27.1cm at 15.2mm (with 2x extender)
2.0 x 1.1cm at 380mm (with 2x extender)
---
Zoom and focus demands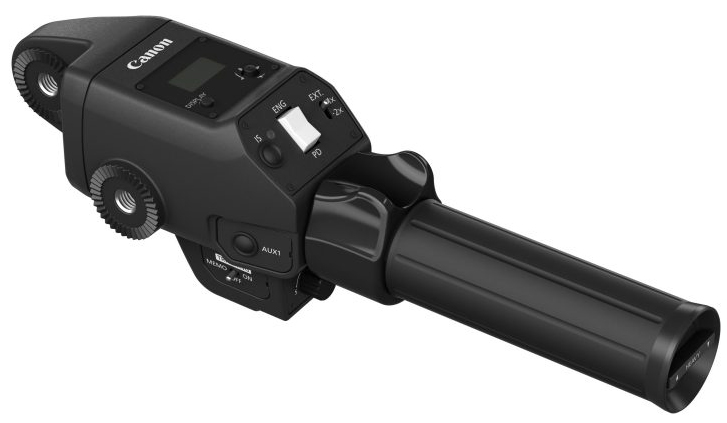 Canon also announced two compact digital zoom servo demands – the ZDJ-G01 and ZDJ-S01 – and two focus demands – FDJ-G01 and FDJ-S01 – for Canon lenses. The FDJ-G01 and ZDJ-G01 have a built-in display for users who demand advanced functionality.
---