FUJIFILM Europe delivers 4K UHD optical technology to the Vatican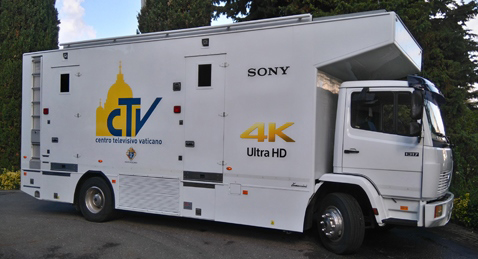 GTC sponsors Fuijifilm Europe have recently had an impressive commission - supplying latest technology 4K UHD lenses to the Vatican.
The Vatican Television Centre (or Centro Televisivo Vaticano - CTV) was created in 1983 to contribute to spreading the universal message of the Gospel by using television to document the Pope's pastoral ministry and the activities of the Apostolic See.
The main services offered by CTV are: live broadcasts, production, archiving and daily assistance to other broadcasters. Every year CTV conducts around 130 live broadcasts of events inside the Vatican (the Angelus, the Pope's General Audience and other events or celebrations). In addition there are live broadcasts associated with the Holy Father's trips in Italy and abroad.
Recently the CTV documented the Extraordinary Jubilee of Mercy, which is a major event in the Catholic Church, commencing with the Feast of Immaculate Conception on 8 December 2015 with the opening of the Holy Door (porta sancta). All four Papal Basilicas in Rome have such a holy door, which is a symbol for those who enter will receive mercy and forgiveness.
The opening ceremony from St Peters Basilica was broadcast live to a global audience; the ceremony was covered by eight Sony HDC-4300 cameras with a total of eight 4K UHD Fujinon lenses – three UA80x9 (9–1440mm) and five UA22x8 (8–352mm) lenses positioned in and around St Peters Basilica. In addition there were 7 Sony F-55 cameras with PL-mount 4K Fujinon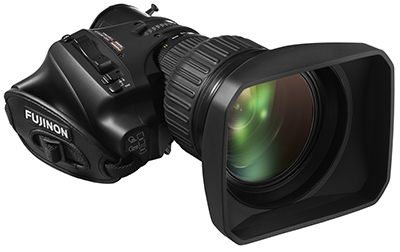 ZK-Series lenses (range up to 300mm).
Mr. Stefano D'Agostini (Technical Director, CTV) comments: "After closely following technological advancements in recent years, CTV decided it was time to upgrade its outside broadcast acquisition infrastructure to the new 4K UHD format in light of the 'Extraordinary Jubilee of Mercy'. Our target is to provide the best viewing experience to our global audience. This can only be achieved with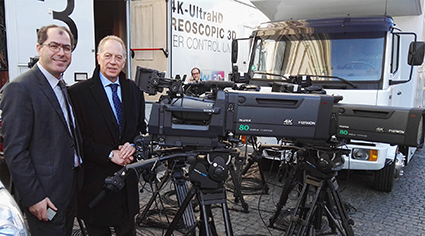 cutting-edge acquisition technology. That's why CTV selected 4K 2/3" Sony HDC-4300 cameras and 4K Fujinon UA80x9 and UA22x8 lenses, which have a very high dynamic range (HDR) contributing to the desired look and image purity essential in 4K HDR broadcast productions."
Mr. Djamel Djadi (Regional Sales Manager, Fujifilm) stated: "We feel honoured to have been part of this prestigious project. The cooperation with CTV and Sony Italy was more than excellent. We delivered the most advanced optical technology with the most attractive after sales-service package."
The UA80x9 (9–1440mm) with OS-TECH (optical stabilization) and UA22x8 (8–352mm) next generation 2/3-inch 4K UHD broadcast zoom lenses with 16-bit encoders are compatible with 4K cameras. The applied EBC (electron beam) coating and 'floating focus systems', which control multiple lens groups according to the shooting distance, delivering high-resolution, HDR images through the entire focal range, from close-up to infinity, enable 4K HDR video production with a realistic visual sensation with premium picture quality.