Fujifilm/Fujinon launch new MK lens at Cine Gear
Fujinon at Cine Gear
The newly launched 'MK' series of cinema lenses from the Optical Devices Division of FUJIFILM, along with the UA Series of HDR zooms, are currently making their debut at Cine Gear at Paramount Studios in Hollywood. Also showcased are the entire range of FUJINON PL mount Cabrio and Premier zooms.
In addition to the new lens highlights, there is a great projection room within the company's booth (S224). A variety of lens technicians from around the country, such as Matthew Duclos, of Duclos Lenses, are there to discuss and compare the optical traits of FUJINON cinema-style lenses throughout both days of the show.
"Cine Gear draws its sizeable crowd from some of our most active and involved customers," said Tom Fletcher, Director of Sales, Optical Devices Division of FUJIFILM. "While we've participated in Cine Gear Expo since its inception, hosting a projection room with independent optical technicians from various rental houses and service facilities is relatively new. We're looking forward to connecting with our existing customers more dynamically in this way as well as with an exciting, new group of potential FUJINON customers."
MK series
With the first in its series introduced in February of this year, 'MK' lenses are currently designed for E-mount cameras and boast advanced optical performance, ultra-compact and lightweight design, as well as superb cost performance. The FUJINON MK18–55mm T2.9 is a standard zoom with 18–55mm focal length. It is currently available for $3,799. See more about the MK series
New MK50–135mm
Now a new lens in the range has been announced. The FUJINON MK50–135mm T2.9 will be available this summer.
The rapid growth in popularity of movies made by emerging cinematographers in recent years, including corporate and commercial movies on the internet and other venues, has increased opportunities for shooting movies using cinema and regular digital cameras, and boosts demand for high-performance cinema lenses delivering high resolution and advanced scene-depicting capability. For these shoots, interchangeable lenses for digital cameras are often used instead of cinema camera lenses as they are more affordable and mobile. However, these are designed primarily for stills and are therefore prone to problems such as focus and optical axis shift while zooming, and so on.
In response, Fujifilm has developed the MK series of cinema lenses that resolve these issues while still offering advanced optical performance and an ultra-compact and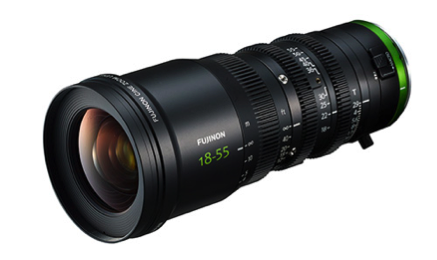 lightweight design – all at an affordable price. The MK18–55mm, launched in March this year, has been popular among emerging cinematographers who praise it for its edge-to-edge sharpness and ease of handling thanks to its compact and lightweight design.
The series offers fast lenses with T2.9 speed across the entire zoom range, enabling a shallow depth-of-field. With a combined focal length range of 18mm–135mm in the Super 35mm format, together the first two 'MK' lenses cover the most frequently used range utilized by emerging cinematographers.
Price-drop offer on the latest Cabrio PL lens
FUJINON's popular Cabrio PL lens series includes:
new

PL 20–120mm
PL 25–300mm
PL 19–90mm
PL 85–300mm
PL 14–35mm.
The PL 20–120, PL 19–90, PL 85–300, and PL 14–35 Cabrio lenses feature detachable digital servo drive units. The PL 25–300 servo is optional, making all five Cabrios suitable as a standard cine or ENG-style lens. Designed using the latest proprietary optical simulation software, the entire range of Cabrio lenses offer exceptional optical performance in the centre of the image and in the corners of the frame. See more about Cabrio lenses.
There is currently a price-drop promotion on the new Cabrio PL 20–120mm – until 31 July 2017. Ordering the lens without the drive unit for cine-style use reduces the price still further. To find out more about this offer, contacts in the UK are: ian.oconnor@fujifilm.com and chris.f.williams@fujifilm.com