Fujinon launches 'MK' series of lenses
DoP Eric Longden holding the new MK18–55 with Fujifilm's Chuck Lee at the MK series launch event in the ASC Clubhouse, Los Angeles
FUJIFILM Corporation has unveiled the MK series of new cinema lenses, which boast advanced optical performance, ultra-compact and lightweight design and excellent cost performance. The FUJINON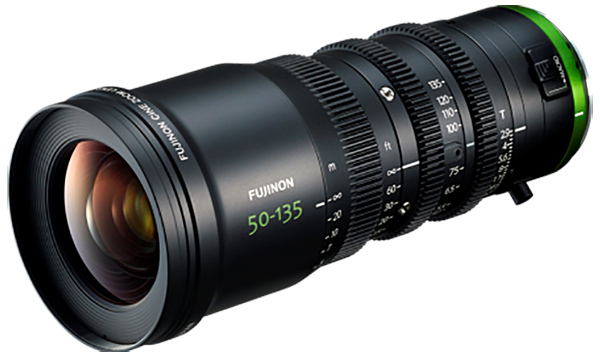 MK18–55mm T2.9 (MK18–55mm), a standard zoom lens with the focal length of 18–55mm is the first MK lens to be released in early March 2017. This will be followed in the summer with the launch of the FUJINON MK50–135mm T2.9 (MK50–135mm), a telephoto zoom lens offering a focal length of 50–135mm, thus together covering the most frequently used range of focal lengths from 18mm to 135mm.
Affordable cinema lenses
The rapid growth in popularity of movies made by emerging cinematographers in recent years, including corporate and commercial movies on the internet and other outlets, has increased opportunities for shooting movies using cinema and regular digital cameras, and boosted demand for high-performance cinema lenses that deliver high resolution and advanced scene-depicting capability. Cinema lenses are the optimal choice to achieve a shallow depth-of-field and a beautiful bokeh. However, since they are typically large, heavy and expensive, those involved in online and other lower-cost movie production often opt for interchangeable lenses for digital cameras, which are more affordable and mobile. The problem is that interchangeable lenses for digital cameras are designed primarily for shooting still images and are therefore prone to focus shift and optical axis shift when zooming, and so on. In response, Fujifilm has been working on developing new cinema lenses that offer advanced optical performance with compact size and operability to meet the needs of creative emerging cinematographers.
The MK lenses joining our cinema lens lineup inherit the FUJINON cine lenses' advanced edge-to-edge optical performance and low distortion and yet boast compact and lightweight design as well as a level of outstanding cost performance that has not been seen in conventional cinema lenses until now.
The MK series offers fast lenses with T2.9 across the entire zoom range, enabling a shallow depth-of-field as well as a beautiful bokeh effect. The lenses are compatible with E-mount cameras with the Super 35mm/APS-C sensor and the X Mount used in Fujifilm's "X Series" of digital cameras (APS-C sensor). They achieve advanced optical performance despite their compact and lightweight body by incorporating the benefits of short flange focal distance. The use of optical and mechanical design optimized for dedicated movie lenses minimizes focal shift and optical axis shift while zooming, and lens breathing (change of angle of view during focusing). The lenses feature three rings to enable manual and independent adjustment of focus, zoom and iris (aperture), all with the gear pitch of 0.8M (module). The focus ring can rotate fully up to 200 degrees to facilitate precise focusing. This design makes the lenses comfortable to operate.
Release dates
Fujifilm will release the MK18–55mm for the E Mount in early March, followed by the MK50–135mm also in the E-mount this summer. Their X Mount versions (18–55mm and 50–135mm) are being developed for launch by the end of 2017.
Test footage and expert opinion
Watch footage shot by Philip Bloom in Gran Canaria using a MK18–55mm T2.9 lens and Sony FS7, FS5 and A7S II: www.youtube.com/watch?v=5Cx66LKDPTc
Behind the scenes with Philip Bloom creating the footage using a MK18-55mm T2.9 lens: www.youtube.com/watch?v=YX_55s4s6Ro