FUJINON UA107x8.4 4K UHD lens awarded NewBay Media 'Best of Show'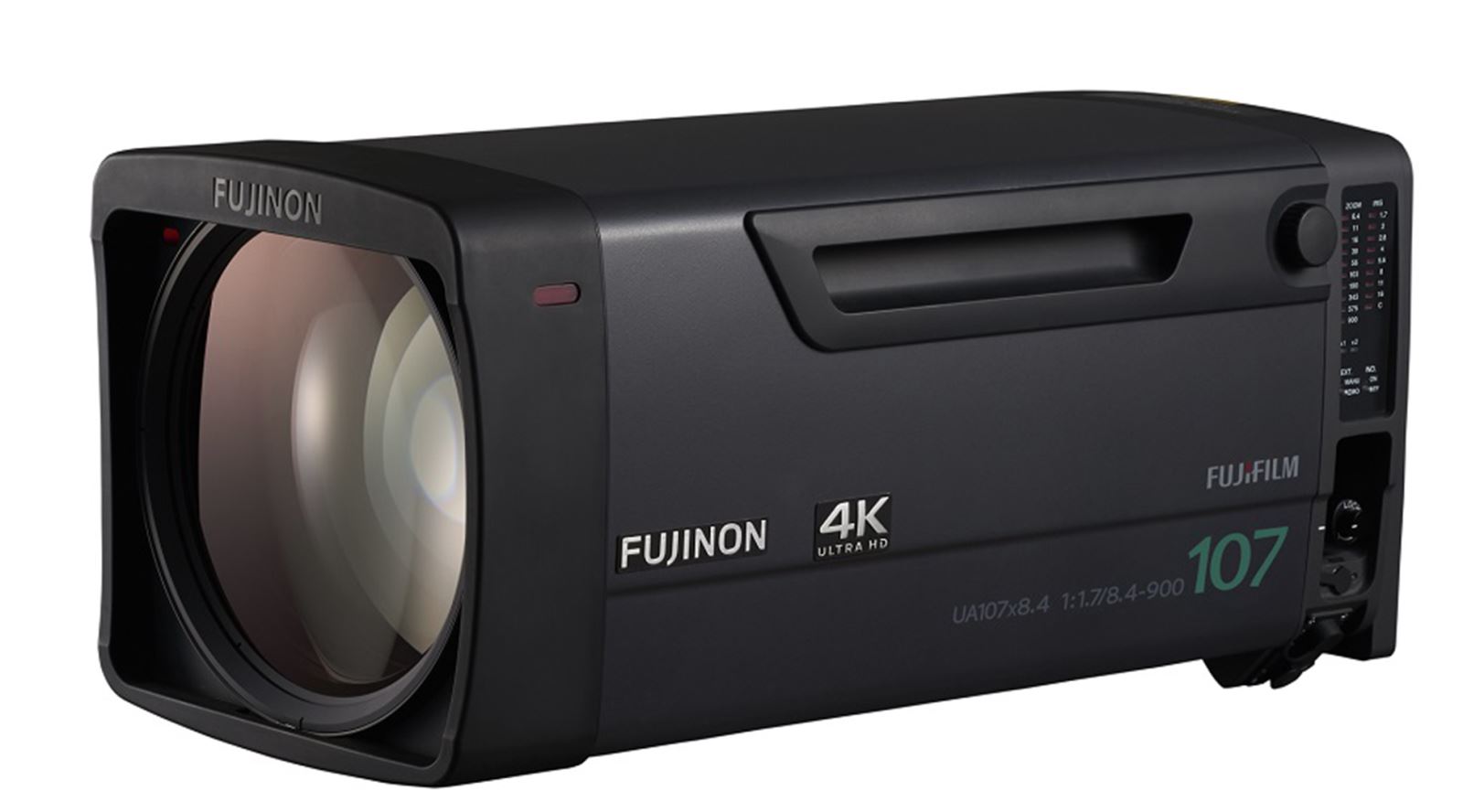 At the 2016 NAB Show, FUJINON's new UA107x8.4 4K broadcast lens (the longest and widest 4K lens ever created for Ultra HD (UHD) broadcast applications) was honoured with a 'Best of Show' Award from staff members of NewBay Media's TV Technology magazine.
Part of the FUJINON Premier 4K product family, the UA107x 4K UHD lens provides superb 4K optical quality across the entire zoom focal range.
"We're thrilled to be recognized by the staff of NewBay Media with a 'Best of Show' selection for our 107x 4K lens," said Thom Calabro, Director, Marketing and Product Development for the Optical Division of FUJIFILM. "With an F number of f1.7 and a focal length of 8.4 to 900mm, the UA107x raises the bar for 4K UHD and HD production worldwide. It comes with patented OS-TECH optical image stabilization technology for rock-steady performance, even when making the longest UHD shots. With high resolution, high contrast and high dynamic range (HDR) coatings, the UA107x produces images that are sure to impress."
The UA107's refined optical quality has been engineered using FUJIFILM's latest optical simulation software, which was used to model the UA107's large diameter aspherical elements. This lens has a multi-group zoom system that suppresses image distortion and ensures that 4K UHD images captured remain consistent and accurate from centre to corner, making the UA107x a solid choice to complement today's 4K 2/3" UHD cameras. A proprietary anti-fogging system reduces downtime due to moisture, a critical concern when shooting in all types of weather.
FUJINON UA13x4.5 wide angle UHD lens
Also announced at the show was the FUJINON UA13x4.5 wide angle Ultra HD (UHD) lens. Part of the company's flagship UA Series of 4K+ 2/3" lenses, the world's first designed specifically for UHD broadcast applications, the UA13x delivers true 4K optical quality to 2/3-inch 4K ENG cameras and camcorders.
High resolution, high contrast, and high dynamic range are hallmarks of the Premier 4K+ UA Series. The UA13's aspherical elements have been treated with the latest High Transmittance Electron Beam Coating (HT-EBC). Using HT-EBC in tandem with FUJIFILM's exclusive Aspheric Technology, the UA13 is able to reduce ghosting and lens flares, while increasing the amount of light transmitted through the lens to the camera's sensors.
The UA13's latest generation Servo Drive Unit has been built to support a wide range of remotely-controlled zoom, focus, and iris functions. It relies on 16-bit encoders to provide accurate two-way communications between the UA13 servo and the remote operator, using either RS-232 serial data or traditional analog communications. These features allow the UA13 to be remotely-controlled for human- and robotically-controlled shooting, jib shots, tower cams, and videoconferencing; among other applications.
"These capabilities combine to deliver clear, vibrant and optically accurate 4K images," Calabro said. "The UA13 is a fully-featured 4K UHD lens that addresses the needs of high-end shooters. It is the lens the industry needs today to start shooting 4K UHD now."
A video of Calabro explaining the features of the UA107x and other FUJINON lenses introduced during the NAB convention last week can be seen here: