GoalCam – remote IntelliJib from Polecam
Two years ago GTC sponsor Polecam was approached about the possibility of using a Polecam with a hi-speed camera behind the goal for Premier League Football. It all started with a standard Polecam at 2/3 sections with an Antelope Pico hi-speed camera but there were many grounds where there was physically no room for the Polecam and operator behind the goal.
The answer? Polecam created a mini-Polecam boom and remote head system, operated remotely via standard fibre connections from a bespoke twin-stick panel. The IntelliJib was born and 'through-the-net' cameras have become a standard for higher profile games for the Premier League, FA Cup, Champions League and a certain upcoming event in Russia.
Supplied with a mini set of legs, wet weather covers for operation and overnight use, flight cases as well as an optional pitch-side, throw-down box with fibre, the system is capable of moving in and out of the net. It's now in regular use as a live camera for corners and goal-kicks as well as bumper, sting and promo shots. The camera produces excellent slo-mo replays from inside the net – much appreciated by commentators and fans alike. It's almost as if there's a cameraman standing just behind the goalie.
The boom can extend up to three metres in length and completes a full 360° in 12 secs while the Polecam Pan and Tilt unit does it in just three and a half secs. Clutches and resetting mechanical 'fuses' provide protection against all potential pitfalls.

The Universal Control Surface is individually programmable in all axes. RS-232 and RS-422 outputs are available as well as upgrades and user settings, through one of two (5A) USB ports for charging phones. Individual operator settings can also be saved and exported to other panels as well as haptic controls and a locking panel, resulting in an extremely user-friendly control surface.

Other useful features include an auxiliary joystick, which can be separated very easily as it is held in place with magnets, bespoke artwork for customers requiring their own name and artwork on the panel (available at the point of order) and a moulded cover for the camera to ensure the lens and motors of the camera do not catch on the netting.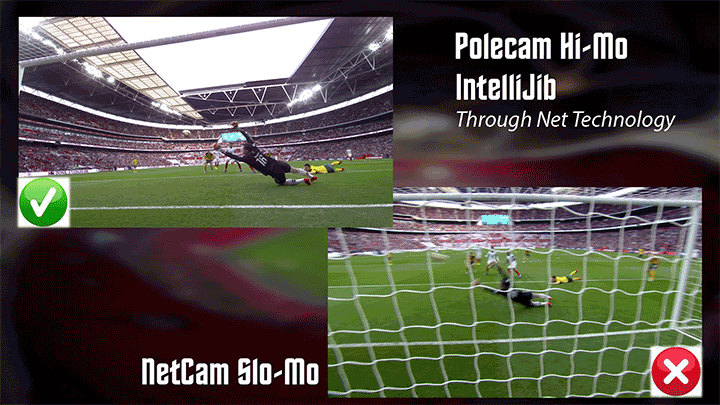 For more information, please see www.polecam.com