Kit review: Kino Flo Diva-Lite/Select LED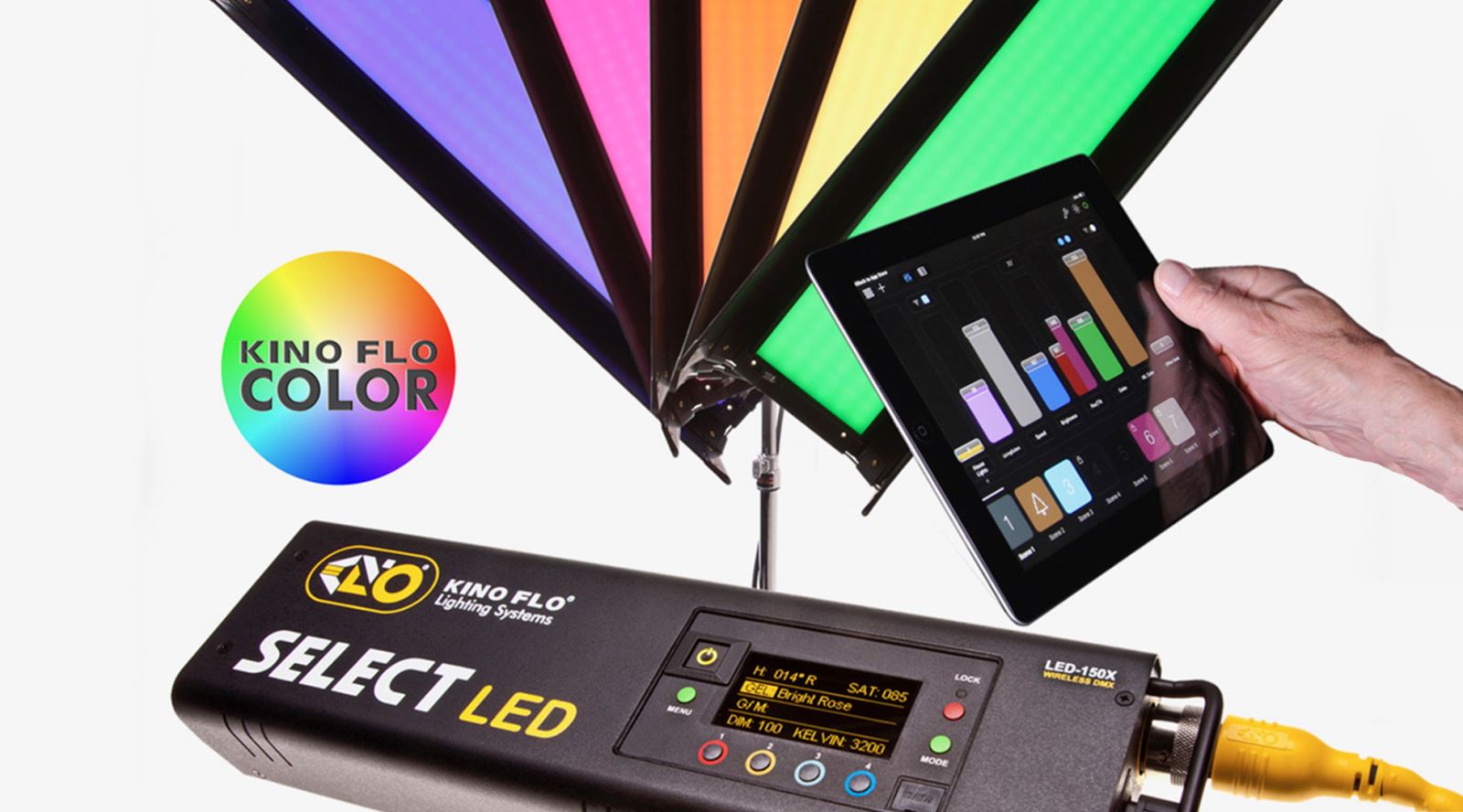 The eagerly awaited Kino Flo 'Select' and 'Diva-Lite' range of high-quality, colour-tunable soft LED lights arrived here earlier this year in the UK – Jonathan Harrison DoP reviews them. The Kino Flo range is available from GTC sponsors Cirro Lite.
Kino Flo have slipped into the world of LED lighting like Cinderella into her slippers. The light quality, design care and product finishing is clean and neat, as we have come to expect from them. The touchpad interface and software for me is spot on and, more importantly, simple… once you have worked out where everything is that is, as with any software.
There is a lot to talk about on this new range of lights so I will attempt to keep it concise and in a logical order.
Simple to use but with a lot going on under the bonnet
The quality of light, which if you know me (as I am hyper-critical) is to me paramount with any LED source and, in this case, the Select output is as close as you can get to a black body radiation source as I have seen at this price bracket. It is clean and cleverly tracks the black body radiation curve (known as the Plankian curve) pretty well spot on and the really clever bit is that it also tracks it as you adjust kelvin from Daylight to Tungsten. It does this continuously and with a silky smooth dimming smoothing curve that sinks you right in and out of black without that annoying bump at the bottom end.
Great pure white colour
Colour temperature is selected in the software and smoothly transits from 2500K to 9900K (in colour mode), either quickly on the select knob, which when pushed in once allows extremely fine colour tuning to your liking and is then storable on any of the four preset buttons
High-quality colour is achieved with these fixtures by utilising not one but two calibrated 'White' LED chips to obtain accurate colour temperatures and tracking across the Kelvin range. I have found that almost every unit from the other manufacturers I have tested tends to be good at only one end of the spectrum!
Control over green/magenta levels
One of the big issues in recent years has been the differing spectral sensitivities of camera sensors across the range of camera manufacturers, giving rise to erratic colour rendering of different light sources and skin-tone reproduction. Kino Flo have intelligently addressed this issue and incorporated a green/magenta hue shift in the software that allows you either to tweak the light fixture to match the colour shift in the camera to the green or magenta to achieve a clean image, or to match the colour shifts in other light sources that may have a colour shift already maening that you wish to match it to obtain the correct colour balance between mixed light sources. Brilliant. This is not an electronic filter pack to adjust a rubbish light output in the first instance. Who on earth would do that??
Pre-set colour filters and dial in colour
Who has time these days to experiment with gels to find the right accent or effect like moonlight or a nightclub, etc? No more rushing back to the van to get a roll of cosmetic Highlight. The dynamic colour tunability of the Kino Flo LED fixtures allows you to very cleverly choose between hundreds of pre-programmed lighting filter colours – or even to create your own on the fly. Brilliantly they have also programmed in a number of spectrums that have always been a challenge. KF designed colours are embedded in the software already. Some examples I saw were Sodium Street light, Mercury Vapour, Domestic Fluorescents.
Two million colours at your fingertips
I have been told that the unit can produce over 2 million colours. The impressive thing is that it is so easy to use! For example, if you download an app called 'Stagehand', open it and select a colour gel you desire (they list all LEE and Rosco filters) and enter the Hue angle in degrees, it will get you that particular colour created. You can then adjust the saturation to go from pastel to deep saturated hues depending on your need. Genius!
Have you ever wanted a specific colour to do a wall wash and then to drop a gobo on top, or use it as a Sodium street light effect through a window or as a kicker or even key light over the top? You can now.
This colour picker/generator gives you an infinite number of colour filters to choose from and to create yourself in a very simple software programme embedded in the ballast of the Select lamp.
Change the kelvin point behind the gel
As we have all experienced, gels give a different colour rendering if you put them in front of a Tungsten lamp as opposed to a Daylight lamp. Correct. So… Kino Flo have put a White Point selector in the software so you select what colour temperature lamp you are effectively putting this filter in front of, ranging from 2500K to 9900K. Cunning these chaps from California! They have more than seriously thought through this lighting tool and its design and incorporated the intelligent features smart and creative end users need and they work – and they work very well.
Fixture specs
There are currently two fixtures in this system, the Select/Diva-Lite 20 and 30 versions, which are 2ft and 3ft long respectively. To refer them back to the original systems I would call them a 2' 4Bank/Diva 400 (LED20) and a new form factor 3' 3Bank (LED30).
The light panel/diffuser dimensions for the Select 20 are 56 x 26 cm and the whole fixture is 67 x 33 x 9 cm, and for the Select 30 they are 92 x 20.5 cm, and the whole fixture 103 x 27 x 9cm for the Select 30. Total depth closed with the barn doors is near enough to 16cm on both lamps.
The electronic ballast/colour control units that come with the Select/Diva range pull 0.65A @ 230VAC at 150W. The only difference between the Diva-Lite LED and Select systems is that on the Select units the ballasts are completely removable if required and can be attached to the lighting stand or used remotely on a header extension cable where required. On the Diva-Lite they are attached permanently. The ballasts are all universal voltage and are also equipped with an 18-36V input, giving these fixtures battery capability.
Wireless DMX
The systems have a standard five-pin XLR cabled or built-in Wireless DMX capability using the 'Lumen Radio©' system. All you need is a Lumen Radio Dongle plugged in to your DMX desk and you are ready to go. Look no cables... and it works well.
The lamps currently use six DMX channels in total to control luminance, colour temperature, green/magenta shift and R/G/B mix. In a twelve-bit mode it requires seven channels.
I must though tell you about the most important button on the ballast. No, it is not the On/Off button but the 'Lock' button. This disables all other buttons, which is essential (and sadly not incorporated into some lamps I could mention). All you need is to have a lamp in a rig or above your head with a specific setting and you accidentally touch a button or knock the colour or dimming control and all is lost as you have no idea where you were. This button is an essential fit to modern software driven tools and the Select system has it.
I have not yet mentioned THE most important aspect of these lamps, that being the texture and quality of the light that oozes from these fixtures. It is delicious. The diffusion material that the LEDs radiate through is light enough to integrate the individual point sources (unlike most) and yet get a good strong output for the fixture size, weight and portability aspect, and still gives a beautifully flattering, strong but all enveloping soft dream-like coat of photons on the subject.
The texture on skin, especially close-up is astounding. I love it and really will enjoy using these lamps to generate glossy images with.
Combine that light quality with the honeycomb grids of 90, 60 degrees that fit tightly to the panel and has no side spill like the Diva and 4ft 4Bank, and you have one superb lighting tool that gives total controllability and is in a class of its own. As a reflective source it is even edge to edge and will reflect into glasses or products naturally.
To summarise
This is a lighting tool that is an 'iPhone' tool of our trade. A Smart Light and a must-have in your kit, as it gives you so much bang for your buck on many levels. The build quality and light stability brought about by intelligent heat control of the circuit boards is a major plus for this lamp. The software is updateable via a Mini-B USB data port allowing future developments in colour creation and other features to be added free of charge, I am told.
The Kino Flo Select lamps give you colour temperature, any colour, any hue, any level, from any voltage anywhere any time, with delicious photographic colour rendering and skin tones. What more could we need?
I have invested in a lot of camera and lighting kit in my 30+ years on the road and you have to choose wisely as there is a lot of rubbish out there nowadays and you want your kit to last and pay for itself.
Some of my Kino kit is over 20 years old and still going and still delivering.
It is dependable lighting tools you need, with multiple and practical uses on mains and battery power and the Select tools do just that.
Your lighting tools are your reputation.
See it, use it and believe it. A superb light to use and a pleasure to review.