Latest battery news from IDX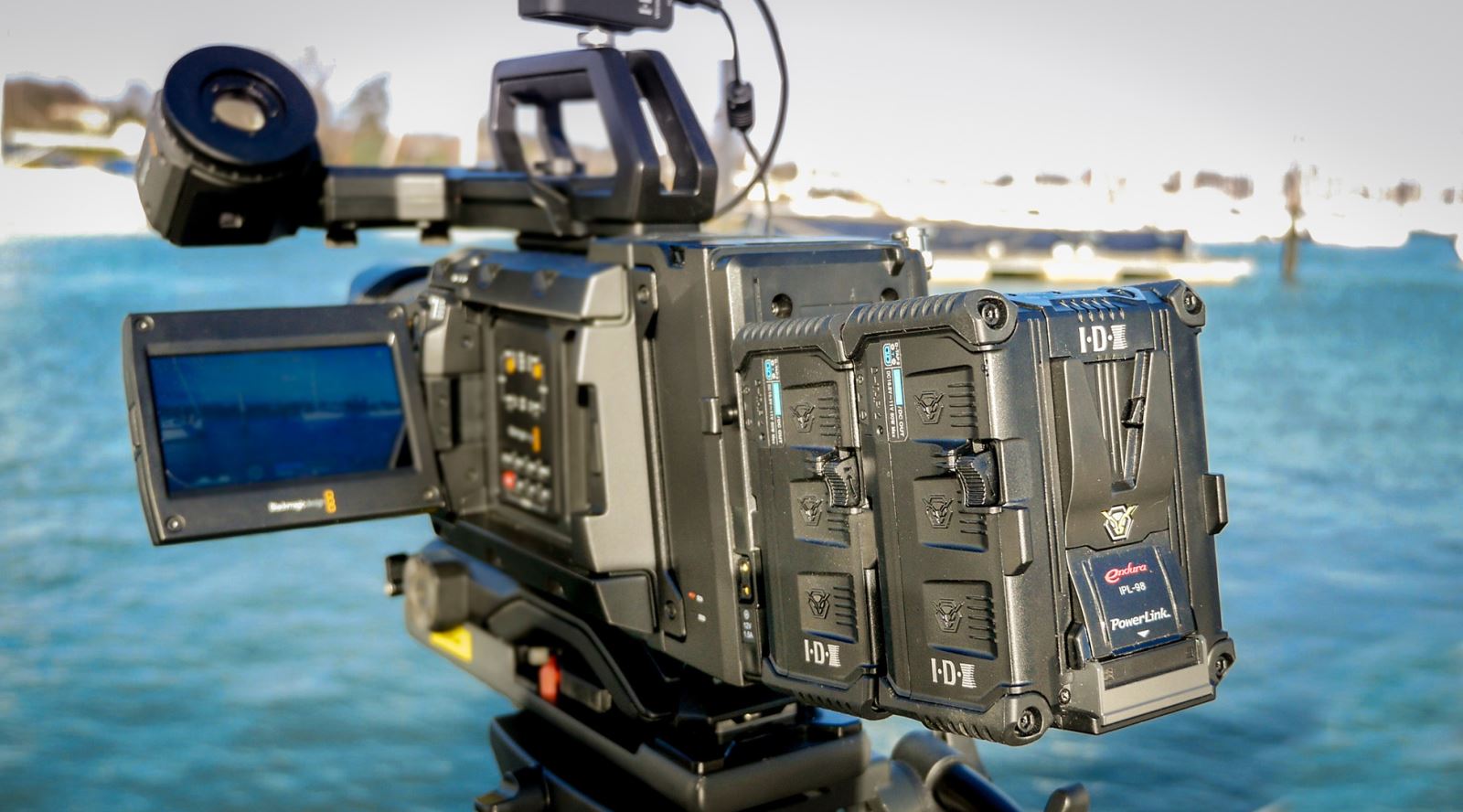 IPL batteries
Hot swappable for constant power
Historically power is taken from linked batteries simultaneously, so filming must stop when the capacity has been used. With the new IPL series, power is drawn from the last battery stacked on the camera and it can be exchanged when discharged without powering down the camera and accessories.
Allows current IDX batteries to be stacked
Uniquely other IDX batteries like the lower cost CUE-D150 (see below) can be stacked on the back of an IPL battery giving extended run times and ensuring an existing inventory of IDX batteries can be utilised in conjunction with new IPL batteries.
3 DC outputs with D-Tap advanced charging
Each IPL battery has a built-in 2.3A USB power out connector and a regular D-Tap d.c. output. Also included is a D-Tap Advanced output, capable of powering 12V accessories or accepting charging input from the small lightweight VL-DT1, D-Tap charger. Camera operators told IDX that there is increasing pressure to run more ancillary equipment from the main camera battery. With three outputs on each battery, IPL batteries deliver on this need.
Stacked charging on VL-2000S charger
Up to 8 IPLs can be stacked charged on the VL-2000S two channel simultaneous charger so no longer is there a need during the night to get up and swap empty for charged batteries. Charging starts from the top battery and works down the stack. Battery capacity LEDS indicate the battery being charged so the operator is confident all batteries above it are fully charged and ready for use.
Digital data and V-Torch
Most professional camcorders can take digital data from the battery and display this information in the viewfinder in terms of percentage capacity left or remaining run time. IPL's can be switched between SB and B data formats to accommodate a wide range of camera brands. The V-Torch is a small LED near the battery mounting point which provides illumination for up to ten seconds when the camera operator needs it.
Two Models IATA compliant for air travel
The IPL-98 model being under 100Wh is in a class of batteries often described as flight safe and a number can be carried on board an aircraft as cabin baggage. The IPL-150 has a carry on limit of two but offers extended run time and naturally links with IPL-98's and other IDX batteries.
---
Nearly 300Wh capacity battery
The CUE series of batteries have been very successful for IDX setting new standards for quality at cost effective prices. The current line up comprises: -
CUE-D75 - compact and lightweight
CUE-D95 – general purpose under 100Wh
CUE-D150 – more capacity but limited to 2 pieces in carry on plane luggage
The New CUE-D300 – where long run times and high current draws are imperative.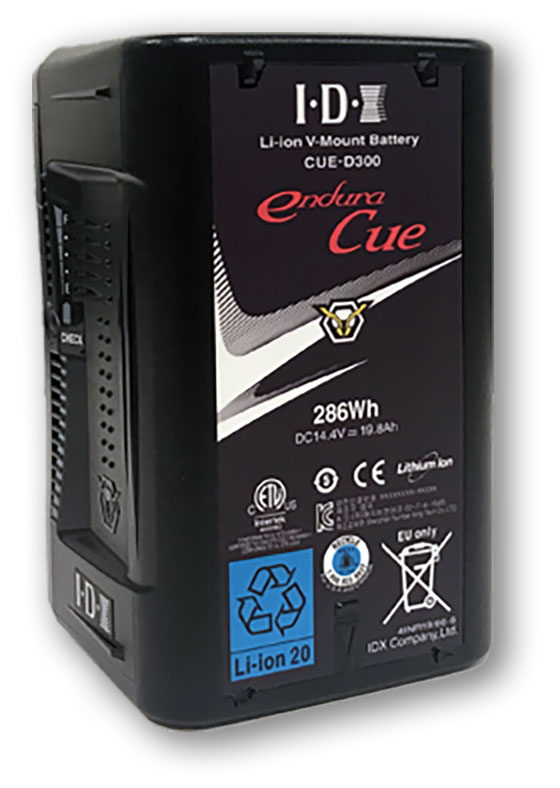 With nearly 300Wh of capacity, the CUE-D300 battery contains the most watt hours IDXhave ever put into a single battery. Its impressive performance is perfect for use with high-draw lights, power-hungry cameras, and it is suitable for all types of productions. Like all other CUE series batteries before it, the CUE-D300 comes standard with 1x D-Tap output. On this model it is rated at 100W max to power 12V accessories taking a high load. You won't find yourself short on power with the CUE-D300.
High capacity batteries need additional safety features which on the CUE-D300 includes a dual housing structure to offer additional physical protection for the cells and additional electrical protection to prevent shorting across cell banks. 14 Amp loads are supported in a package weighing just 1600 grams.

IDX reliability and safety first