Latest camera rain covers from CP Cases

In their 22nd consecutive year exhibiting at IBC RAI Amsterdam, GTC sponsors CP Cases announced a brand new solution for weather protection for the very latest generation of 4K OB cameras and lenses (see https://cpcases.com/products/rugged-textiles/camera-rain-covers).
New methods for new models
Developed this year, specifically for 4K coverage of live sporting and music events throughout Europe, this range of camera covers brings together the very latest advances in textile manufacturing technology with designs that provide camera operators free and ergonomic access to essential controls and connections.
New manufacturing methods at CP Cases utilise the latest seam-sealing technology.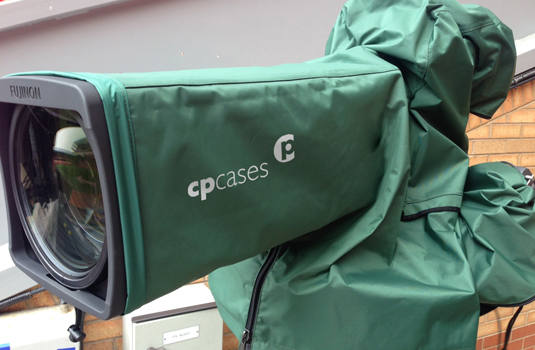 Most commonly used in the assembly of military specification garments and shelters, CP's new machinery ensures that seams of these new generation covers are continuously and imperviously sealed to protect against the very worst of weather.
Developed with working camera crew
Working with senior camera operators and equipment & logistics managers, these covers provide uncompromising levels of weather protection and enable freedom of access to all the cameras essentials.
Zipped access slots along the sides are covered with a weather proofing eye-lid flap to enable the attachment of auxiliary boom mics and increase ventilation when working for long periods in hot, humid and breezeless venues. Clear acrylic viewing windows and draw-cord sealing pan-bar sleeves provide near noiseless operation.
For venues where spectator sightlines must be preserved, mounting viewfinders as low down as possible has often been a challenge. Providing weather protection for these 'unconventional' camera set-ups, whilst giving full operator access, is now made much simpler.
Separate viewfinder covers are provided with the main camera and lens covers and allow the set-up to be rigged with the viewfinder fixed to the left-side, right-side or even top dead centre.
With manufacturing and stock holding at the UK headquarters near London, CP's capabilities in customising core products with corporate branding and specific colours schemes is applicable to this new product line also.
Produced for camera configurations using Sony, Grass Valley, Panasonic and Ikegami cameras, with Canon Digisuper or Fujinon 4K lenses.
Available also to suit cameras with HJ40 telephoto EFP type lenses and HJ14/22 ENG type lenses, either upon tripod or shoulder-mount.
CP Cases new generation weather covers have been used extensively this year at many OB events including the ATP tour, F1, Wimbledon, Farnborough Airshow, Glastonbury, Americas Cup, UEFA EURO 2016 and the Rio Olympics, as well as

at many football stadiums.
See more about CP Cases: www.cpcases.com