LCA to exhibit new products and visitors can win prizes at IBC
GTC sponsor LCA – Lights, Camera, Action are a leading supplier of a wide range of film and TV lighting and grip, and work with some of the innovative lighting manufacturers from around the world. This year sees LiteGear, DoPchoice, Cineo Lighting and Hudson Spider bringing their inventive new products to IBC.
Visitors can win prizes!
In addition, LCA with LiteGear, DoPchoice, Cineo Lighting and British Cinematographer magazine are running a competition where visitors to IBC will have an opportunity to win one of four amazing prizes. All participants will be entered in to a free prize draw in which they could win either a:
LiteMat 2L kit,
€1000 of DoPchoice products
Cineo Matchbox
annual subscription to British Cinematographer magazine.
To enter, visitors will be asked to register their details at the LCA booth, 12.D39. Registration will be open from Friday at 10.30am until Sunday at 3.30pm. Five names will be selected randomly on Sunday afternoon at 4pm. For more information, please visit the LCA website at www.lcauk.com
LiteGear
LiteGear continues to expand the options and accessories for the popular LiteTile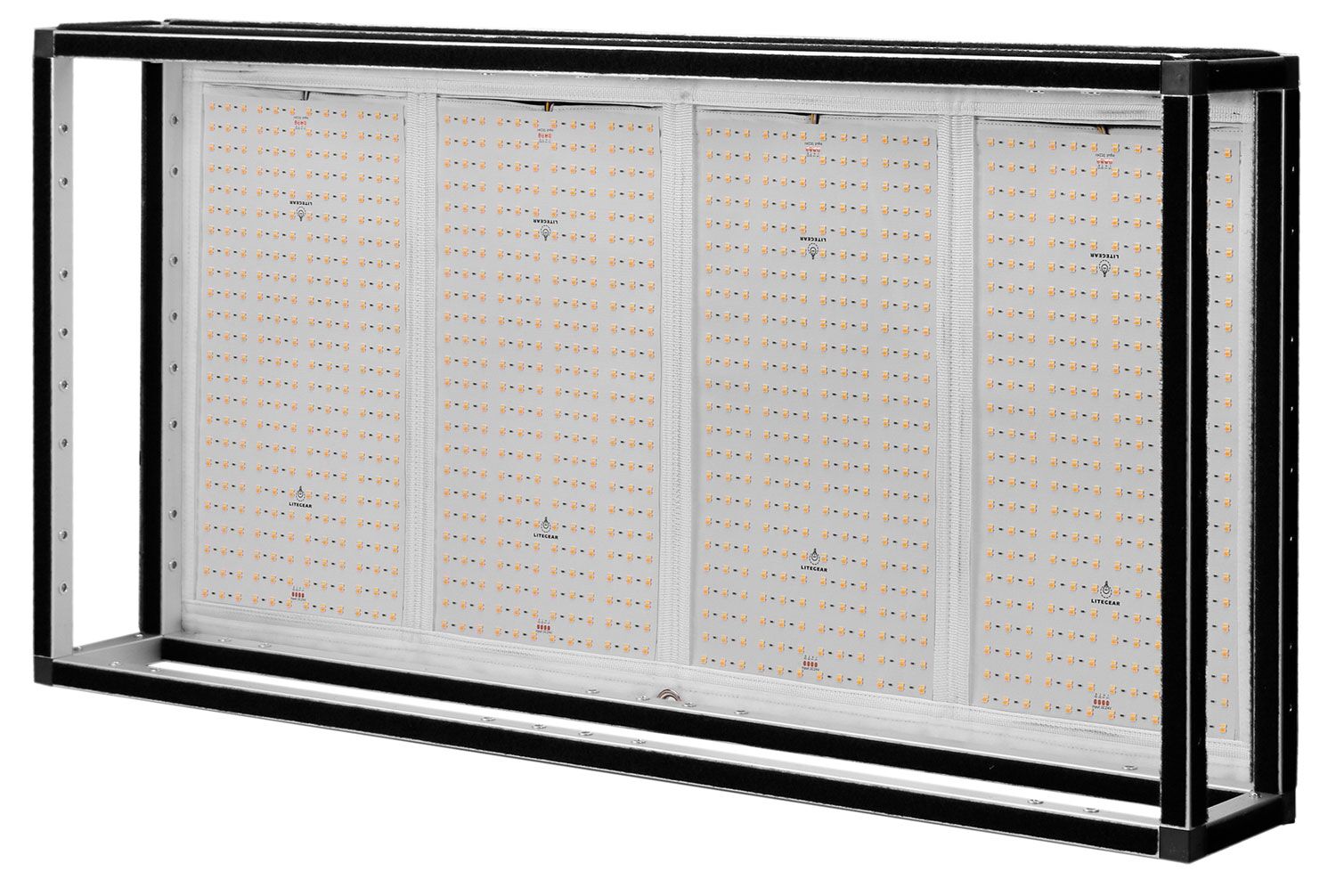 product family. The new LiteBox accessory is a lightweight, modular softbox system designed to make LiteTile more user-friendly and producing the perfect soft source. With adjustable frame depths of 1" and 6", and sizes ranging from 2'x4', 4'x4', 2'x8' and 4'x8', there's sure to be a LiteBox for every scene. LiteBox comes standard with the same three popular diffusion options as LiteMat, Full Diffusion, Half Grid Cloth and Quarter Grid Cloth. The LiteBox can be rigged in any number of ways with optional Baby Pins, Ears, Hinges and loads of attachment points. If control is what the DP calls for, there are optional SnapGrids for each LiteBox size as well.
Speaking of SnapGrids, LiteGear is proud to announce that there are now SnapGrids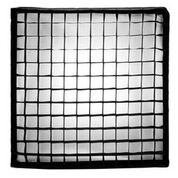 and SnapBags for every size of the popular LiteMat fixtures. These new third-party accessories are a fantastic addition to the existing line, and provide a whole new look and feel to LiteMat. In fact, the new SnapBags almost double the aperture of each fixture, effectively turning a LiteMat 1 into the physical size of a LiteMat 2 as an example.
After two years of development, IBC 2017 will see the official launch of the LiteDimmer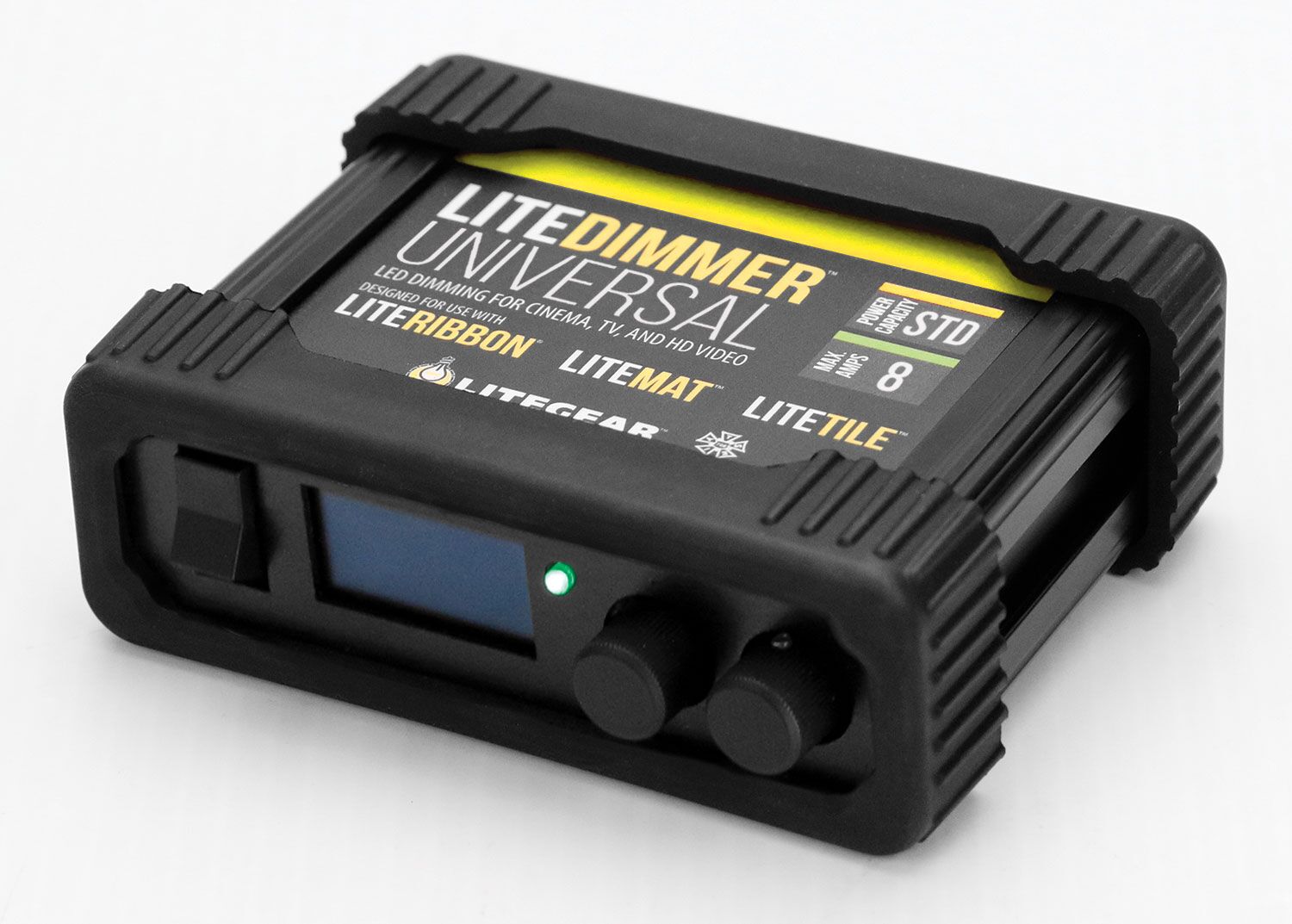 Pro Chroma LiteRibbon and LiteMat dimmer. This high-capacity, four-channel dimmer is packed with profiles and modes for Hybrid, RGBA and RGBW LEDs. In addition to this long-awaited LiteDimmer, LiteGear is proud to introduce the LiteDimmer Universal. This four-channel dimmer packs a little bit of everything into a small, robust package. Available modes control Hybrid, RGB and RGB/X in both manual and DMX modes through the onboard encoders and RJ45 DMX ports.
In the LiteDimmer DMX world, LiteGear is delighted to announce the new LiteDimmer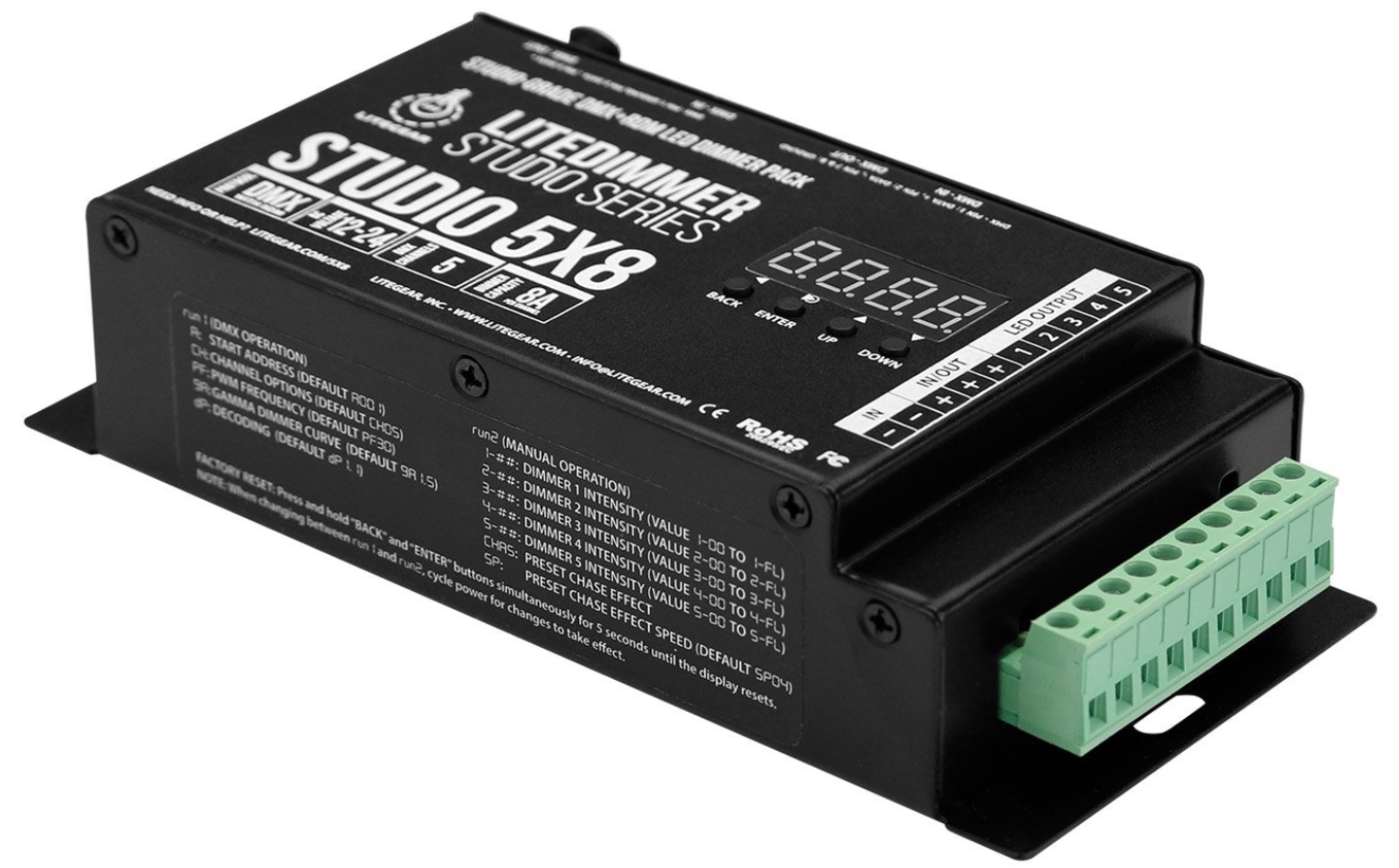 Studio 5x8 and Studio 24x4. These advanced DMX-controlled LiteRibbon dimmers are capable of controlling five channels of 100W at 12v or 200W at 24v (that's 8 amps maximum per channel!); or 24 channels of 50W at 12v or 100W at 24v. Features include: Single, Hybrid, RGB+Hybrid and RGBA/W+Single modes; Variable PWM Frequencies; Variable Dimmer (Gamma) Curves; 8-Bit or 16-Bit Operation and RDM capable. Quite simply these are the most advanced LiteDimmers available on the market today.

Last, but certainly not least, LiteGear is extremely proud to be showing a preview of Project Stardust. This proprietary and revolutionary operating system is the future of full-spectrum colour mixing for all things LiteGear. Coming in early 2018, this breakthrough in saturated and hybrid colour mixing will be available on LiteMat and LiteTile products among others. The Stardust OS was designed to provide granular control of both saturated colour and cinema white light, while maintaining the exposure specific to the camera and sensor. It's a lot to explain, so we suggest you stop by the LCA Booth for an in person demo!
DoPchoice
DoPchoice, makers of quick, easy and lightweight light-shaping tools are continually expanding their portfolio and range of existing products for a wide range of lighting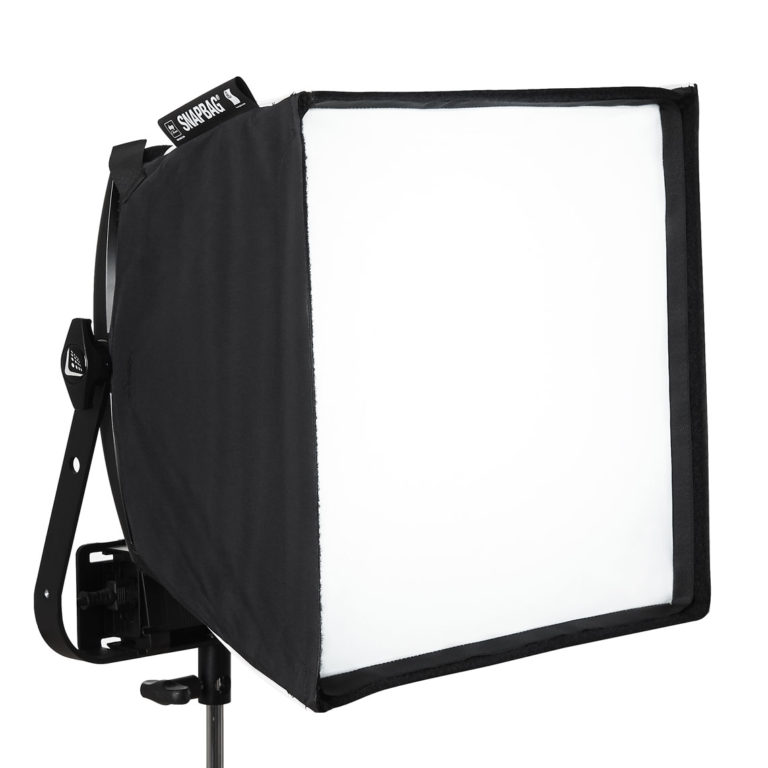 fixtures. DoPchoice's big product introduction at IBC will be our SNAPBOX™. Lighting professionals are turning to flexible LED mats or tiles to provide large, powerful and economical sources of soft light. To control these lights and to soften their output, DoPchoice has developed the SNAPBOX, a quick-to-deploy diffusion box that literally snaps up in seconds. The SNAPBOX stretches white Magic Cloth™ fabric in front of the light source, which results in a smooth, uniform and leak-free light output. And its versatile side panels add an extra dimension of illumination control. The SNAPBOX folds down into a small bag for easy transportation.
The booth will also be featuring the full line of DoPchoice light softening, refining and control accessories for LED lighting. Including Snapbags that are a complete re-design of the softbox combining DoPchoice's self-tightening solution with an instant snap-up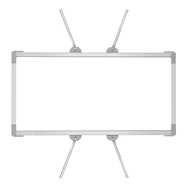 softbox that efficiently creates soft light with no spill. The new Rabbit-Ears makes mounting to LED fixtures simpler and easier. Patented Snapgrids and Butterfly grids utilise DoPchoice technology for no hassle, no tummy, no wear-out solutions in a choice of sizes and angles.
Hudson Spider
Premiering at IBC to the European film and broadcast industry, the Redback from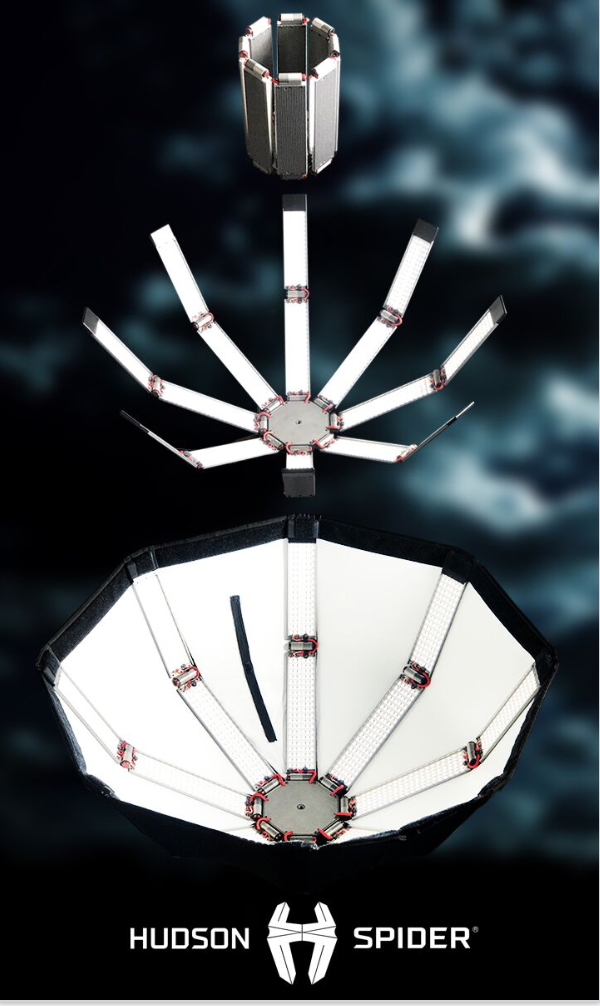 Hudson Spider is the world's first parabolic layout of LEDs for film lighting. The Redback spider creates beautiful, directional soft light without the need for diffusion, bounce or flags. Photographers have long bounced light into umbrellas with flash, but until now, this quality of soft light has proved impossible to bring to constant lighting utilising LEDs. Hudson Spider's prototypes are already becoming workhorses on the biggest film and TV sets worldwide. The 36" Redback edition is the first model in the highly anticipated Hudson Spider range. Additional diffusions also come as part of the kit.
Cineo
At IBC, Cineo announces its award-winning Full-Gamut C-80 LED lighting technology in a smaller softlight package: the Cineo Standard 410.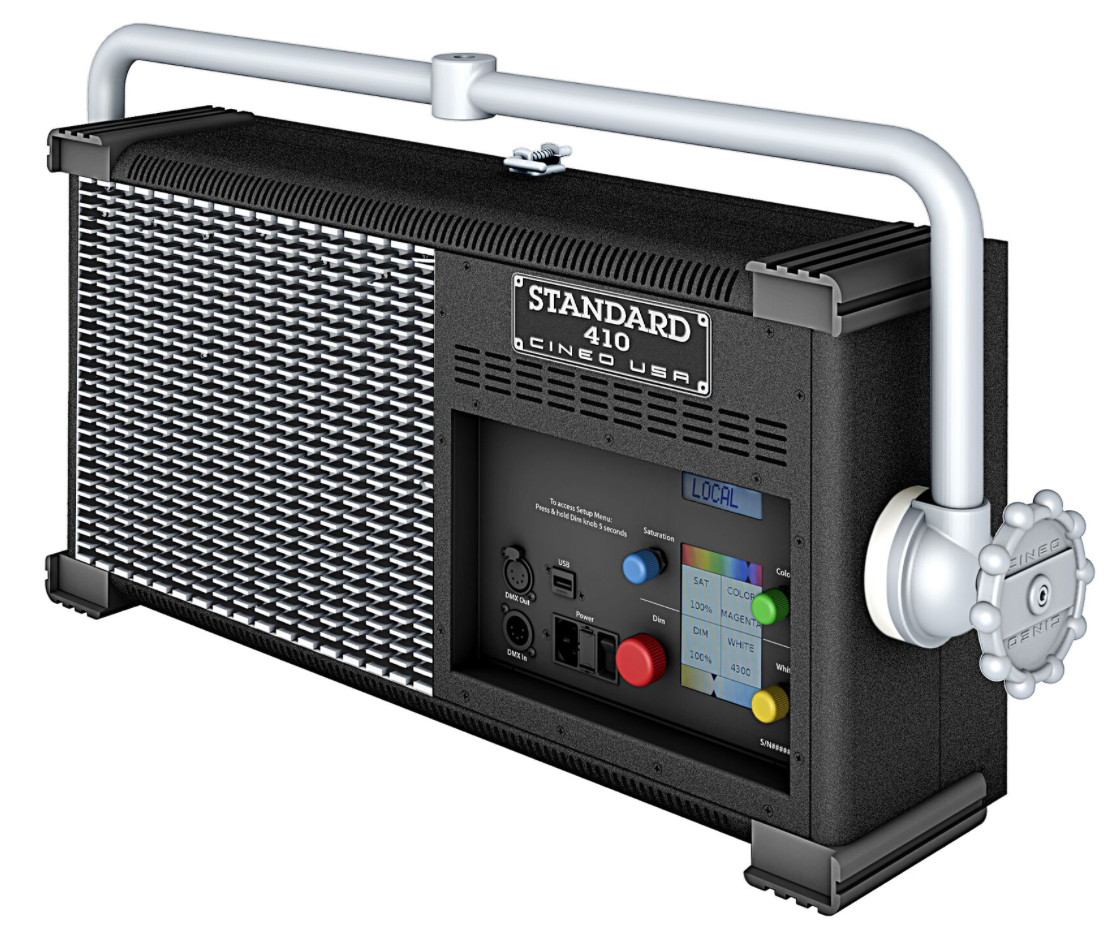 Available from October 2017, the Standard 410 has an aperture size of 30x60cm and produces 25,000 lumens of Cineo's proprietary colour-tunable white light, and also includes a full RGB gamut, plus daylight and tungsten. With DMX, RDM, CRMX wireless built-in, the 410 has simple controls – one mode, four controls for both local and remote operation. It has a fanless, stackable chassis with integrated power supply and weighs less than 12 kg complete.
LCA will also be showing the new Quantum c80 (Qc80) from Cineo Lighting, full-gamut colour lighting fixture. The Qc80 features 50,000 lumens of Cineo's proprietary colour-tunable white light, and also includes a full RGB gamut, which works in conjunction with white light as a complete, creative lighting toolkit.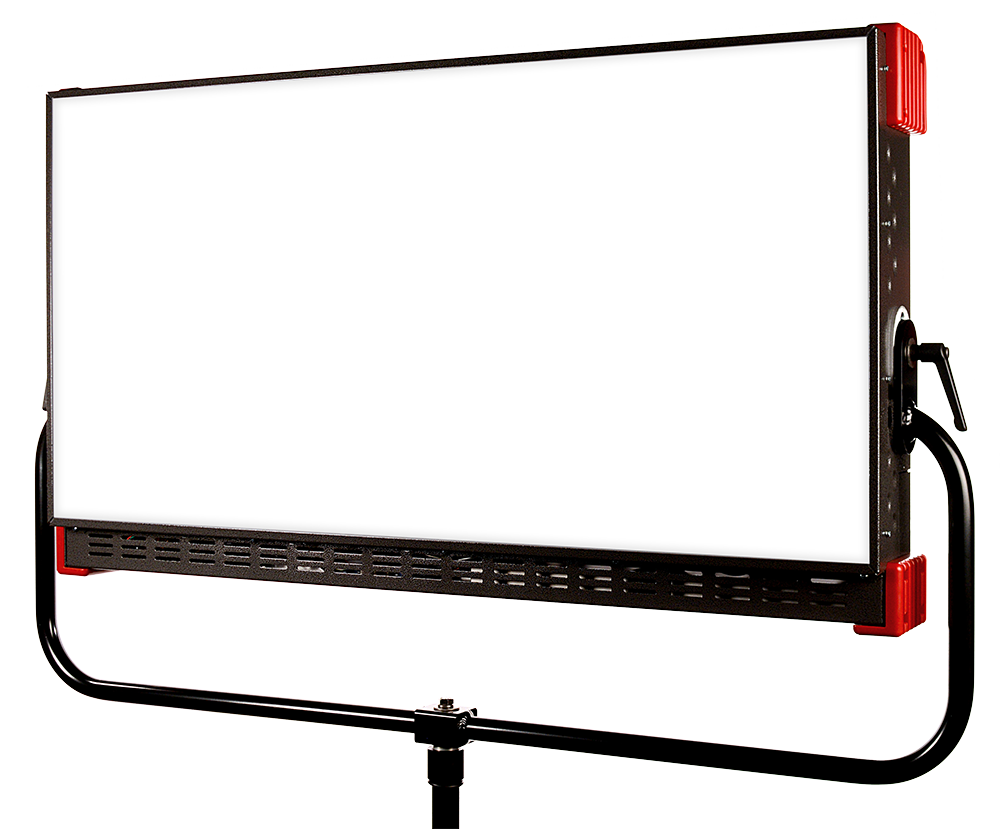 To support the Qc80's innovative approach to saturated colour technology, Cineo has developed a simple, four-channel interface that provides control locally using the system's graphical control panel through traditional wired DMX or with the Integrated LumenRadio™ CRMX bi-directional wireless DMX/RDM control. "The Qc80 is the perfect balance between a larger source size, substantial output, advanced features and portability," says Rich Pierceall, CEO, Cineo Lighting.
The versatile Qc80 provides predictable, repeatable results for end-users that are unachievable with any other lighting instrument. The same colour shading can be achieved through the camera regardless of the CCT used for photography with the Qc80: +2 Green added to 3000K CCT will look the same as +2 Green at 4500K to the correctly white-balanced camera. In addition to Cineo's proprietary phosphor-converted white light LEDs, the Qc80 is the first unit designed with phosphor-converted saturated colour LEDs, thus extending Cineo's deep-red colour rendering technology. Cineo's Photo Accurate Dimming, which maps both local and DMX control to camera f-stops, is also fully supported. Weighing under 40lbs, the Qc80 measures 2 ft x 4ft x 5.5 in, including the internal 1200-watt power supply. As with all Cineo products, it features flicker-free operation and a silent, passive cooling system without fans to ensure that no noise from the unit will disrupt a shoot. The built-in USB port provides 5VDC power for accessories and supports uploading of new firmware as new features become available.
Cintenna
The Cintenna is a professional DMX wireless system that plugs directly into a light without the need for extra rigging hardware. Using LumenRadio's award-winning technology, the receiver can be powered directly off a light with a quarter-mile range.
See more about LCA at: www.lcauk.com