BR Remote's new products to be revealed at IBC 2018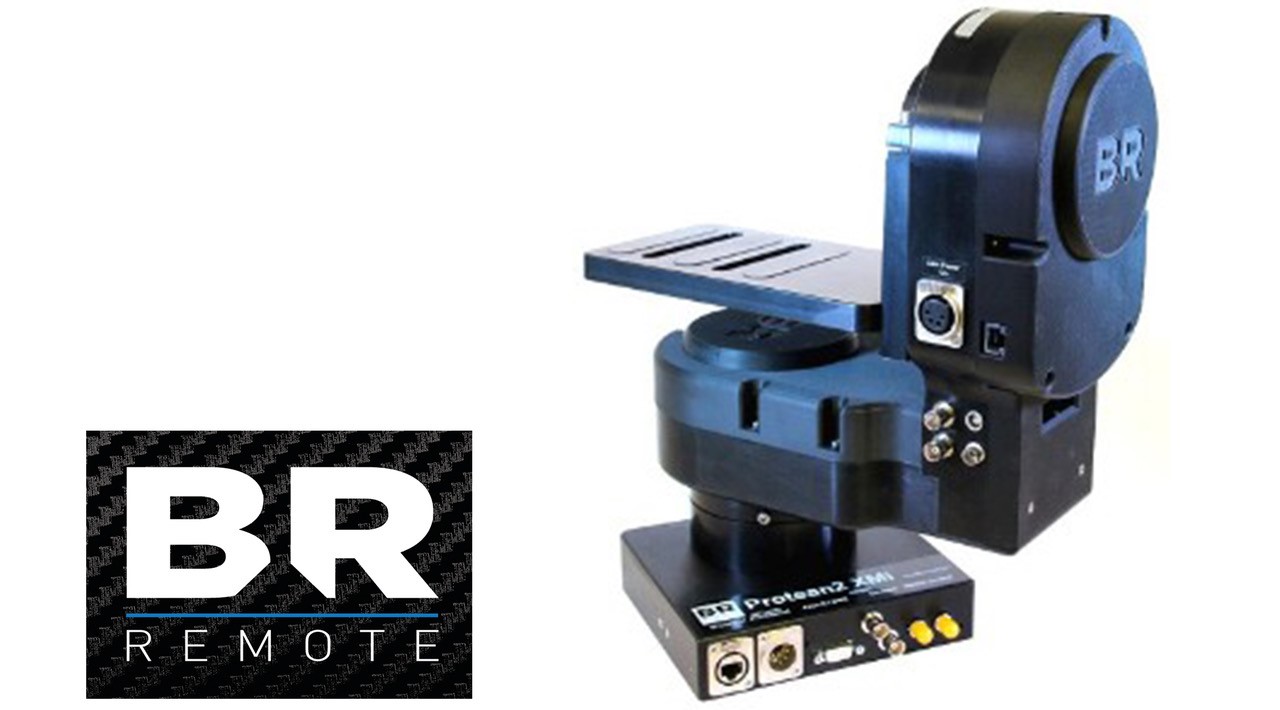 With less than two months to go until this year's IBC, GTC sponsor BR Remote is previewing some of the products it will be showcasing at the exhibition, taking place from 14 –18 September at RAI Amsterdam.
Latest specification of the Protean XMi
The Protean Head proved to be a winner at last year's IBC. This year it has been enhanced further with silent, zero-backlash control and it's already gaining new fans. In the latest design, BR Remote placed the intelligence in the camera head and introduced a new "predictive smoothing" algorithm, which gives the smoothest ever motion control – whether via wheels or a pan bar, the experience is as precise as when using joystick control. New control protocols, new move profiles and more built-in moves have also been added.
The Protean XMi camera head for silent studio automation
The Protean adjusts to suit most lens and camera configurations and in the latest version the zoom and focus are integrated with motion control. Full Free-D metadata has also been included. The complete package offers a simple route to studio automation.
Despite being introduced only a year ago, the Protean has already proved to be a popular product through matching users' requirements exactly. For IBC show attendees, the good news is that BR Remote is keeping the current list price for all orders placed during the show – and right up to October 2018.
The CamBall4 with Wide Dynamic Range
The CamBall4 has been updated with a brand new sensor and a range of control protocols – including DMX control and Free-D motion control – for AR and VR productions. In addition many features that used to be 'add-ons' are now included as standard.
The CamBall cameras have IP and Fibre options for extra flexibility, gaining them a strong track record in wildlife filming, studio automation and concert tours. More details will be available closer to IBC!
4K 6GHz camera
There will be a new 6GHz camera for 4K on show – aiming to make 4K more practical – as well as the 12GHz camera.
BR Remote's 'control surface'
BR Remote will also be launching its brand new remote control device on a tablet. As always, the company will be keen to listen to customer's feedback before the final touches are made to this new innovation.
Why BR Remote?
BR Remote specialises in small, remote controlled cameras and has expert knowledge to share, along with its range of latest products, at this year's show.
The company has come a long way since its 2016 debut with orders reaching new heights following the 2017 show. This year's new products are the result of increased investment in design and development over the last two years.
David, Nick and the team are looking forward to catching up with friends and customers, as well as meeting new contacts, at IBC. See BR Remote on stand 12F67.

To arrange a meeting please email David Bradley.
For more information see www.br-remote.com or follow them on Twitter and Facebook.