New kit from Matthews Studio Equipment to debut at IBC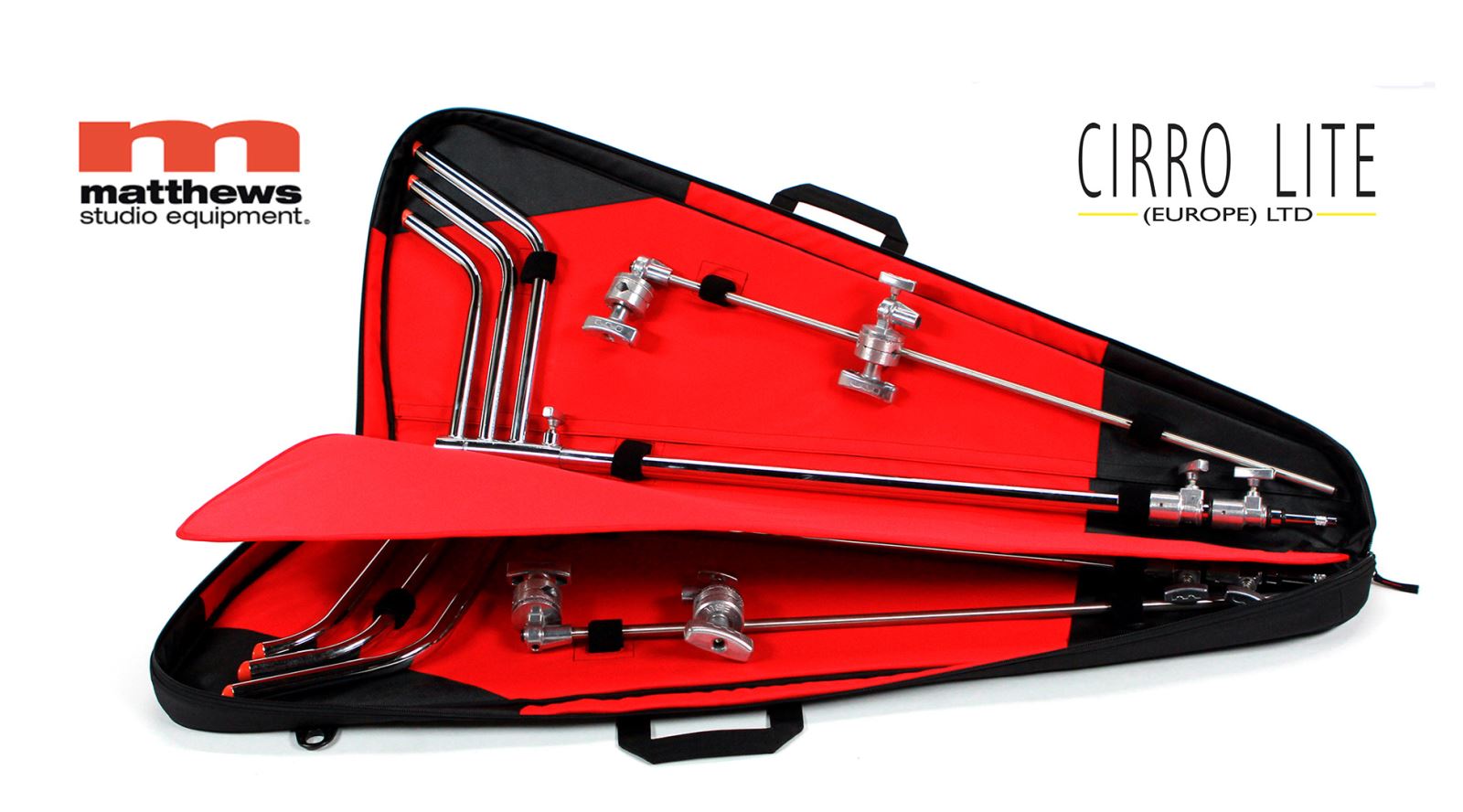 GTC sponsor Cirro Lite will soon be offering new products from Matthews Studio Equipment, which the Burbank, CA-based company will be demonstrating at this year's IBC for the first time. MSE is a respected manufacturer of camera and lighting support for the entertainment industry. At its core is a belief in creating equipment that not only stands the test of time but adapts to all types of challenges. At the show, MSE will be introducing the three new products in its portfolio:
Panel Stand – for quicker setup and positioning for a variety of movie-production tools.
MQ Mount – a simple but highly creative way to mount T-12 light tube fixtures with minimal light loss.
C-Stand Rolling Bag – for more flexibility in mobility.
Panel Stand
When working with lightweight equipment, it makes sense to have lightweight support to round out the package.
"In an effort to match the portability and strength of our lighter weight production tools, MSE has created the new Panel Stand," says MSE Vice President Tyler Phillips. "They are low profile legs like that of a medium roller stand, mixed with wind up columns used in our Mini-Vator stands. They allow for clearance of long, wide, or low hanging lights, large monitors and more. The rolling base makes it easy to roll underneath a variety of setups with little clearance."
The stands come equipped with a balanced and built-in carry handle for transport and will fold up tight for storage. The main crank column can be adjusted and lowered at the leg base while the low rolling base allows it to be rolled underneath furniture, vehicles and many other set ups with low clearance. The Panel Stand features a wide height range from 55" to 130" and hold up to 100 pounds in weight.
MQ Mount
"The T-12 LED lighting market is booming as technology continues to advance beyond incandescent and fluorescent fixtures," says Tyler Phillips Executive Vice President Matthews Studio Equipment. "From three-point lighting to practical, the low-profile of the T-12 LED has endless applications. The new challenge – rigging these low-profile lights securely and quickly without crushing the lamp. The stem-rod for the MQ Mount can be expanded in a variety of lengths, making the placement of lights simple."
The mount features the industry standard 3/8" pin which can be used with any industry grip head. The pin is knurled to prevent unwanted rotations and is internally tapped ¼"-20 to expand its length and rigging capabilities (Patent Pending). Manufactured from lightweight, high-impact plastic and aluminum parts, it is compatible with all T-12 fixtures, both fluorescent and LED.
C-stand Rolling Kit Bag
"Transporting C-Stands has always been a challenge for those independents always on the go," says Tyler Phillips, MSE Vice President. "Pieces and accessories get lost, and packing can be awkward. Equipment arrives with dents that weren't there before. MSE's series of C-Stand Rolling Kit Bags are designed to make traveling with C-Stands a pleasure."
The bags are made of water-resistant polyester and ballistic nylon and feature an high visibility, padded red interior. Made of durable, high-density foam padding, it also comes with Velcro tie-down straps and easy glide zippers. The bag will hold up to three removable base C-Stands and is fully mobile with built-in, high-density silicon skate wheels and twin side handles so it can be carried by two people.
See all Matthews' new products alongside its other support gear at IBC 2018, Booth 12-G55, from 14 to 18 September at RAI Amsterdam.