ZEISS adds a tele focal length to its line of lenses for full-frame DSLR cameras from Canon or Nikon
With the Otus 1.4/100, GTC sponsor ZEISS is expanding its lens family for Canon and Nikon photographers who do not want to make any compromises concerning image and build quality. Whether in the studio or on-the-go, for portrait or product photography, the tele focal length delivers high resolution and outstanding definition in any situation – even at maximum aperture. This high-speed lens clearly sets the subject apart from the background. The exceptional level of detail and harmonic bokeh ensure the "3D pop effect" ZEISS lenses are known for.
Achieving the outstanding image quality of medium format cameras
"The extremely high imaging performance and reliable production quality set the ZEISS Otus 1.4/100 apart in this class of lenses," says Björn Pados, Product Manager for ZEISS Camera Lenses. "ZEISS' comprehensive expertise and many years of experience went into developing the lens. The images captured with a ZEISS Otus lens in combination with a high-resolution, full-frame DSLR camera are on a par with those created using a medium format system."
The lens design, with aspheric lenses and special glass materials, keeps chromatic aberrations and distortion to a minimum. Even when shooting against the light, the T* anti-reflective coating developed by ZEISS allows for extremely high contrast and minimises stray light.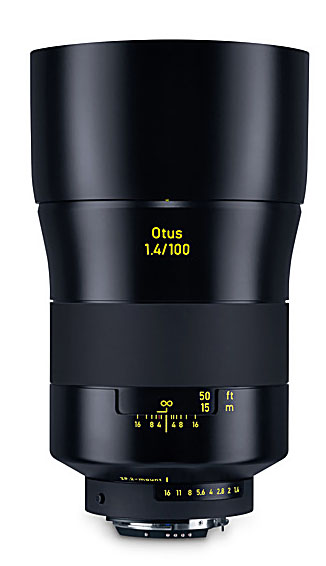 Robust and reliable
The ZEISS Otus 1.4/100 also features impressive production quality and ergonomics: the extended rotation angle and smooth operation of mechanical components enable highly precise manual focusing. The stable full-metal housing with internal focusing ensures a consistent centre of gravity and optimum balance when taking photographs.
"This makes the ZEISS Otus 1.4/100 well-suited for the rough conditions a professional photographer faces, and its high-quality mechanical design ensures it will last for a long time," adds Pados.
The ZEISS Otus lens series