Panasonic introduces KAIROS leasing scheme and recent upgrades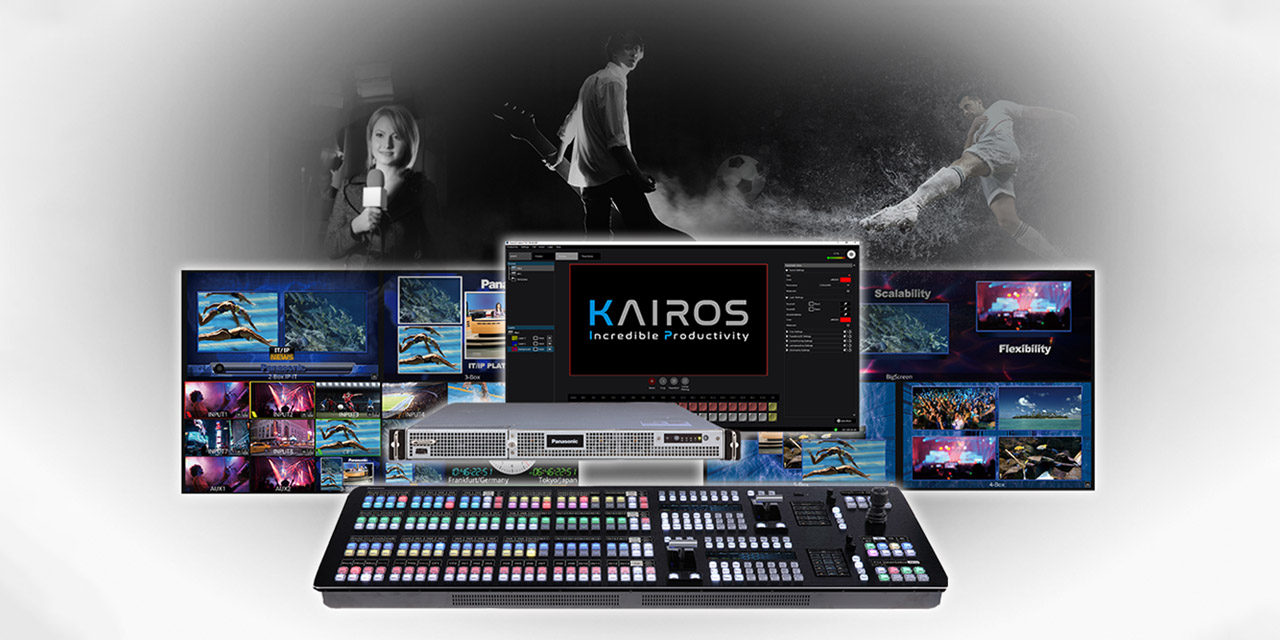 New leasing scheme for the KAIROS platform
GTC sponsor Panasonic has teamed up with CSI Leasing to provide a full-service financial solution for the KAIROS IT/IP video processing platform, aiming to adapt to the world's fast-changing technology environment.
Unlimited power of KAIROS for video production:
resolution and format independent
utilizes latest technology in software and CPU/GPU processing
true uncompressed 4K inputs and full support of baseband and IP signals (such as ST2110 and NDI) at the same time
offers super low 1-frame latency processing.
The benefits of leasing with CSI include:
36/48 month lease term with renewal options
low rates
low or no down payment
bundle solutions (for other Panasonic solutions and IT products)
control over cash and budgets
flex options at the end of the lease agreement

---
Recent upgrades to the KAIROS platform
Building on the KAIROS Core 100 (AT-KC100) technology, KAIROS Core 1000 (AT-KC1000) is an additional and even more powerful mainframe option to expand video streams, processing power and increase video and still image recording capacity.
Live video switching with increased processing power
The KAIROS IT/IP video processing platform offers an open software architecture system for live video switching. It delivers complete input and output flexibility, resolution and format independence, maximum CPU/GPU processor utilisation and virtually unlimited mix/effect (M/E) scalability through unlimited 'layers' that users can freely create and move around thanks to the intuitive and easy-to-use GUI.
The new KAIROS Core 1000 mainframe offers more processing power, thanks to increased CPU and GPU capabilities. This enables the platform to be utilised in a wider and more complex range of productions, pushing further its 'unlimited video layers' concept as well as the capability to manage different scenes at the same time and broadcast them via a variety of outputs. With the GPU's higher video processing capacity, the number of layers that can be used increases significantly, allowing full use of the multi-layered video composition and output in high resolution – including 8K video.
Increased outputs
KAIROS Core 1000 also expands the system's standard outputs to 20 HD or five 4K outputs, and offers 4K support and the CANVAS function as standard. The powerful Canvas feature allows the use of non-standard resolutions and formats, for example, making KAIROS the best solution to drive 32:9 LED walls or 9:16 content for smartphones, on top of classic 16:9 outputs.
Video streaming capabilities are also increased, with KAIROS Core 1000 expanding RTP/SRT/RTMP/RTSP streaming to eight inputs.
Recording still images and video
With KAIROS Core 1000, the recording capacity of still images and videos (RAM players, clip player) has been significantly increased. The RAM player's capacity (uncompressed) increases to 64GB and approximately 170 seconds of HD video (or 42 seconds of 4K video) can be saved. The clip player (compressed) increases its capacity to 180GB and approximately 55 minutes of HD video (or 14 minutes of 4K video) can be saved. A total of 12GB of still images can also be saved.
KAIROS Alliance Partners
The Panasonic KAIROS Alliance Partners programme includes IP COTS hardware manufacturers and leading vendors of graphics, automation and media servers. Partnering with companies that actively support KAIROS allows Panasonic to easily expand functions and inter-operability to external devices by adding application software.
For more information, visit: pro-av.panasonic.net/en/support/kairos_partners.html