Peli introduce new V-series rack mount cases
GTC sponsor Peli has announced a new range of off-the-shelf rack mount cases with pro-grade features.
33" Classic-V
For ultra fragile equipment, the Classic-V has a 33" depth frame, longer shock mounts, a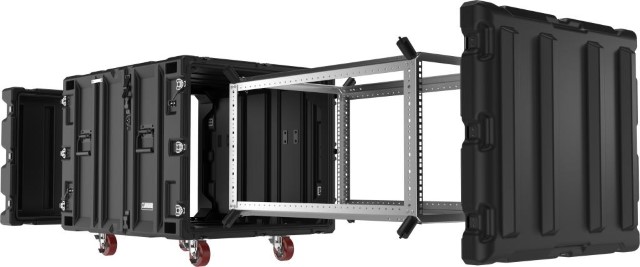 larger sway space between shell and rack, as well as 4 removable heavy-duty casters and stainless steel handles.
Available sizes: 3U, 4U, 5U, 7U, 8U
24" Super-V
For moderately fragile equipment, the Super-V cases have a 24" depth frame and uses shorter shock mounts for compact case dimensions. These cases have edge casters

and comfort-grip handles.
Available sizes: 3U, 4U, 5U, 7U, 9U, 11U, 14U
Shared features of the range
Every case in the V-Series is rated for equipment loads up to 77kg. Mating columnar ribs create a rigid shell and also provide secure stacking of same-size cases. They also have a manual purge valve for equalising air pressure and a fully sealed watertight O-ring gasket.