Presteigne Broadcast Hire buys additional Canon 4K lenses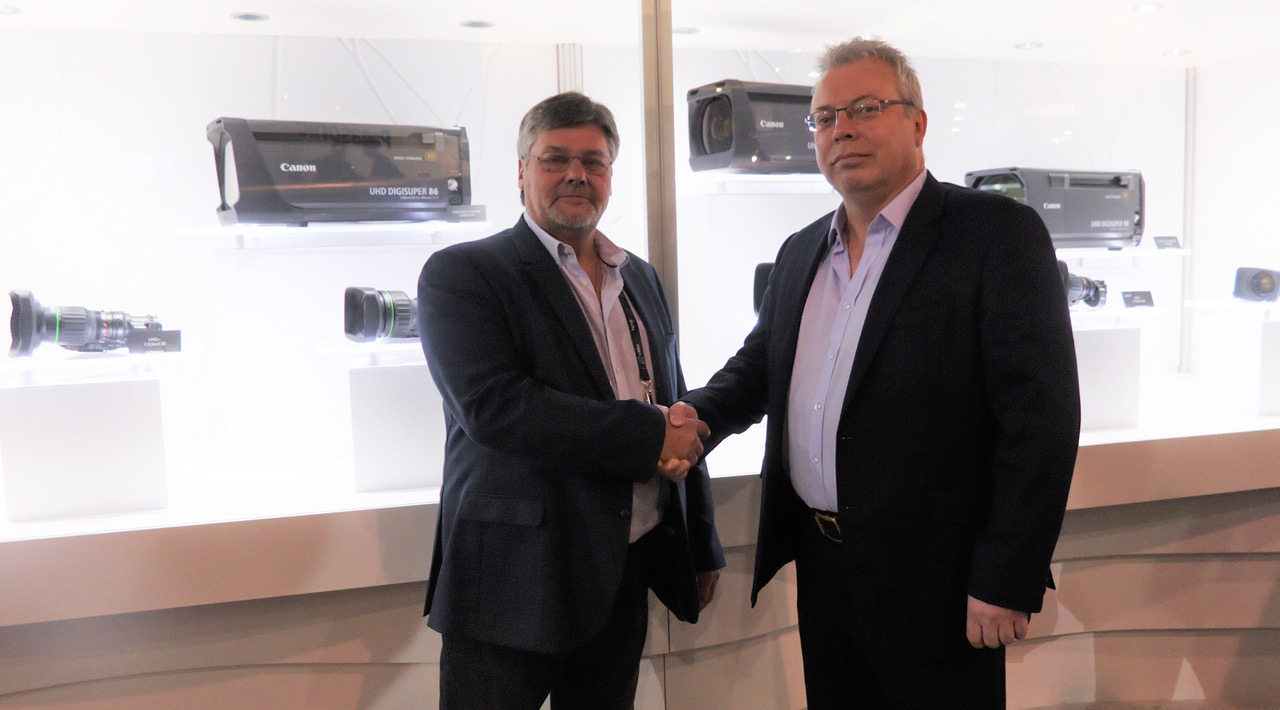 Mike Ransome, Presteigne (left) with Ian Barnard, Canon
Presteigne Broadcast Hire continues its investment in 4K glass with the purchase of additional lenses from fellow GTC sponsor Canon as it prepares for a busy year of live sport in 2018. Presteigne recently received 33 new CJ12ex4.3B IRSE S/IASE S 2/3" 4K wide-angle portable lenses from Canon UK and will take delivery of more 4K lenses in the coming months.
"We're facing growing interest from our customers for UHD solutions, so investment in Canon's 4K lenses, particularly the CJ12ex4.3B is sensible given how well they perform," said Presteigne's CEO Mike Ransome.
Ian Barnard, Sales Director at Canon UK & Ireland, added:
"Presteigne's decision to continue its investment in 4K lenses demonstrates the industry's increasing demand for 4K workflows. The CJ12ex4.3B is fast becoming the wide-angle lens of choice for portable broadcast cameras and we're looking forward to seeing it feature at many of 2018's sporting events."
The compact and lightweight Canon CJ12ex4.3B professional lenses bring high-quality 4K resolution to ENG and studio applications and will play an important role for Presteigne during 2018's key sporting events. The lens offers 12x zoom and a focal length that extends from an exceptional 4.3mm at its widest to 52mm.
As well as exceptional optical performance, operation of the CJ12ex4.3B is straightforward, and the lens' breakthrough design means that great results are easy to achieve. This will be especially important in the cold environments where the lenses will be first used.
Presteigne purchased multiple Canon 4K and HD studio, field, ENG and telephoto lenses in April 2017, as part of its substantial investment into UHD equipment.
For more information please see the following websites: