RED wins at the Oscars – and other news!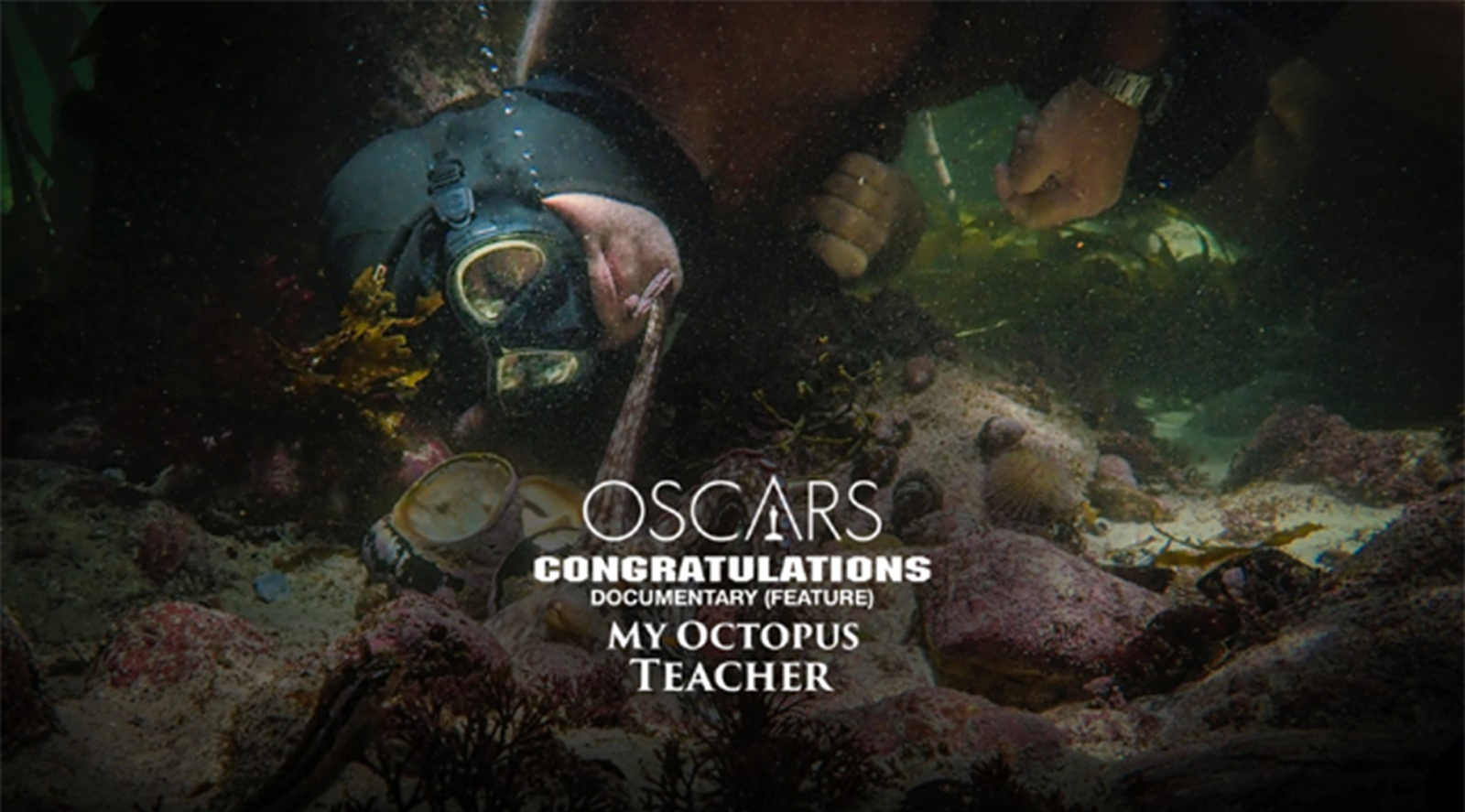 RED Digital Cinema supports Academy award-winning productions Mank and My Octopus Teacher
With Oscar® wins in the Cinematography and Documentary categories, productions shot on RED Digital Cinema capped off a successful awards season.
Best Cinematography
Erik Messerschmidt, ASC took the Best Cinematography prize for his glorious black-and-white photography of Mank. Messerschmidt was a favourite going into the ceremony after winning awards from his peers at the American Society of Cinematographers (ASC) and British Society of Cinematographers (BSC). Mank, which took home two Oscars, led all nominations with 10, including a nod for legendary director David Fincher. The Netflix film was shot on a RED RANGER with a HELIUM 8K MONOCHROME sensor. It was the 17th black-and-white film in Academy Award® history to be nominated for cinematography since separate categories for colour and black-and-white films were merged in 1967.
"We are incredibly proud of Erik on his Oscar win for best cinematography," said RED Digital Cinema President Jarred Land. "It is a well-deserved recognition for creating truly breathtaking images for Fincher's Mank. We are honored that he chose to shoot it on RED cameras, and we can't wait to see what he does next."
Best Documentary
Best Documentary winners Pippa Ehrlich, James Reed and Craig Foster collaborated with cinematographer Roger Horrocks on Netflix's My Octopus Teacher, shot on a RED DRAGON. The touching under-the-sea story has been widely recognized this season, winning BAFTA, ACE, PGA and IDA awards. It also earned nominations from DGA, MPSE and CAS. Horrocks claimed a Best Cinematography Award for a documentary at the Critics' Choice Award.
Additional productions shot on RED that received accolades this awards season include Netflix's The Queen's Gambit, shot by Steven Meizler on the RED RANGER. The limited series earned Meizler an ASC Award. The series also won DGA, PGA, SAG, Golden Globes, AFI, ACE, ADG, and WGA awards, among others. Ammonite, The Dissident, The Last Dance, The Social Dilemma and David Attenborough: Life on Our Planet were also recognised for their achievements.
---
Other RED news
Promotions
Due to popular demand, the following promotions will be extended through the end of June or as long as supplies last!

RED DSMC2 and RANGER MINI-MAG
Customers are eligible to receive one free 480GB RED MINI-MAG with purchase of DSMC2 GEMINI or RED RANGER GEMINI, and/or one free 960GB RED MINI-MAG with purchase of DSMC2 HELIUM/DSMC2 MONSTRO or RED RANGER HELIUM/RED RANGER MONSTRO.

Switch to RED
Customers have the opportunity to trade in their cinema camera for a $25,000/ £19,250.00/ €21,600.00 trade-in credit towards a new RED DSMC2 MONSTRO or RED RANGER MONSTRO. This promotion is exclusively available through dealers.

---
4-day REDUCATION Class
REDUCATION® is real-world training taught by industry professionals. REDUCATION instructors teach application knowledge of RED's entire RAW workflow process, from digital acquisition through post-production.
Book a place: www.red.com/reducation

RED Support
The very latest support articles, including RED Tips and Tricks can be found at: support.red.com/hc/en-us
---
BTS stories and interviews on RED.com
Check out RED.com/stories for some great behind the scenes looks at recent RED projects across the planet. In recent weeks the stories and people behind projects such as The Dissident and The River and The Wall have been highlighted, as well as interviews with cinematographers Katie Milwright and Pawel Pogorzelski.
---
RED offices open
RED Europe: The Pinewood office continues to operate under guidance from the government during the pandemic with customer support and sales functions unaffected.
Operational hours: Monday to Friday 8:30am to 5:00pm
Tel: +44 (1753) 386585 | Email:

REDEurope@RED.com

RED London: There are plans to reopen the Fitzrovia showroom this summer with the aim of providing in-person demos and consultations as Covid-19 restrictions ease.