SmallHD: new monitors announced at NAB 2019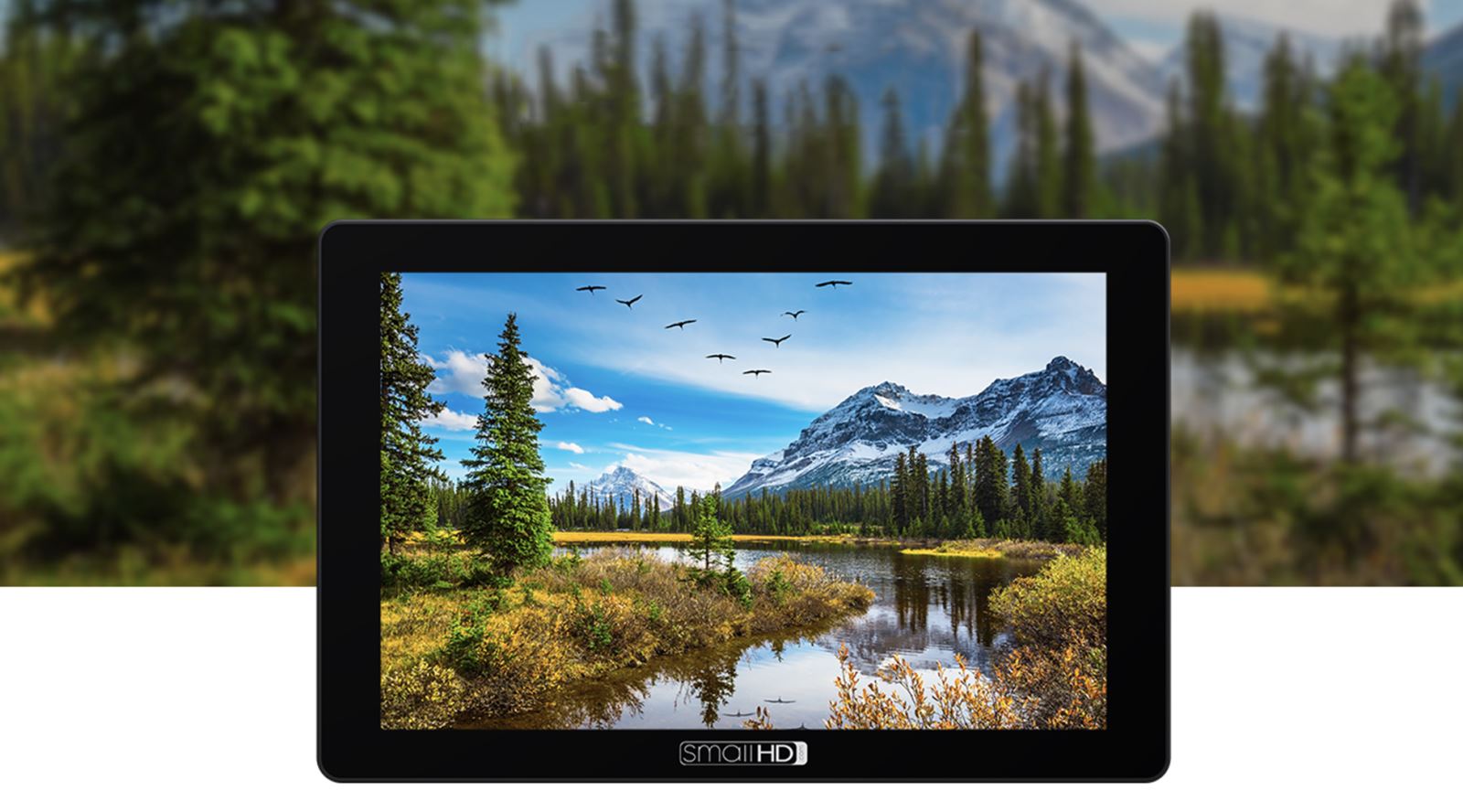 In addition to the FOCUS 7 Bolt 500 RX 7-inch HD touchscreen wireless monitor with built-in Teradek receiver announced ahead of NAB, GTC sponsor SmallHD has also introduced several other new products: the 702 Touch and the Cine 7 range.
---
702 Touch
The 702 Touch is a professional 7" 1920x1200 monitor delivering a world-class user experience and feature-set. Its daylight-viewable 1500 nit panel and stunning 100% DCI-P3 colour gamut offer an unparalleled monitoring experience for studio and mobile production environments.
Follow-focus applications
The monitor is perfect for 1st ACs due to its integration with Teradek RT. Connect a CTRL.1 or CTRL.3 controller to the monitor for real-time lens data overlays, which show critical follow-focus information on the screen, including lens focal distance, focal length, iris, zoom and more.
The 702 Touch has a sleek, low-profile design. Its signal and power options allow the on-camera monitor to fit seamlessly into any workflow. With ports well protected by the space gray aluminum chassis, the 702 Touch offers:
2x 3G-SDI inputs
3G-SDI output
HDMI input/output
4x mounting points.
wide-range DC input (10–34V, 2A) allows for system power
several battery brackets (Sony L Series included; Gold Mount and V-Mount available separately).
The monitor's capacitive touch touchscreen, which supports 5 simultaneous touches, controls the monitor's SmallHD OS3 software and PageBuilder interface. The easy-to-navigate, professional OS3 toolset provides many on-screen functions, including customizable HD Waveform, Vectorscope, False Color, Anamorphic De-squeeze, Focus Assist/Peaking, Framing Guides and storage of unlimited 3D LUTs via SD card.

702 Touch is available April 2019 from the global network of SmallHD resellers and partners. MSRP for the 702 Touch is $1299. For more information or to order online, visit: smallhd.com/702touch
---
Cine 7 range
SmallHD has also introduced Cine 7, a family of 7-inch full HD touchscreen on-camera monitors with cinema camera control and built-in Teradek wireless video technology.
Cine 7 is a powerful new monitor platform for professional cinematographers, with a stunning 1080p, daylight-viewable 1800 nit display that offers 100% coverage of the DCI-P3 colour gamut. What sets this monitor apart is its seamless integration of cinema camera control, allowing users to manage a variety of camera settings right from the SmallHD software interface. It will launch with support for ARRI ALEXA Mini, AMIRA and Mini LF cameras as an optional software licence, with support coming for RED and Sony later this year.
Camera control
Camera control via the Cine 7 interface solves a number of production issues. The ARRI ALEXA Mini and AMIRA provide viewing of camera controls only through the electronic viewfinder. The Cine 7 wireless video transmission function can become an essential tool when the camera is mounted on a Steadicam, on a camera car or other specialty rigs.
The Camera Control Menu appears as an overlay on the video feed once assigned to a Page. Each Page gives the user quick access to sets of tools (framing, exposure, focus, etc). Operators can toggle from Page to Page via the highly responsive touchscreen interface.
Input and output of video with integrated audio is provided via 3G SDI and HDMI, with cross-conversion between the two. Power is delivered via locking 2-pin power connector (10-34V DC, 2A in) or battery bracket (Sony L Series included - Gold Mount and V-Mount available separately).
Cine 7 is available in 4 different varieties, including three wireless models with built-in Teradek Bolt technology (500 TX, 500 RX and a Sidekick RX version), as well as a non-wireless base model.
Each model supports cinema camera control. All Cine 7 models are compatible with Teradek RT real-time lens data overlays, allowing users to get critical follow focus information directly on the display, including lens focal distance, focal length, iris, zoom and more.
Cine 7 begins shipping April 2019.
Link to the video: https://www.youtube.com/watch?v=CzZIR-d53PI&feature=youtu.be
---
About Creative Solutions
Creative Solutions, a division of the
Vitec Group plc
, is comprised of several businesses that design and manufacture premium products for broadcasters, film and video production companies, and independent content creators. Manufacturers include

Teradek,
SmallHD
and Wooden Camera, as well as the former businesses of Amimon, RT Motion, Offhollywood, and Paralinx.