VMI New Products Day 2017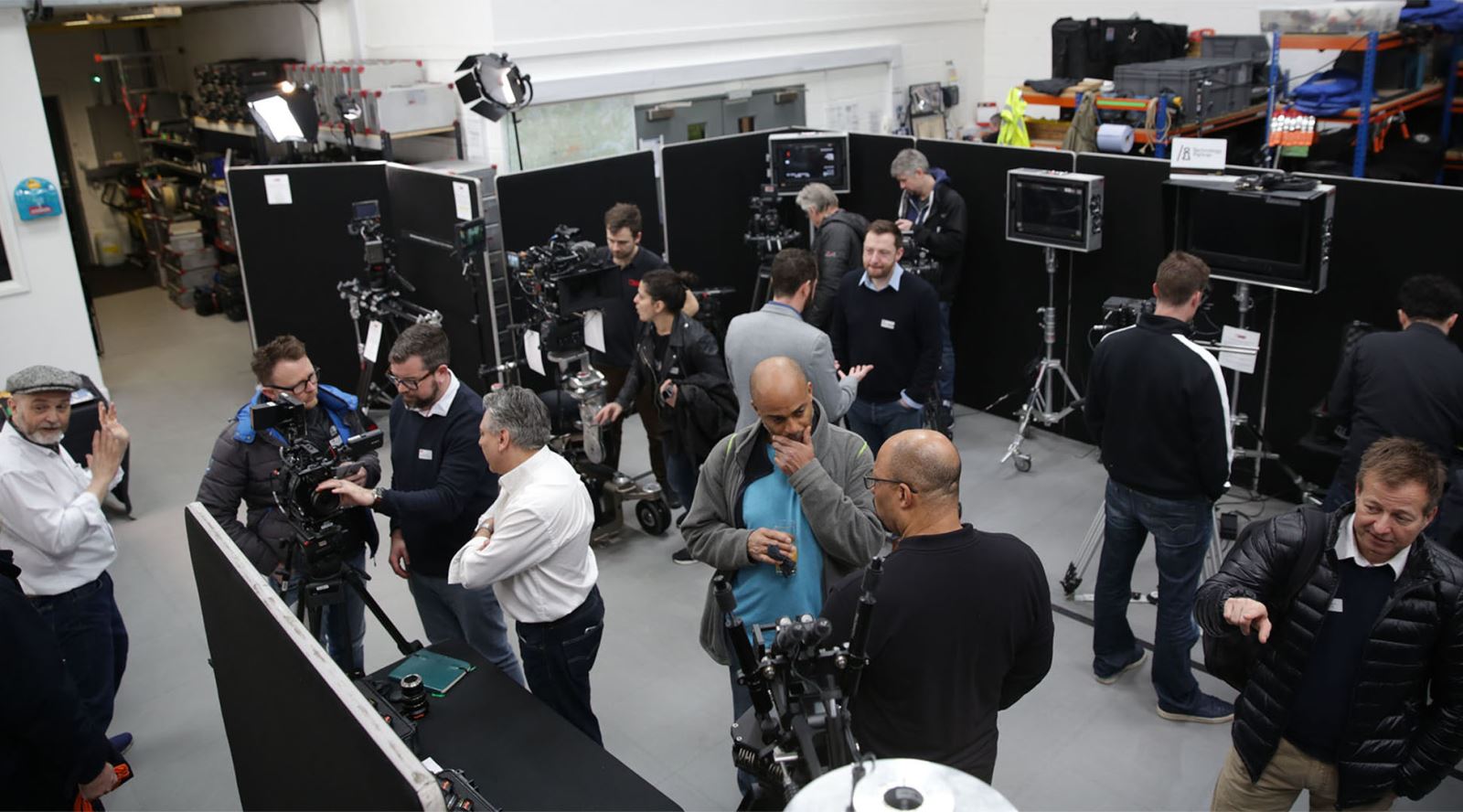 GTC Sponsors VMI hosted a New Products Day on Wednesday 1 February, which was well attended by DoPs, camera operators, producers and freelancers, and supported by 10 manufacturers including ARRI, RED, Canon, Panasonic, Cooke, Angénieux, Fuji. RTMotion, OFFHOLLYWOOD and MTF representing Veydra.
In total, there were 25 cameras set up with a lot of new configurations never seen before.
RED demo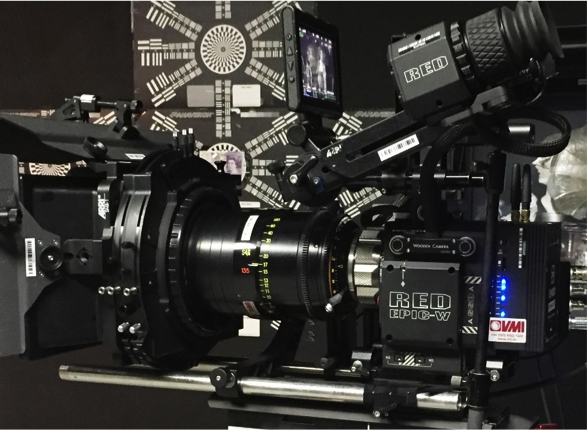 A live demonstration in the RED room showed the 'RED Plus' camera concept comprising the new 8K RED EPIC-W camera fitted with OFFHOLLYWOOD OMOD Command RT module to offer integrated wireless lens control and a built-in lockit box. Presently, this is only paired with the RTMotion systems but Preston and ARRI compatibility is in the pipeline.
In common with the ARRI Alexa Plus concept, the lens control servo motors plug directly into the camera without an external brain/receiver unit being required. However, the OMOD module also has a unique function to enable a wireless live grade during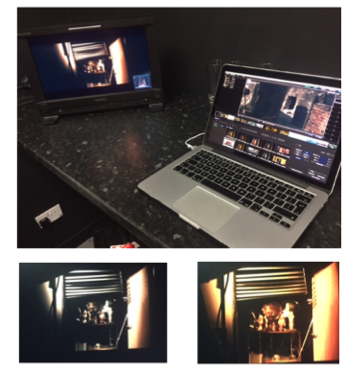 shooting. A LIVE GRADE display showed how a laptop running grading software could change the LUT output of the camera wirelessly and at the same time as the RAW 8K was being recorded on-board. This demonstration was assisted by Mark Pederson of OFFHOLLYWOOD, Mark Bird of RTMotion and a remote grading system operated by Jasper Kops in associated with Mytherapy.tv, using the Colourlab software.
The EPIC-W camera was fitted with the new Cooke 35–140 2x anamorphic zoom which was being shown for the first time courtesy of Cooke Optics.
Vintage Room

The Vintage Room was designed with an eclectic antique set, complete with vintage busts, masks and hats and lit with heritage lights. A parade of five matched Alexas were displayed onto identical monitors to contrast the differing images from the various lenses.
On demonstration were Cooke Speed Panchros, Kowa anamorphics and Canon K35 primes, together with uncoated Zeiss SuperSpeeds and, for the first time, an uncoated Cooke S4i lens, which was stunning. VMI plan to add uncoated S4 lenses to the growing range of uncoated lenses for hire later this year.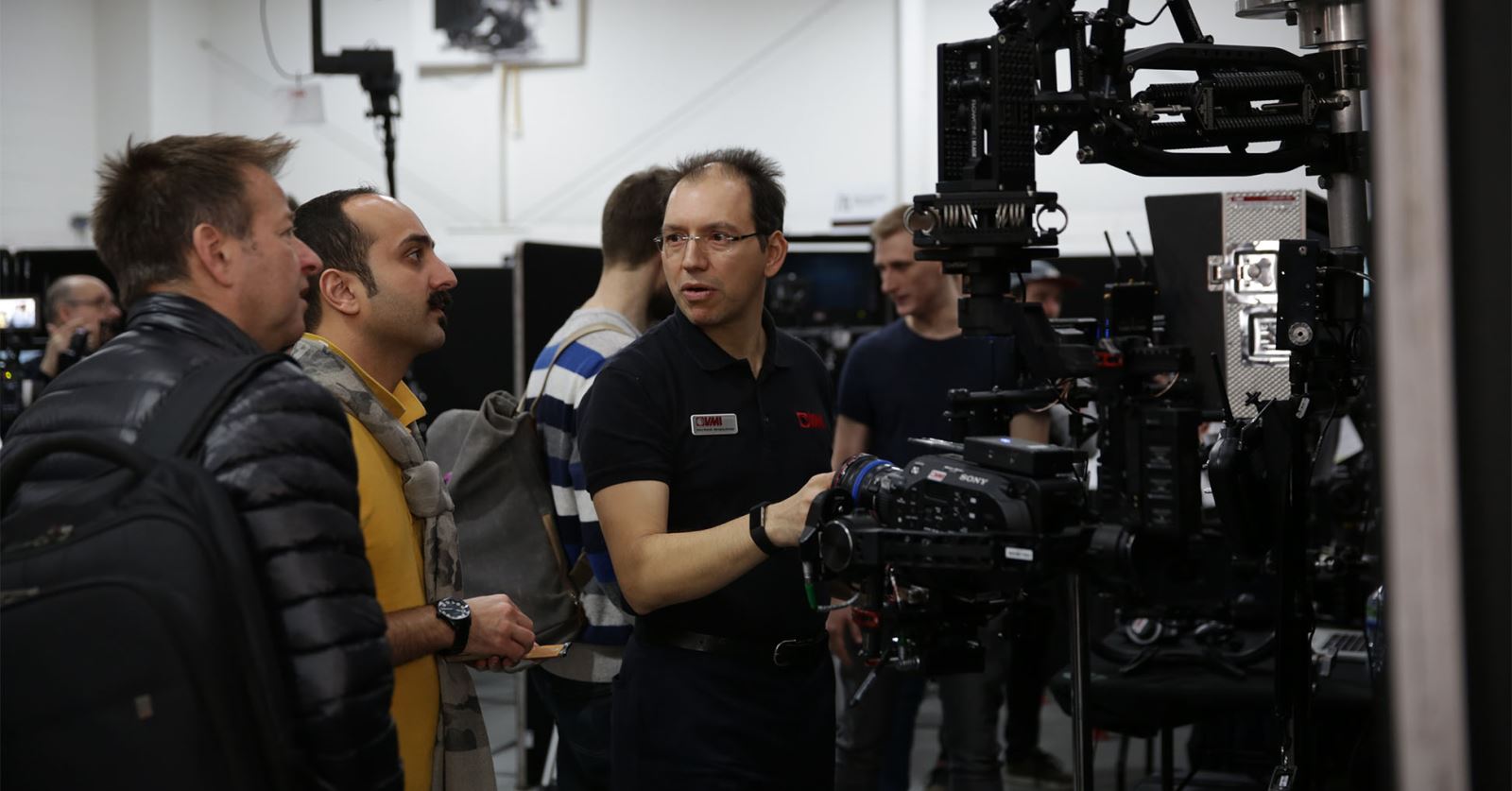 Various grip equipment was on show including a 3.1m Intel-A-Jib fitted with Black arm vibration isolator and Ronin Gimbal (so that you can travel in a car with a mounted stabilised head), and also Libec Swift Jib 50 with robotic head.
This was a gimbal-fest as well with the new MoVI Pro being demonstrated with the novel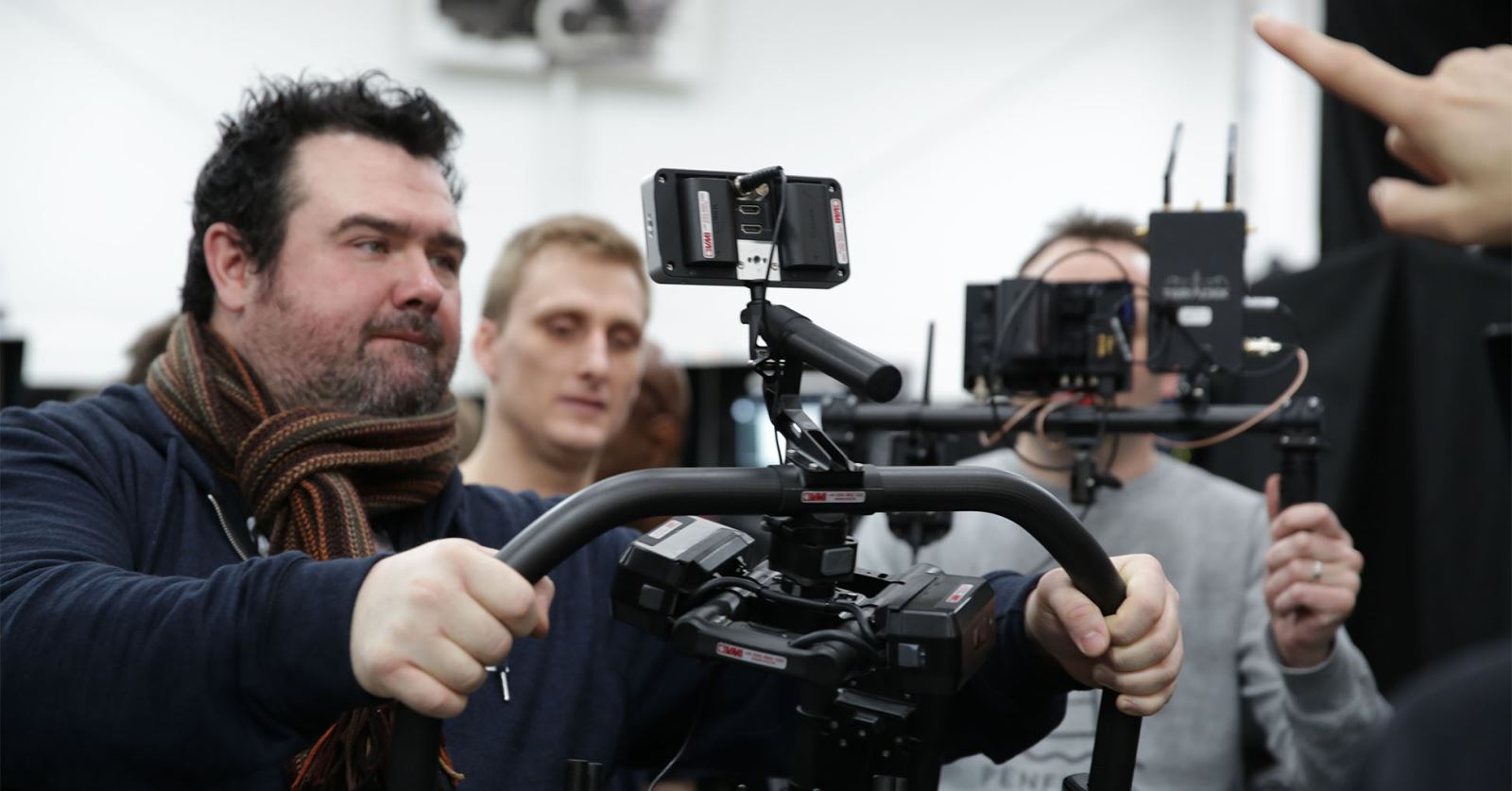 new 'mimic' control, whereby a user's movements on a 'mimic steering wheel' are replicated by the motors on the gimbal – very impressive!
Also on show were the DJI Ronin long-arm gimbal, Ikan EC1 beholder single-handed DSLR gimbal and mini-Osmo gimbals for comparison.
New lenses
There were lots of new and interesting lenses to see as well, including the Fuji 25–300/T3.5 Premier zoom, which has a very useful focal range at constant iris and operational servo pack. Carey Duffy from Cooke Optics demo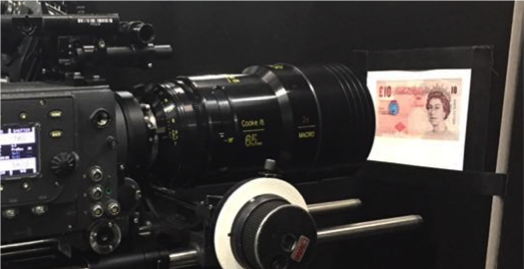 nstrated the close focus capability of the Cooke 65mm S4i anamorphic prime, which can focus 10cm from the front of the lens – also very impressive. This lens is arriving at VMI in March to add to the anamorphic Cooke S4 sets and there was a lot of interest in its ability.
Also enjoying considerable attention were the Veydra prime lenses being demonstrated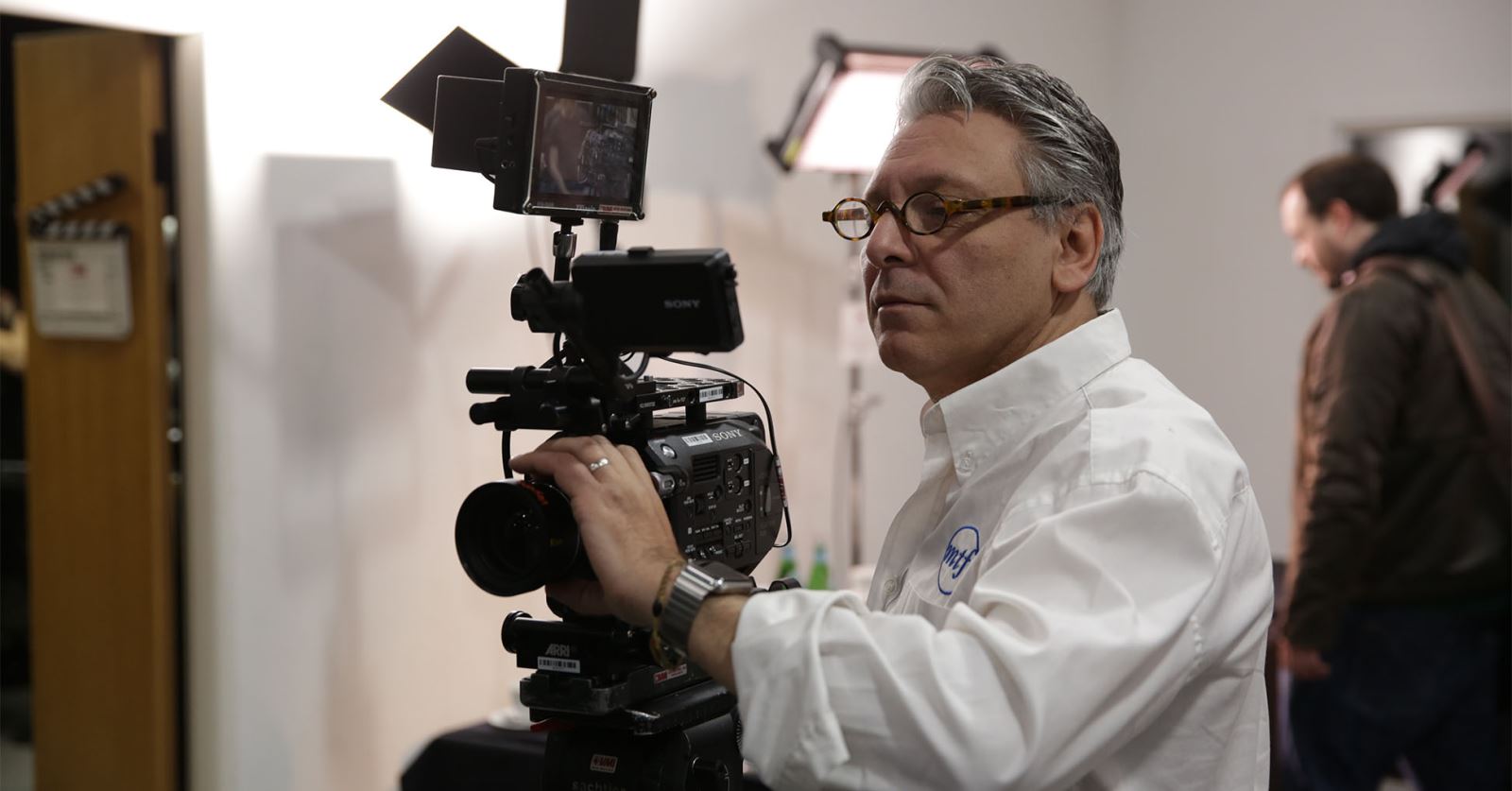 by Mike Tapa of MTF. These new lenses are fitted with native E-mounts, allowing them to mount directly to Sony FS-7 or A7S Mk II without the need to use external lens adapters. The mounts are interchangeable allowing them to also be fitted with micro 4/3 or FZ mounts to use with Sony PMW-F5 or Panasonic GH5 and others. Mike promised that the new 19mm Veydra lens arriving in March will fully cover S-35 format and complete a 5-lens prime set which VMI plan to be the first rental company to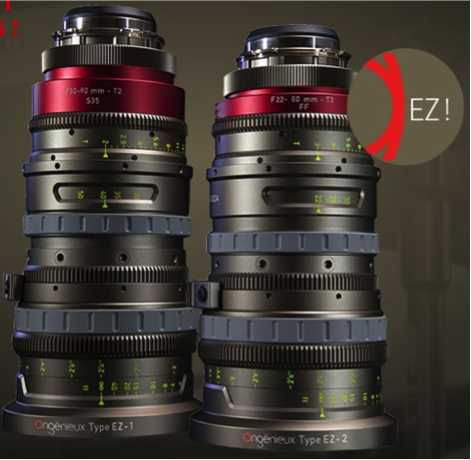 stock.
Unfortunately, Davy Terzian from Angénieux could not attend and sent the new EZ lenses for demonstration ahead of their much anticipated release but sadly this consignment was lost by the courier for much of the day and only made their appearance late afternoon!
Unusually for Angénieux, these new zoom lenses will incorporate full external servo packs (to be used in the same way as conventional ENG lenses) and will be available fitted with a choice of E mount, EF mount or PL mount, and in either S35 or full-frame formats. Even better than this, the conversion will also change the iris and focal length markings depending on which format you are using, a very innovative approach for these cost-e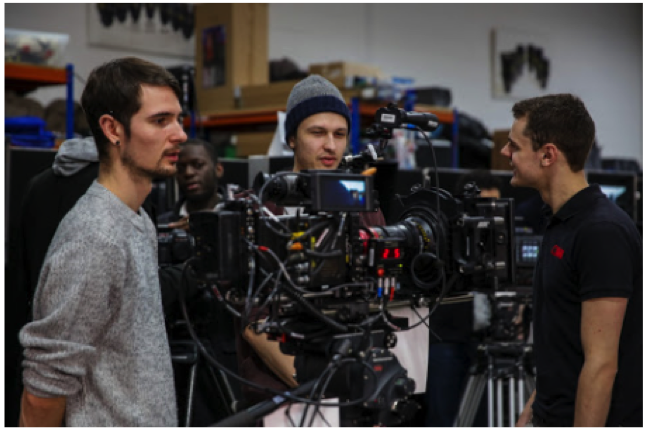 ffective lenses.
The Angénieux 56–152mm anamorphic zoom was fitted to an Alexa Mini camera complete with integrated WLCS system. The quantity of anamorphic lenses on show reflected the increased interest in anamorphic production, since more cameras than ever now offer anamorphic capability.
James Burwood and Yuji Tanaka from Canon drew a lot of attention with their new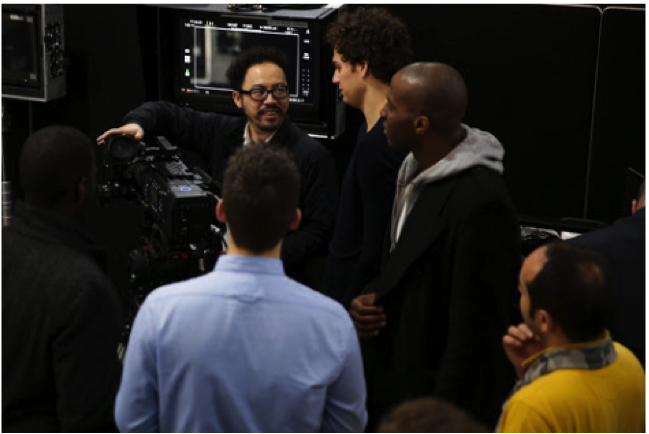 Canon C700 4K camera and showed lots of lovely 4K images too. The full production package looked great complete with ARRI pro set and Codex recorder.
VariCam
Rob Holland from Panasonic was demonstrating both the Varicam LT and also Varicam-35, which when incorporated with the Codex recorder, turns into the new Pure 4K RAW camera system.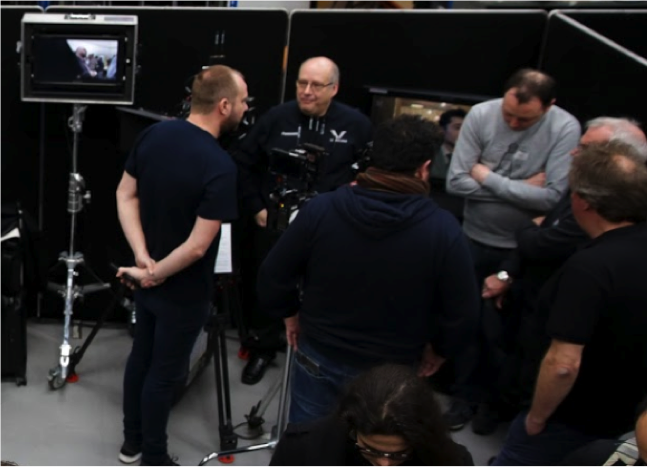 Cinematographers have really taken to the VLT due to its full 4K capability, compact design and pleasing colour palatte which is quite different from the usual ARRI offering.
Canon cameras
A super low-light demonstration showed a very dark room with 2 cameras pointing to a very dark toy. A Canon A7S Mk II set at 100,000ASA was not able to see anything, whilst a Canon ME20 f/sh was able to produce a perfectly noiseless image. This was a really impressive demonstration of the 4m ASA sensitivity of the Canon ME-20 fsh super-low-light camera which has been used on many natural history productions and is available now from VMI stock.
ARRI Amira
Mark Dollery representing ARRI was demonstrating a fully dressed Amira camera with the new master grips system.
Altogether it was a really interesting group of people and equipment and everyone enjoyed the day at VMI's West

London Headquarters.
See more about GTC sponsors VMI: vmi.tv