Vocas at NAB 2018: What's new?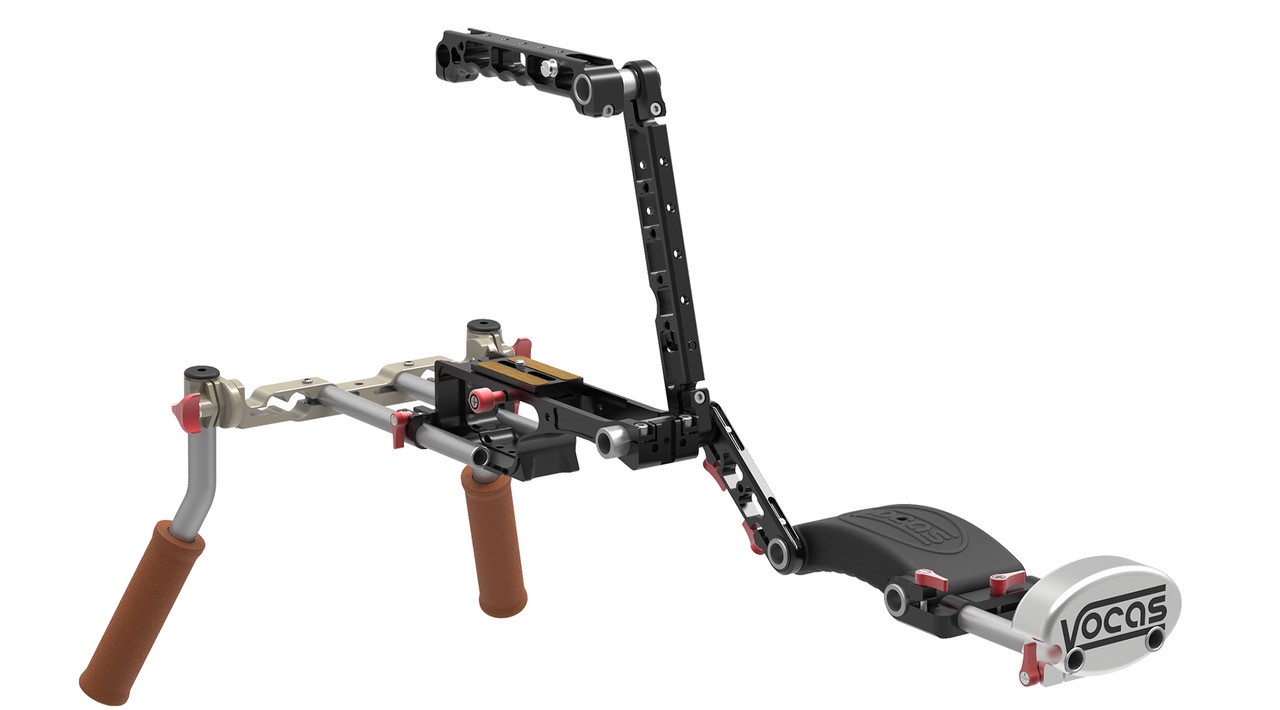 GTC sponsor Vocas is ready to introduce some new products at NAB 2018 in Las Vegas. Working closely within the professional camera market, Vocas has developed accessories for the latest cameras as well as film and video trends. During development they constantly aim to find ways in which they can improve the life of the camera professional at work. Consequently they have some great additions to their stable for the run and gun cameraman and even the professional vlogger too.
At the Vocas booth they are showcasing a range of their latest products which are ready to ship, such as specific accessories for the newest cameras like the Sony VENICE, the Panasonic AU-EVA 1 and more. In addition, they will demonstrate the latest Vocas follow focus, a matte box support with shoulder pad as well as a renewed design of the Vocas director's cage.
Vocas's latest development, a completely new shoulder rig, will be shown for the first time. Other new items at the Vocas booth are a new soft interchangeable shoulder pad for the Vocas Sliding System and a "belly pad" which can be used on all 15 mm supports making life a little more comfortable.
Vocas has more than 25 years experience in developing new accessories which help to make the life of a camera professional easier and result in a better picture. Make sure you visit them at their booth C8238.
Vocas new flexible camera rig
Vocas has recently redesigned its range of shoulder rigs. The result is a multifunctional camera rig which will function with all kind of cameras ranging from a Canon EOS 5D and the Panasonic AG-UX180 to the Sony PXW-FS5. The shoulder

rig is designed in a way that cameras can be operated on top of your shoulder and in an offset position. This flexibility offers shooting options for using both the camera's external viewfinders and LCD screens. The rig has a 15 mm height adjustable rails support which enables compatibility with almost any camera. The ARCA sliding system offers quickly adjustable balancing options.
The optional top handle enables you to mount any third-party viewfinder or LCD screen via the Vocas NATO rail solutions. To the back of the rig, a counterweight or battery can be mounted. Available in kits with or without top handle, viewfinder bracket, handgrips, counterweight etc, all with maximum stability in mind for the best steady shot you have ever made without a complex stabilising system.
The new Vocas director's cage
A lightweight one-piece director's cage is new to the market. It comes with leather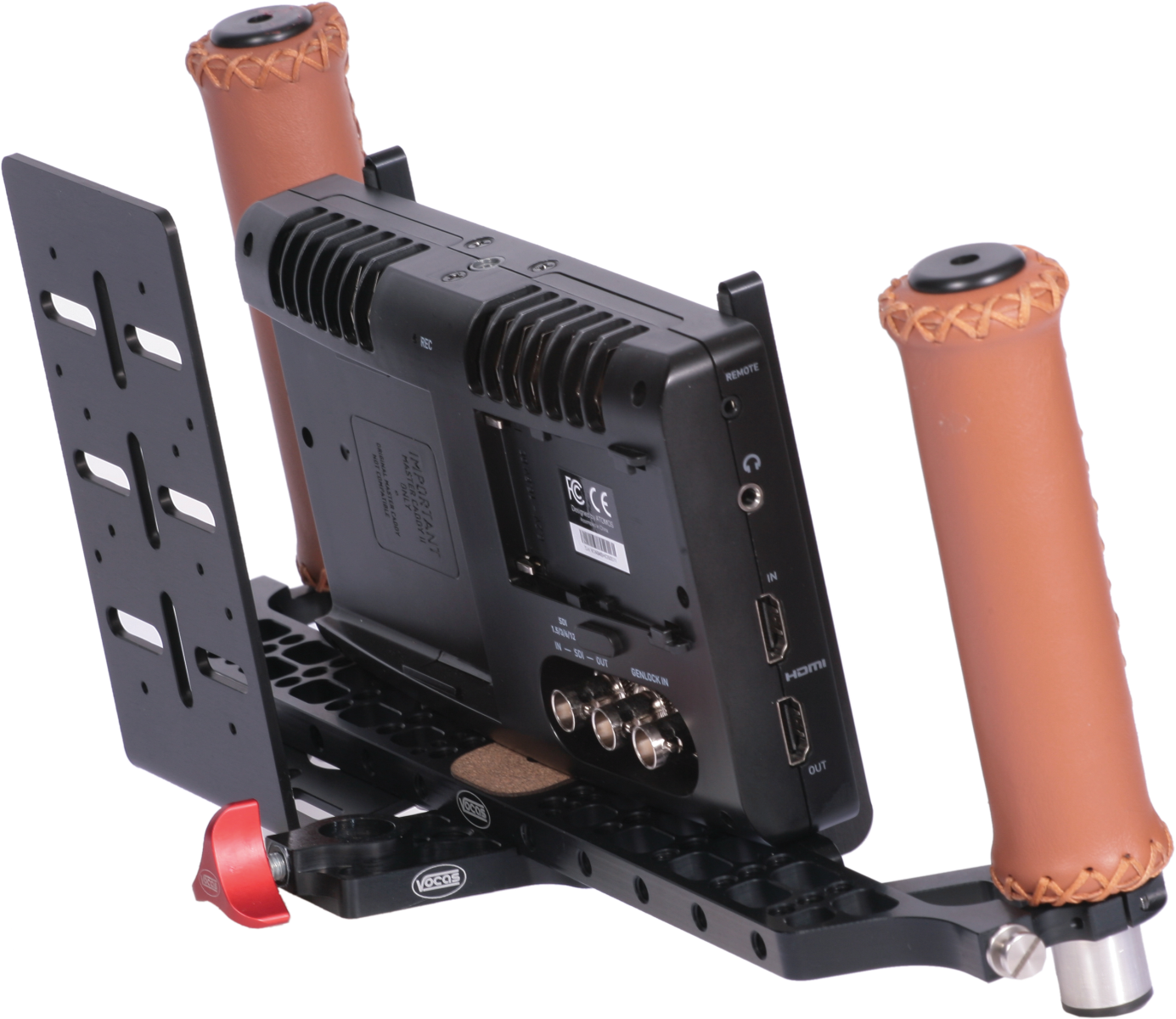 handgrips and plenty of 1/4" and 3/8" mounting points. Optional accessories are a battery or video receiver plate, tripod plate for light stands and wedge plate for tripods (0400-0001) and an adjustable sunshade. Monitors up to 7" of any brand will fit the Vocas director's cage. The leather handgrips provide it with a stable base when placed on a table or desk while treaded holes are available on both sides of the cage to mount strap pins (0350-1470) for the use of a carrying strap (0850-0010).
The new Vocas 'belly' support
Simple yet really effective, the new Vocas 15 mm rubber belly support can be used on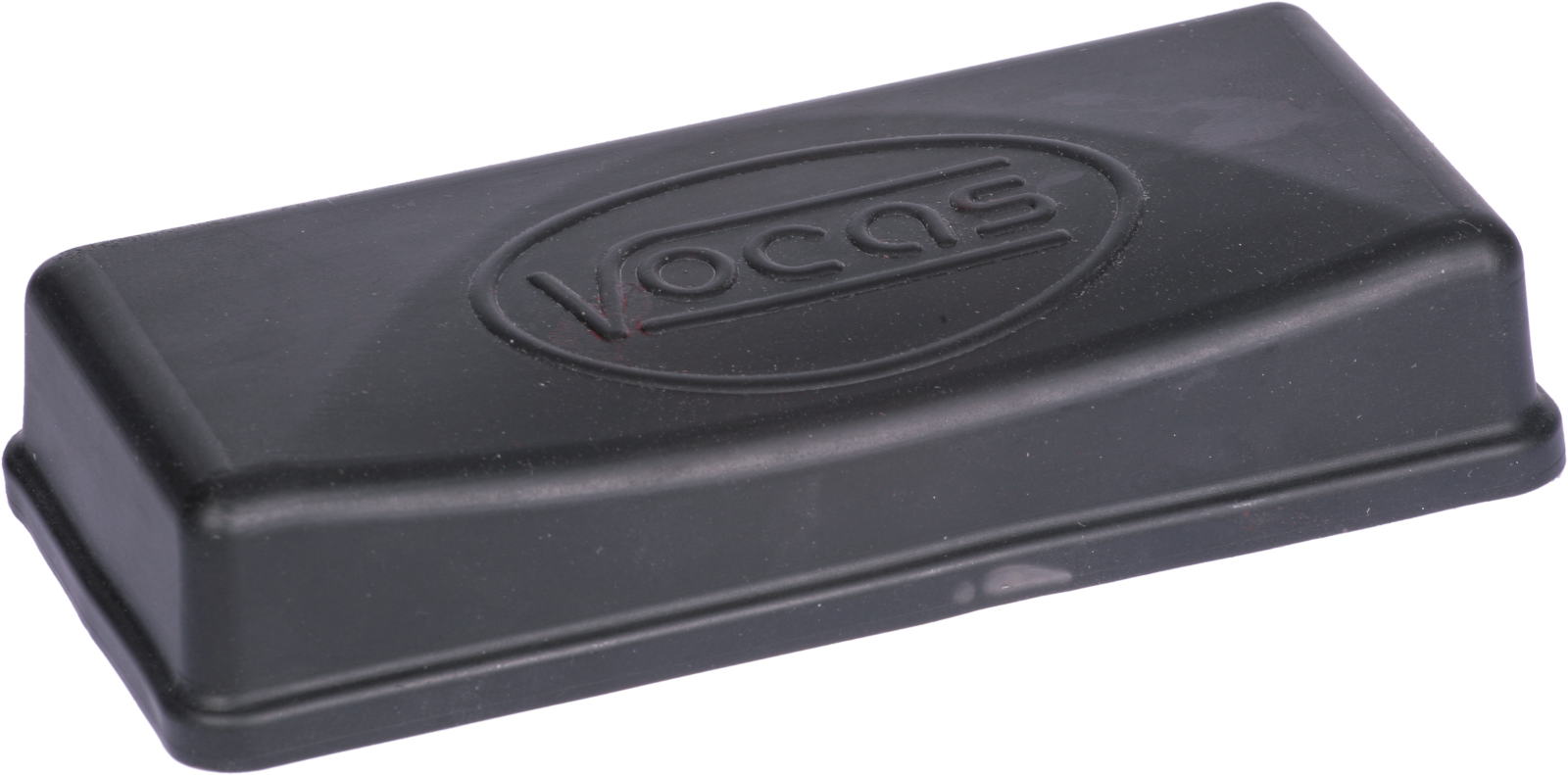 any standard 15 mm rails. Place the support at the rear end of your rig to protect your body from the 15 mm rails when shooting from a hip position or any other position, or at the front end where it can function as a palm support. Perfect for run and gun shooting.
New shoulder pad for USBP MKII base plates
The Vocas base plates of the Vocas Sliding System, and in particular the USBP-15 MKII (0350-2200) base plate, are very popular. Even the specials built for the Sony PXW-FS7II (0350-2207), Canon EOS C200 (0350- 2202) and ARRI Alexa Mini (0350-2201) are big hits.
Improvements? A new softer shoulder pad for the USBP MKII base plates. Some

cameramen, using our USBP MKII base plates in combination with heavy lenses and extra battery packs, feel the pressure on their shoulders. Vocas developed a softer shoulder pad especially to help with this problem.
All new items will be available soon - check the Vocas website for more information.