Vocas - new accessories for Sony PXW-FS7 II
GTC sponsors Vocas have announced a range of new accessories for the Sony PXW-FS7 11.
New base plate for Sony PXW-FS7 / FS7 II
The new Vocas gear for the Sony PXW-FS7 II is great! A closer look at the new base plate (0350-1700) (see above) reveals that it has a new removable and adjustable shoulder pad. When removing the shoulder pad the way to mount the base plate directly to the camera is free. The base plate is attached to the camera at five separate points, creating an extremely stable connection.
Also new are integrated rail holders at the front and rear of the plate. At the back of the new base plate you'll find the toolless adjustable VCT-14 mushroom lock which makes play belong to the past.
New H-cheese plate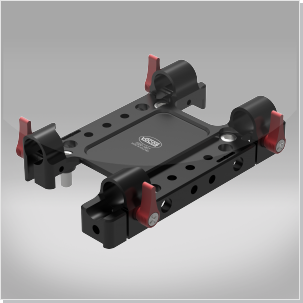 For the top of the camera Vocas has developed a new H-cheese plate (0350-1367) which includes the use of top rails. Now, all common Vocas accessories, such as matte box, can be mounted on the top rails. Using the Vocas Sliding System will be even easier this way.
New PL support bracket
The new H-cheese plate can be used as an attachment point for the new PL support bracket. So the new Vocas PL support bracket (0900-0027) can be attached to the front of the new H-cheese plate. The new PL bracket can also be mounted on the former (and still available) H-cheese plate (0350-1365).
Sliding system
For those who want to use very heavy lenses in combination with the Sony PXW-FS7 / FS7 II camera, Vocas advises using the USBP-15 MKII base plate in combination with a special developed camera adapter plate for the Sony PXW-FS7 / FS7 II (0350-2255).
Combining these items the Sony PXW-FS7 / FS7 II can be a part of the Vocas Sliding System. A dedicated set (0350-2207) for the Sony PXW-FS7 / FS7 II is also available. The big benefit of using the Vocas Sliding System is the ability to transfer the camera from 15 mm, to 19 mm, to a drone or a tripod in seconds!
See the full sliding system: www.vocas.com/news/vocas-sliding-system
All the previous developed Vocas accessories for the Sony PXW-FS7 can be used for the new Sony PXW-FS7 II excluding the adjustable handgrip bracket (0390-0090) and viewfinder bracket for Sony PXW-FS7 (0700-0060 & 0700-0061).
Vocas Systems develops and manufactures high-quality camera accessories including rail supports, shoulder pads, matte boxes and focus controllers. Vocas products are sold worldwide via selected partners. Vocas has over 25 years of experience in the global marketplace and their products are well-tested and renowned for their high quality.