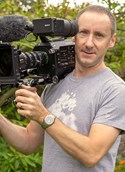 AB10 6JE AB10 6JE
Cameraman/camerawoman/camera operator
Camera/director
---
Elliot has extensive experience across a wide range of broadcast and corporate productions having worked throughout the UK and worldwide in TV and video production for many years. He specialises in news and documentary and recent credits include BBC Panorama, Channel 4 Dispatches and STV News. He consistently delivers creative and editable material to suit production requirements. He also holds the necessary certification (BOSIET) to work offshore and regularly conducts shoots on offshore installations.
Work Area
Scotland, National
---
Recent Work
ENG Camera Operator - STV News
Lighting Cameraman - Panorama, BBC1
Lighting Cameraman - Dispatches, CH4
Camera Operator - Beechgrove Garden, BBC 2
Camera Operator - The One Show, BBC1

Services: Camera Operator, Camera Crew, ENG Cameraman, Broadcast Cameraman, Lighting Cameraman, Corporate Video, Video Editor, Video Production, Post Production, Broadcast Equipment
Additional Info
Please do not hesitate to contact me for further information.