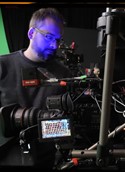 Manuel Balseiro Perez
Hothead/jib/Technocrane/Polecam operator
Cameraman/camerawoman/camera operator
---
Cameraman and camera technician for a wide variety of both national and international audiovisual companies. Over 10 years experience in TV, digital cinematography and technical teaching. Currently working as a remote head operator and head tech at TVE by public competition. RTVE Madrid, Spain, since 2009. Founder and director of www.tecnicatv.com . An e-learning site for cameramen. Author of a remote head´s book for cameramen. Published by Ed. UOC 2016. "La cabeza caliente, un gran paso adelante en el movimiento de cámara" and Advanced camera technics for cameramen "TAOC" by KDP, 2017. Also I currently teach camera work on Remote /Hot heads on fixed and telescopic cranes and new camera mounts and grips online courses at RTVE Institute. DCS associate member Also Aka: Manuel Antonio Balseiro Pérez Twitter & Instagram: @manubalseiro
Work Area
International (Madrid - Spain and European Union)
---
Recent Work
Remote head operator (2 and 3 axis on telescopic cranes, dollys or fixed mount). Service Vision, Egripment, Filmotechnic, A&C... and Panasonic robotic cameras. Scorpio head and crane technician. Polecam operator. Jib operator.
Remote head instructor at IRTVE.
Channels of RTVE: La 1, La 2, Tdp, 24h, and host broadcast for international events like OBS.
For full CV please visit my Linkedin profile.
Additional Info
Based in Madrid, Spain.
IMBD profile: http://www.imdb.com/name/nm2674254/
LINKEDIN profile: https://www.linkedin.com/in/manuelbalseiro/?locale=en_US

Twitter & Instagram: @manubalseiro