A weather site for media professionals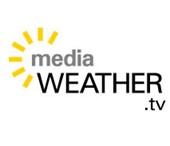 Flight logistics and aerial camera expert Tim Desbois, who has written for Zerb and contributed to GTC workshops, has come up with a good idea - a one-stop shop weather forecast site, which also features links and ads related to the industry.
Says Tim: "Weather info is now easily available from multiple sources. However, what we are trying to create with Mediaweather.tv is the additional equivalent of a 'village notice board' for forthcoming events... The little 'classified' links, which may be of interest to GTC members, are there to have the same effect as bumping into an employer at a trade show, which is often beneficial plus it's always nice to prove you are still alive and working!"
Detailed UK and world weather forecasts are drawn together from a variety of sources, ranging from simple maps to satellite images and more complex aviation information. The site even includes a postcode facility so that you can see hour by hour what the forecast is in your own local area or for a forthcoming location.
For more about Flight Logistics see: http://www.flight-logistics.com/pageone.html
Did you know?
There are more useful links such as these in the GTC members' section of this website at: http://www.gtc.org.uk/members-area/useful-links/other-useful-links.aspx
GTC members can help us to build this resource by sending links for other sites they find useful on an ongoing basis to the website administrator.