Aerial Camera Systems (ACS) debuts new tracking vehicle at Cheltenham Festival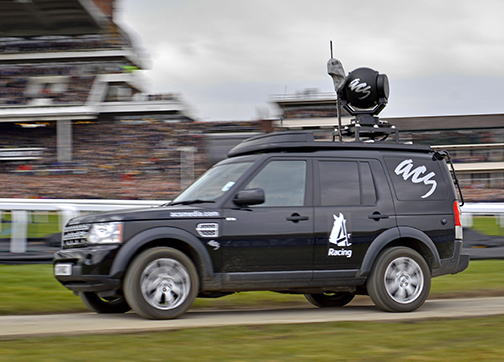 GTC sponsors Aerial Camera Systems (ACS) have been in action this week at the Cheltenham Festival with their new tracking vehicle. The vehicle has had its debut providing coverage of the racing for Channel 4.
Six weeks in development, this specially adapted Landrover Discovery is the latest addition to ACS' fleet of tracking vehicles. The vehicle can be fitted with an HD Cineflex V14 or HD Gyron Stabilised Mount (pictured here) as well as various open stabilised mounts allowing for 3D rigs or 4K cameras, all of which can be operated from racing seats configured within the back of the vehicle.
ACS has also taken delivery of a further operating vehicle adding to the company's continual investment in providing clients with the very latest specialist camera systems.
About Aerial Camera Systems
Established over 30 years ago, Aerial Camera System (ACS) is a leading specialist camera company, providing innovative and expert camera solutions and aerial stabilised camera systems. ACS has a unique inventory available for rental ranging from remote heads and compact cameras, railcams and wirecams to tracking vehicles, underwater systems and tethered airships as well as more than
20 helicopter camera systems. With an in-house research and development team, the company continues to develop and launch new concepts and products within the field of specialist camera facilities, the latest being its new remote head, the SMARThead.
ACS is part of the Euro Media Group, Europe's largest provider of television and film facilities in Europe.