ARRI launches pro camera accessories at NAB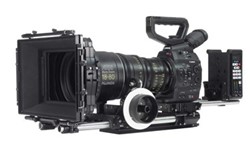 With a wide range of modular matte boxes, follow focus units and support systems, ARRI is able to offer complete shooting kits for almost all types of digital cameras, from small, handheld units and HD-capable DSLRs, to broadcast HD and high-end digital cameras.
In a rapidly evolving marketplace, ARRI can quickly create adapters as new cameras come out - such as the Canon EOS C300, Red Epic/Scarlet, Nikon D800 and Nikon D4 - and allow users to equip them with dependable ARRI functionality. New accessories lauched at NAB 2012 include:
Independent handgrip system
ARRI has launched a modular handgrip system that can be precisely adjusted on all axes and attached to any standard 3/8-16 mounting point on base plates, cages and cameras, or directly to lightweight and studio rods by means of two new bridge supports. The handgrip can also function as a handle and is ideal for shoulder setups, with new rosette adapters making it cross-compatible with existing rosette systems.
MBP-3 base plate and camera cages
The Mini Base Plate MBP-3 offers direct compatibility to the Nikon D4 and can be used with the Nikon D800 through a dedicated adapter plate; it is also adaptable to the Canon 5D Mark III. The MBP-3 accepts 15 mm lightweight rods and switches to studio setups via the classic ARRI BP8/9 bridge plate.
A strong, lightweight and ergonomic cage support system can be attached to the MBP-3 (and other base plates) to provide mounting points for arms and accessories, lightweight rod support, top-handle capability and cable protection. ARRI cages are available for the Nikon D4, D800 and Canon 5D MkIII with a version for the Canon C300 adapter plate coming soon.
Recorder, battery and offset shoulder brackets
ARRI's new recorder bracket allows external digital recorders and their batteries to be mounted onto lightweight support and studio rods. The mounting plate is threaded to receive most recorders, as well as Gold Mount or V-Lock battery plates; it can be bolted to the UMB-1 Universal Mounting Bracket or the new UBS-1 and LBS-1 Bridge Supports. The recorder/battery assembly can be angled with the RBH-1, a Rosette-Based Hinge that provides 180° tilt capability and can be doubled to accommodate the heaviest recorders, such as the Codex Onboard.
Many integrated camera viewfinders and HDSLR rear LCD panels cannot be used when the camera is sitting on a shoulder rig. The ARRI Offset Shoulder Bracket OSB-1 enables users to rest the camera on their shoulder while framing with the built-in camera viewfinder or rear LCD panel.
Canon C300 handgrip extension bracket
The Canon C300 Handgrip allows camera operators to adjust camera settings while framing. For shoulder rig users, ARRI has developed a C300 handgrip attachment compatible with the new ARRI Universal Handgrip System. The Handgrip Extension Bracket HGA-1 includes a cable fitted with the Canon proprietary connector.
Epic/Scarlet base plate
ARRI's new base plate for Scarlet and Epic offers front and back 15 mm lightweight rod support, compatibility with existing studio base plates and easy, front audio cable routing through the plate -- all in a lightweight, sturdy design.
LS-11 for Angenieux LWZ (LSP-1)
As the existing line of Angenieux lightweight Optimo zooms and Optimo DPs is now compatible with Nikon and Canon mounts, the ARRI LS-11 offers 15 mm support for Angenieux lightweight zooms through a dedicated pin (LSP-1). The pin is also compatible with Zeiss Compact Prime CP.2 lenses.
MMB-2 adapter ring, filter thread ring and Dual 4x5.65" filters
Mini Matte Box 2 (MMB-2) is now offered with dual 4x5.65" filter capacity, opening the popular matte box to this industry-standard filter size. The rear filter tray is rotatable, allowing easy adjustment for polarizing filters. The new dual 4x5.65" MMB-2 matte box is compatible with all existing MMB-2 accessories, such as viewfinder mount, top and side flags, and dedicated handles set.
ARRI's popular Mini Matte Box 2 is now compatible with the range of Cooke Panchro i lenses, using a new 114-87 mm reducer ring. The ring opens the MMB-2 to existing lenses with a front lens diameter of 87 mm, such as the Zeiss 10-100 mm, various Angenieux ENG lenses and Century lenses.
Filter thread ring 114-M105
ARRI is releasing an adapter ring for the Mini Matte Box (MMB-1) and Lightweight Matte Box (LMB-25) to adjust for the new Sony SCL-P11X15 11-16 wide-angle zoom lens and the Sony TD300 3D camcorder.
MMB-1 114mm adapter and filter thread rings
Two new adapter rings will allow a direct stepdown to 114 mm from the 143 mm and 138 mm backs of the MMB-1. This makes for easier compatibility between the MMB-1 matte box and still photo lenses, cine primes and smaller zoom lenses. ARRI is also releasing a filter thread ring for the Mini Matte Box (MMB-1) and Lightweight Matte Box (LMB-25) to adjust for the new Sony SCL-P11X15 11-16 wide-angle zoom lens and the Sony TD300 3D camcorder.

See more about GTC sponsors ARRI at: www.arri.com