ARRI launches new Photometrics app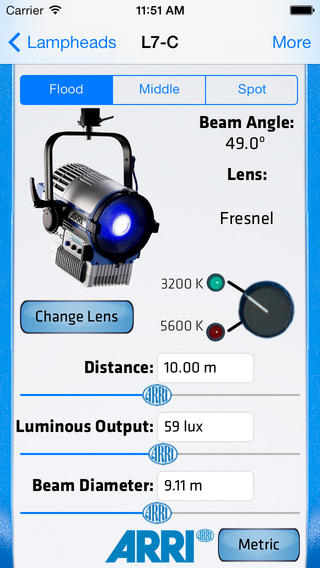 GTC sponsors ARRi have released a new Photometrics app.
The new ARRI Photometrics App for iPhone and iPad gives quick access to the properties and luminous outputs for ARRI's renowned light fixtures. Created for lighting and cinematography professionals, this free application is now available in the iTunes store. Once downloaded, it puts a wealth of information right at your fingertips, whenever you need it – whether on set or shooting in remote locations.
Upon opening the application, users can begin selecting from one of five product categories: Daylight, Daylight MAX, Fluorescent, LED and Tungsten.
Select the appropriate fixture and Information can be accessed regarding:
Luminous output
Beam diameter
Beam angle
Flood, middle and spot photometrics
Luminous distribution graph
Camera exposure and aperture information
Metric and imperial units
Bulb selection
Light properties including: color temperature, CRI, protection rating, dimming, dimensions, weight, power draw, lamp holder type, mounting, reflector type, lens type and scrim size
A photo depicts the fixture for more accurate identification.
Download the app by clicking this link:
https://itunes.apple.com/us/app/photometrics/id733009338?mt=8
About ARRI:
With headquarters located in Munich, Germany, Arnold and Richter Cine Technik (A&R) was founded in 1917 and is the world's largest manufacturer and distributor of motion picture camera, digital intermediate (DI) and lighting equipment. The ARRI Group comprises a global network of subsidiaries, agents and representatives that covers all aspects of the film industry: design, engineering, production, equipment rental, turnkey lighting solutions, postproduction, film and sound laboratory services, and visual effects. Manufactured products include the groundbreaking ALEXA digital camera system, film cameras, professional camera accessories, cutting-edge LED lighting and DI solutions such as the ARRISCAN and archive tools. The Academy of Motion Picture Arts and Sciences has recognized ARRI technologies and continual innovation with 18 Scientific and Engineering Awards.
For locations and more information please visit www.arri.com