BECTU Freelancers Fair 2010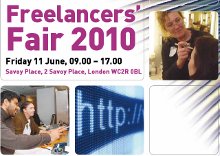 BECTU's annual Freelancers' Fair is now taking bookings. The event, on Friday 11 June, offers a mix of seminars, an industry exhibition and two sessions of the popular Freelance Toolkit workshop.
A new riverside venue – Savoy Place, 2 Savoy Place, London, WC2 ORL – will host the event. Savoy Place was the location for the BBC's first experimental radio broadcasts in 1923.
Download event flyer for full programme details
BECTU members can attend the event for free; non-members pay £10.
Fair Exhibition
Twenty-two organisations offering support to workers in film and TV will make up the Fair Exhibition, sharing news, offering advice and providing updates on their services. This year the newly formed BBC Academy joins a strong exhibitor line-up which includes event sponsors Broadcast Freelancer, accountants Hard Dowdy, Production Base, Skillset and Thompsons Solicitors.
Seminars
Visitors have the choice of a morning or afternoon session on file-based acquisition presented by the Televisual Roadshow; Nicola Lees, author of Greenlit: Developing Factual and Reality Ideas from Concept to Pitch, will offer her expert take on how to prepare and deliver that winning pitch.
At the 2009 event one visitor laid down a challenge to the WPDs branch. Could they provide a seminar under the title 50 Ways to Get Funding Before You Die!? Well the branch has delivered: Steve Hewlett from Radio 4'sThe Media Show will be joined by Christo Hird (End of the Line) and Chris Atkins (Starsuckers) to debate the life blood of every film-maker: finance.
"In truth, we may not have found 50 solutions to the problem, but this session is certain to shed light on the issue," commented Marc Sigsworth, programme maker and one of the session producers.
Another highlight of the day will be the session titled Ethical Film-making Explored where the results of the BECTU/DV Talent Short Film Competition will be announced. More details about the competition here.
Three finalists will have their work screened and will join the audience in a discussion about approaches to film-making led by a high profile panel. The session and the related competition have been organised by documentary film-maker, Benetta Adamson. The deadline for entries to the competition is Friday 4 June.
Book now

Visitors are encouraged to book their place online.
BECTU members will find their booking form here.
Non-members should visit this page.