Bill Vinten awarded TiCA at GTC Awards 2010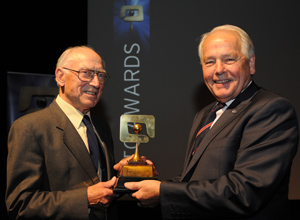 Bill Vinten, youngest son of the founder of camera support manufacturers Vinten, was last night presented with the TiCA, the Guild's highest honour, at the GTC Awards 2010. The Award was given to 90-year-old Bill (shown here with GTC President Dick Hibberd) for his lifetime contribution to "fostering and improving the art and craft of the professional television cameraman". Bill, who was wearing a GTC tie presented to him nearly 40 years ago, dedicated the award to all of the Vinten employees for their hard work over the years, and paid tribute to their contribution to the company's success.
GTC chairman, Graeme McAlpine, said: "We are delighted to present Bill Vinten with this year's TiCA Award. It is the Guild's biggest accolade and goes to a very deserving winner. Vinten's innovative products have undoubtedly changed the world of broadcasting. The family and the company have provided cameras and cameramen with 100 fantastic years of support".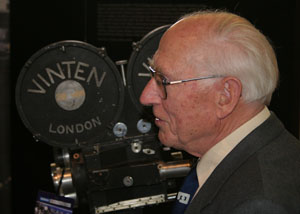 Bill Vinten's father, William Vinten, opened the first workshop for business, repairing and manufacturing cameras, back in January 1910. Zerb paid tribute to the fascinating history of the company in its Autumn issue (download the article 'A Bird in the Hand' here) and was pleased to also include an interview with Bill Vinten in the same issue (download 'Bill Vinten ... remembers').
A special selection of Vinten's camera support products from past and present were on display throughout the day to commemorate the company's centenary. Attendees also enjoyed a rare chance to view some of Bill Vinten's private equipment collection including his Model C film camera from the 1920s.