Bill Vinten GTC University Award finalist Vince Knight picks up 'Best Student work' award in Georgia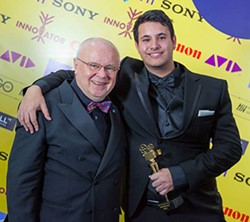 Ahead of this week's presentation of the Second Bill Vinten GTC University Awards on Wednesday, there has been some good news for one of the finalists.
Vince Knight, whose work as DoP on his film The Domestic Life of Mollusks is shortlisted for the Bill Vinten GTC Awards, flew out to Georgia to take part in the Golden Eye International Festival of Cameramen, where he was delighted to find he had won the Award for 'Best Student Work'.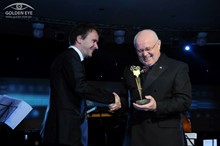 The Guild of Television Cameramen has been represented at the Golden Eye Festival in Georgia since its start by our Vice President John Henshall, who has been a member of the panel of judges three times. This year John was also asked to give a masterclass.
It was through John's connecton that Vince became aware of the Festival, when he read a news item on this website mentioning that John was once again to join the panel of judges. John had urged GTC members and UK cameramen to submit their work as he had been disappointed in the past to see so few entries from within the ranks of GTC members, in particular from the UK (although delighted that GTC member Mike Brennan picked up the Award for 'Best Risk shot' at the 2012 Festival.
In a busy week, Vince will now head up to York to see whether he will also be lucky enough to be amongst the winners of the Bill Vinten GTC University Awards, the prizes for which are very valuable work experience with an experienced GTC member. Read more about the Bill Vinten GTC University Awards. Vice President John is also heading in that direction after a long journey home from Tbilisi and not much sleep!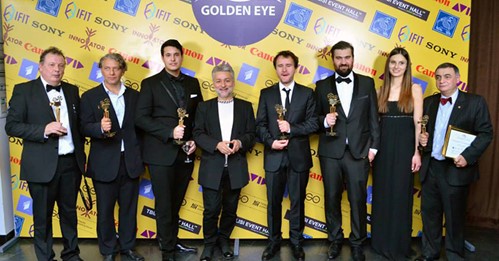 Golden Eye 2014 winners – Tony Costa, Jerzy Palacz, Vince Knight, George Jajanidze, Martin Žiaran, Mike Samir and Gvantsa Barabadze.