Bill Vinten GTC University Award - first winners to be announced on 24 October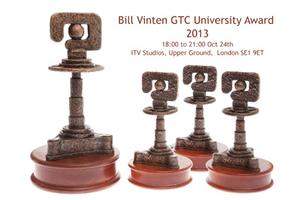 The Bill Vinten GTC University Award has been created to encourage excellent teaching of camerawork skills within UK educational establishments. The Award is the result of a collaboration between the GTC, spearheaded by Stuart McKears, and Bill Vinten OBE, one of GTC's most long-standing supporters and sponsors.
The inaugural Award ceremony will take place on 24 October from 18.00 to 21.00 at the ITV's London Studios. GTC members are invited to attend and to register at:
https://bill-vinten-gtc-university-award.eventbrite.co.uk
. Numbers are unfortunately limited and tickets will therefore be issued on a first come, first served basis so register soon.
John Henshall, Vice President and co-founder of the GTC, will host the event and deliver the keynote address on "How good camera craft skills will always enhance, and have always enhanced, content".
After the presentation of the trophies, there will be an opportunity to socialise and network with Bill Vinten, the winners, the universities, GTC sponsors and fellow members of the GTC. Light refreshments will be provided.
See more about the Award: www.gtc.org.uk/students/bill-vinten-gtc-university-award.aspx
The shortlist of the six top films voted for by the judging panel of the first Bill Vinten GTC University Awards is:
Tomaso Aramini, Northern Film School
Adam Broder, Cambridge School of Art
Ed Gammie, University of York
Oliver Hadlow-Martin, University of York
Jack Harrison, Bournemouth University
Jack Reynolds, Kingston University
In this first year of the Bill Vinten GTC University Award, there were an encouraging
24 entrants from eight universities:
Birmingham City University
Bournemouth University
Cambridge School of Art, Anglia Ruskin University
Kingston University, Faculty of Science, Engineering and Computing
Northern Film School, Leeds Metropolitan University
Staffordshire University, Media (Film) Production Course
University of the West of England
University of York, Department of Theatre, Film and Television
To find out who this year's winners are and for an enjoyable evening with GTC friends and colleagues register now for your place at the Presentation Evening:
https://bill-vinten-gtc-university-award.eventbrite.co.uk
The GTC is very grateful to The London Studios for hosting the first Bill Vinten GTC Award presentation evening.